Nintendo Switch brought a revolution in the world of gaming as it was the first handheld console that could perform respectably against the likes of traditional consoles. The sales it generates are staggering, especially dominating both PlayStation 5 and Xbox Series X/S in Japan. The OLED version of the Switch only added to the already well-performing sales. But, the problem is that the new games might restrict developers, considering there is already news that Zelda Breath Of The Wild 2 is too big for Nintendo Switch hardware to handle.
With new games being ported to Nintendo Switch and 4K TVs becoming more common, there's a solid case for a next-Gen Nintendo console that can produce ultra-high quality visuals and good performance.
However, we haven't had many rumors until now. According to information obtained from an Nvidia leak that took place some time ago, a new Nintendo Switch might be in the works, including Nvidia's framerate-boosting DLSS technology and purely based on Nvidia's SoC.
Because NVN is the name of the graphics API used by the Nintendo Switch, "nvndlss.cpp," "nvn dlss.cpp," and "nvn dlss backend.h" are all possible references to the Switch in the leaked code. Interestingly, the code also mentions 'NVN2,' implying that a next-Gen Nintendo Switch is underway.
NVIDIA leaks have "nvn2", which seems to be the graphics api for the Switch Pro, based on Ampere with ray tracing support and DLSS 2.2 pic.twitter.com/k6nEr31CcY

— Nikki™ 🌹 (@NWPlayer123) March 1, 2022
Now a job listing also dropped a hint that Nvidia might be working on graphics developer tools for the Nintendo Switch 2: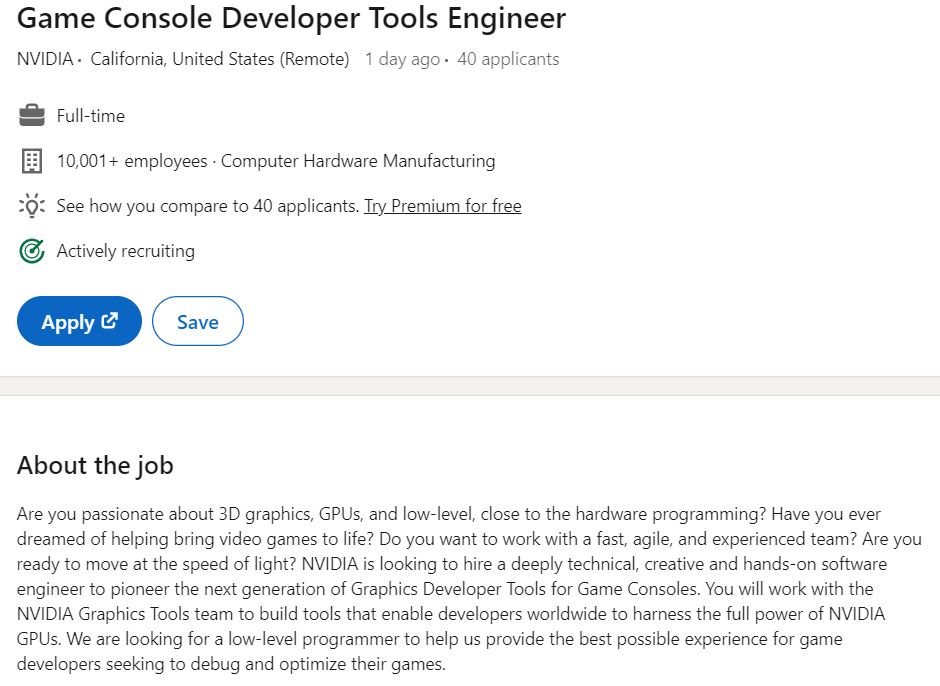 According to the listing:
NVIDIA is looking to hire a deeply technical, creative, and hands-on software engineer to pioneer the next generation of Graphics Developer Tools for Game Consoles. You will work with the NVIDIA Graphics Tools team to build tools that enable developers worldwide to harness the full power of NVIDIA GPUs
NVIDIA Developer Tools are a collection of applications that enable 3rd party developers to build cutting-edge software that utilizes NVIDIA's latest visual computing hardware.
We already know that neither the Xbox Series X/S or the PlayStation 5 use Nvidia's graphics. Concerning the above leak, it could be possible that the only 3rd party console that might be making use of this new tool would be the next-Gen Nintendo Switch console; in other words, it can be assumed that the listing could probably hint at Nvidia developer tools for Nintendo Switch 2.
The Job Listing also has some other requirements:
Experience developing drivers for GPUs.
Experience with GPU low-level performance tuning/optimization, including profiling and debugging.
Background in the Game Industry or in a field that requires high performance graphics.
Create graphics profiler features for NVIDIA GPUs, enabling developers to achieve higher and more consistent frame rates.
Implement graphics debugging features by reading / writing GPU registers and memory, and by processing and manipulating GPU commands at the driver level.
Considering the above-leaked data and the new job listing that we just got, it is safe to assume that the Nintendo Switch 2 will be based on Nvidia's tools that will enable it to use DLSS for better frame rates and more powerful tools to run the next-gen games.
Again, there is no confirmation from Nvidia's end about a new console generation in development, so this is purely based on rumors. We will wait for the word to be official and keep you updated, so stay tuned.
What are your thoughts on the Switch 2 being powered by Nvidia SoC?
More exciting news: FromSoftware Publisher To Develop New Console Games Based on Anime IPs
Was our article helpful? 👨‍💻
Thank you! Please share your positive feedback. 🔋
How could we improve this post? Please Help us. 😔
Abdullah is an avid gamer who primarily plays single-player titles. If you can't find him anywhere, he'll probably be at his desk playing The Witcher 3 for the millionth time. When he isn't playing games, he's either reading or writing about them.