The year 2022 has been a good year for gamers with chip shortages sorting out and graphic cards prices declining, and now we have some more great news regarding the long-awaited title GTA 6. There have been reports surrounding the internet suggesting that GTA 6 is under a speedy development.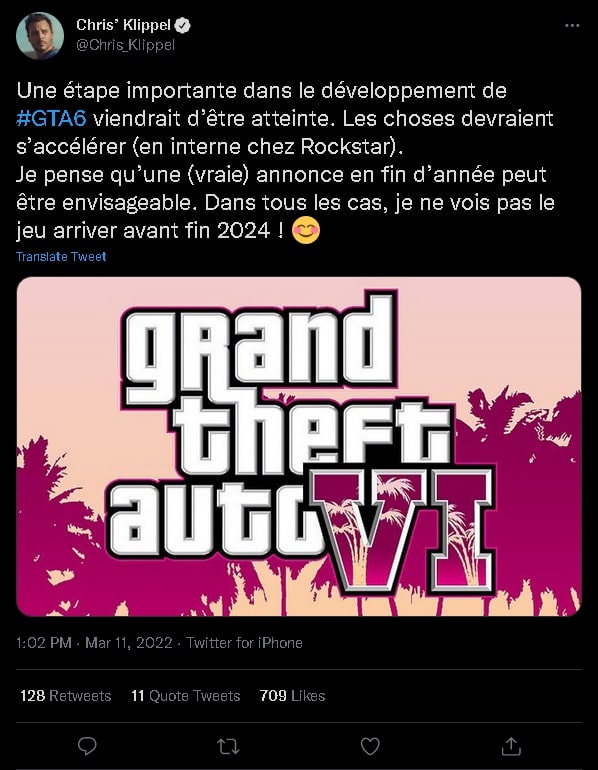 On March 11th, 2022, Chris Klippel tweeted about the progress of the development of GTA 6 and how necessary steps are being taken which would really speed up the development process.
"An important step in the development of #GTA6 has just been reached. Things should speed up (internally at Rockstar)." – Chris' Klippel (As translated by google translator)
Klippel reports that things are starting to move faster internally and that a formal announcement and unveiling could happen later this year.
"I think that a (real) announcement at the end of the year may be possible. In any case, I don't see the game arriving before the end of 2024!"– Chris' Klippel (As translated by google translator)
Furthermore, Klippel believes the game will be released in 2024, based on prior Rockstar Games titles' release schedules. The reveal and release of its two most recent titles, GTA 5 and Red Dead Redemption 2, were separated by two years. So, assuming this pattern holds true and GTA 6 is shown this year, the game will be released in 2024.
There have been other rumours circulating the gaming community about GTA 6. Previous speculations suggest that GTA 6 would mostly take place in Vice City, the fictitious series of Miami. According to industry analyst and insider Michael Pachter who told ComicBook Gaming, GTA 6 is set not just in Vice City but also in Liberty City (New York City), San Andreas (San Francisco), and Europe. Pachter doesn't mention Los Santos (Los Angeles), but it's likely included. Pachter does mention that the game will last between 400 and 500 hours.
"GTA 6 has been in development since 2014. They may not have been writing code back then as they were figuring out the story, but by 2015 they were writing code. Anybody who is so naive as to think Rockstar with its 2000 employees is sitting on their butts twiddling their thumbs" – Michael Pachter.
While we do hope that the long wait for GTA 6 will be over soon with the recent news, take this news with a grain of salt as this is completely unofficial and could prove wrong at any point. Rockstar Games has been known for their quality of gameplay and very polished games at release, so we hope that we can expect the same when GTA 6 releases.
GTA 6 has always been a title that every gamer has either googled, searched or investigated in the last ten years, and there was a valid reason behind it since GTA 5 was an overwhelming success with the game being very well optimized, constant updates by the developers which would keep the game fresh. Considering how old the game has become now, it is still one of the best games to play in 2022, with very impressive graphics. It is quite rare to find a game with a similar level of support from developers nowadays.
Related News: Sony Suspends All PlayStation Sales And Service In Russia
Was our article helpful? 👨‍💻
Thank you! Please share your positive feedback. 🔋
How could we improve this post? Please Help us. 😔
[News Reporter]
Avinash is currently pursuing a Business degree in Australia. For more than three years, he has been working as a gaming journalist, utilizing his writing skills and love for gaming to report on the latest updates in the industry. Avinash loves to play action games like Devil May Cry and has also been mentioned on highly regarded websites, such as IGN, GamesRadar, GameRant, Dualshockers, CBR, and Gamespot.