Assassin's Creed Mirage from Ubisoft differs from recent offerings in more than one way. The title focuses on classic elements and offers less content, focusing on density rather than sheer volume.
As such, the game is also releasing at a lower price, with Ubisoft selling the title for $50. However, fans have been concerned about the game being too short after getting used to the length of the RPG trilogy.
During a recent Reddit AMA, Sarah Beaulieu from Ubisoft elaborated on the game's length. She confirmed a length similar to the first Assassin's Creed games.
Why it matters: The older Assassin's Creed games offered around 15 hours of main story content and around 30 hours of content when counting side quests. This should allow players to determine if the game provides enough content to justify the asking price.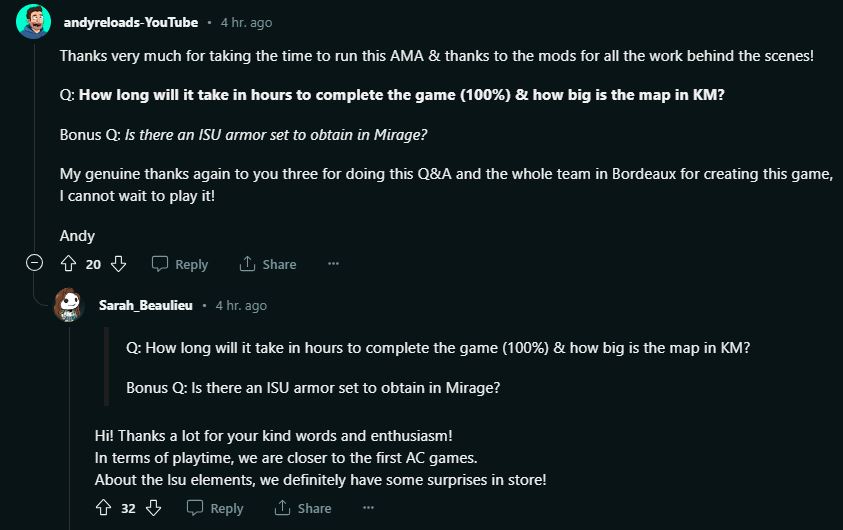 When asked about the time to complete the game entirely, the developer replied:
"In terms of playtime, we are closer to the first AC games."
Unsurprisingly, Assassin's Creed Mirage is much shorter than games like Assassin's Creed Origins or Assassin's Creed Odyssey.
However, the older Assassin's Creed games also had plenty of side content and objectives to complete. Therefore, players looking to experience the full games could easily spend over 30 hours in the world.
With Ubisoft's recent experience in the RPG genre, Assassin's Creed Mirage could offer similar or more side content. Furthermore, playtime is not the only similarity between Mirage and the older Assassin's Creed titles.
Ubisoft includes a blue filter in the game, allowing players to experience Basim's journey in a color scheme similar to the first game.
Assassin's Creed Mirage was directly inspired by the demand for a traditional experience, which is at the core of the game's experience.
Therefore, Basim's parkour will be fleshed out compared to recent assassins, and the character will utilize his environment to blend in as he hunts targets from the shadows. Elements like social stealth will return, and Ubisoft is also ditching XP-based levels.
Was our article helpful? 👨‍💻
Thank you! Please share your positive feedback. 🔋
How could we improve this post? Please Help us. 😔
[News Reporter]
Avinash is currently pursuing a Business degree in Australia. For more than three years, he has been working as a gaming journalist, utilizing his writing skills and love for gaming to report on the latest updates in the industry. Avinash loves to play action games like Devil May Cry and has also been mentioned on highly regarded websites, such as IGN, GamesRadar, GameRant, Dualshockers, CBR, and Gamespot.