The demand for high-end or new graphics cards has been steadily dropping. Graphics cards saw a fall in prices after the end of the mining boom back in 2021, and the low demand for graphics cards has also affected GDDR6 memory, which has dropped in price significantly.
The price of GDDR6 memory has dropped to less than a quarter of its original price. Currently, the cost of 8GB GDDR6 memory on the spot market is only $27. Therefore, it can be surprising that AMD or Nvidia are not launching budget graphics cards with more than 8GB of memory.
In February 2022, the price of one gigabyte of GDDR6 memory on the spot market was around $13. Furthermore, according to data from DRAMeXchange compiled by a Reddit user, an 8GB IC costs about $3.364. That would make the total price of 8GB GDDR6 memory around $27 on the spot market.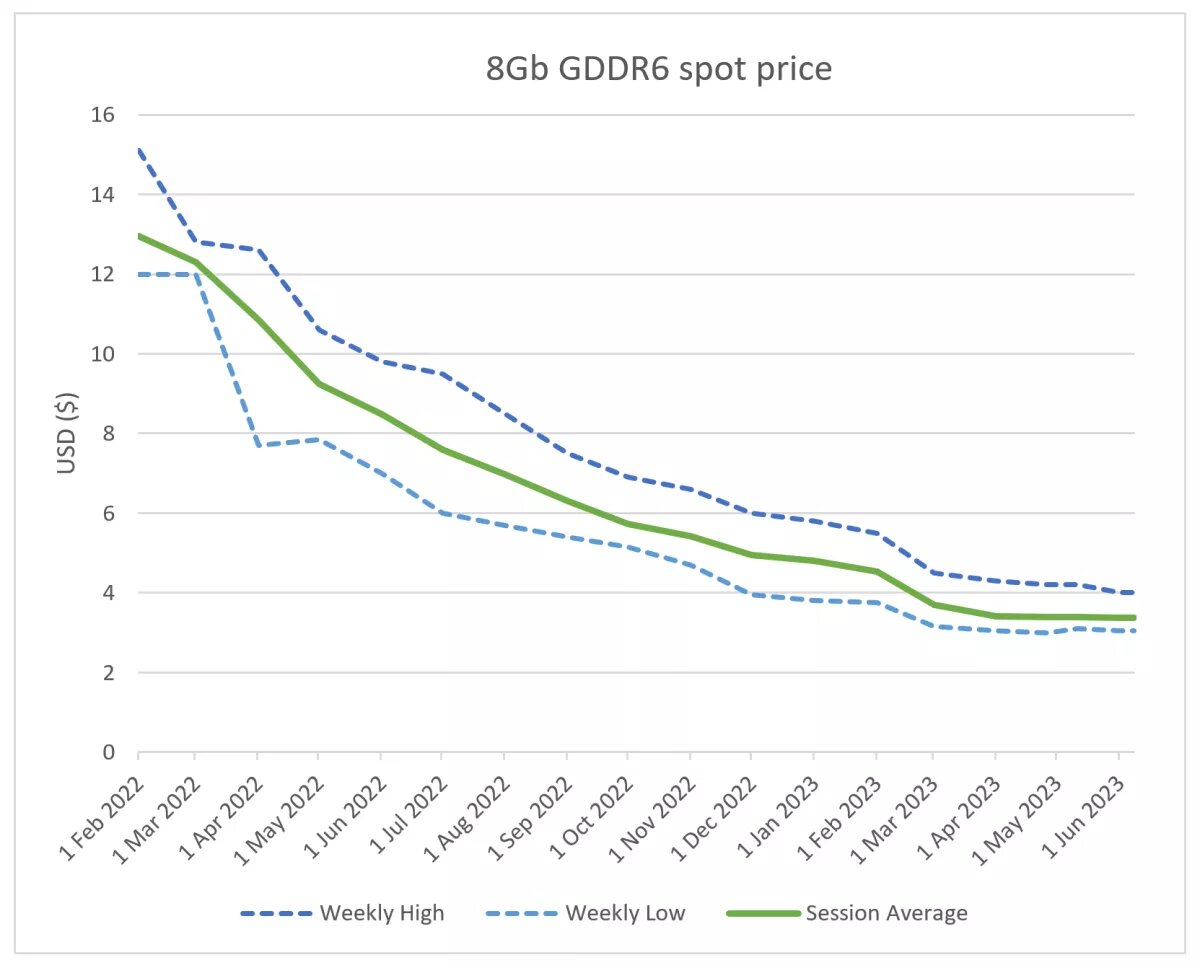 The prices on the spot market cost less, but add-in board manufacturers cannot buy directly from there. This is because of their long-term contract with companies like Samsung or Micron. However, contract-based prices are different from that of the spot market and are generally cheaper than the latter.
Graphics card manufacturers also cannot purchase GDDR6 memory from the spot market. Whether it be Intel, AMD, or Nvidia, every manufacturer supports a specific type of DRAM IC compatible with their graphics processor. Therefore, there are a lot of constraints for add-in-board partners before they can consider buying from the spot market.
Adding more memory to a graphics card generally increases the retail price of the product. As such, a graphics card with 16 GB of GDDR6 memory would cost roughly $54 for the memory, compared to $27 for 8 GB.
While modern graphics cards are currently using 16 GB ICs, this is limited to 2GB per chip. This is a necessary step to get 8GB of memory on a 128-bit interface for budget graphics cards like the GeForce RTX 4060 and Radeon RX 7600.
The current memory configurations on both mid-range and high-end cards do not reflect the prices on the spot market. However, things might change for the better next year when both AMD and Nvidia will launch their next-generation cards.
Was our article helpful? 👨‍💻
Thank you! Please share your positive feedback. 🔋
How could we improve this post? Please Help us. 😔