Cyberpunk 2077 is expected to receive a fresh start soon. Following the release of the free 2.0 update and the Phantom Liberty expansion, CD Projekt Red is expected to realize its vision for the game.
The new update complements this massive expansion, changing core systems like AI, perks, skill trees, and much more. CD Projekt Red has been cautiously optimistic about this soft reboot for Cyberpunk 2077, and reviews for the expansion have just been released.
While Phantom Liberty is still a few days away from release, reviews for the expansion have been extremely positive, leading to a score of 90/100 on Metacritic after 27 reviews.
Why it matters: Cyberpunk 2077 was one of the biggest failures of the gaming industry at release and highlighted the importance of a polished release. However, CD Projekt Red seeks to redeem itself with the new content and the 2.0 update.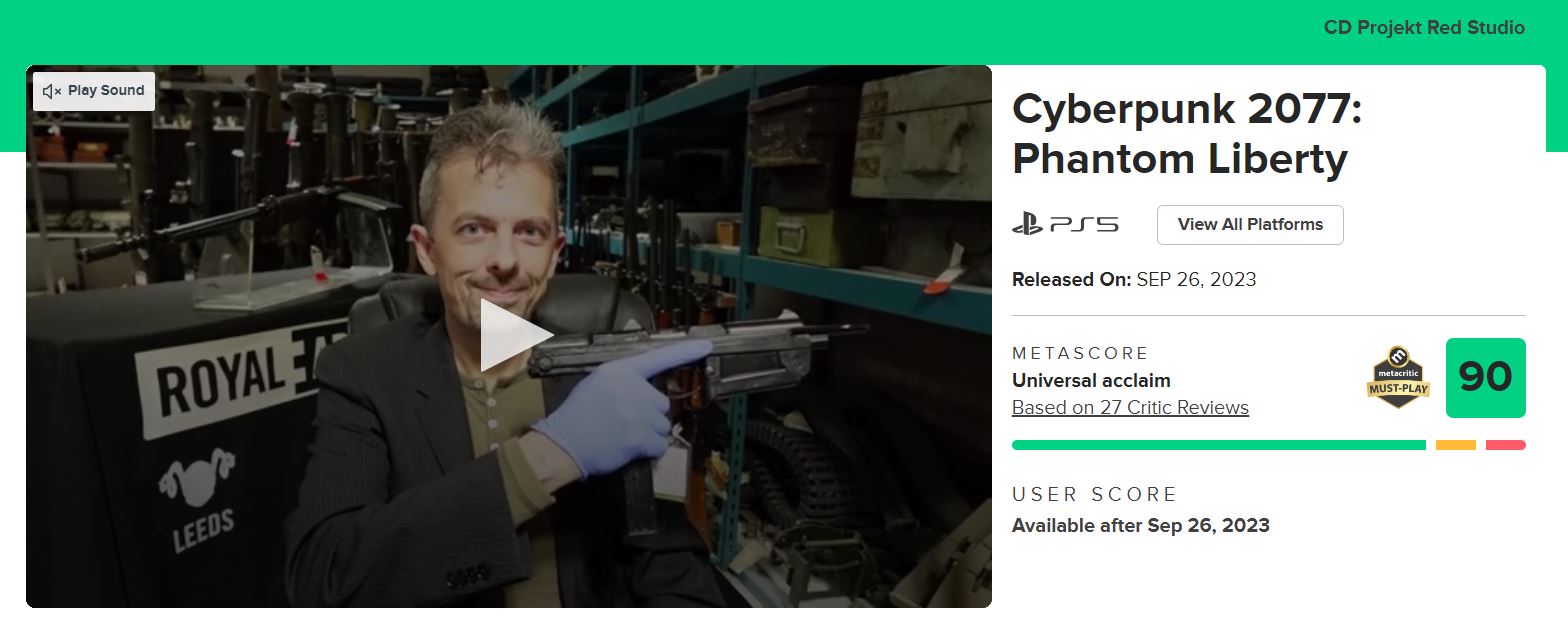 A few of the scores from major review outlets include:
IGN 9/10
Gamespot 10/10
Gamingbolt 9/10
VGC 4/5
PCGamesN 9/10
Even before the release of Phantom Liberty, Cyberpunk 2077 had won many fans over, becoming a fine story of redemption in the gaming industry.
CD Projekt Red noted that the game recently reached over 500K positive reviews on Steam, while the positive reviews accounted for 80% of the total reviews as early as July 2023.
As such, the stage was already set for Phantom Liberty to impress audiences, and it appears to have done so. The expansion capitalizes on the game's strengths, combining the best parts of Cyberpunk 2077 with new elements.
The latest chapter in Cyberpunk 2077 takes players to Dog Town, which is a new district of Night City. This location is distinct and quickly establishes itself as a memorable extension of the game's universe.
During the early parts of the expansion, players are introduced to slums and abandoned buildings, highlighting the troubled history of this district, leading to environmental story-telling that has been praised by multiple reviewers.
Other strong parts of the expansion include new additions to the cast, like Solomon Reed. Idris Elbra's performance as the character has been highlighted as a major strength of Phantom Liberty's narrative.
Cyberpunk 2077's gameplay systems shine in the new combat scenario. Following the update, the new RPG mechanics play a more significant role in each firefight and encounter.
This blend of action and RPG gameplay elevates the set pieces and combat encounters presented in the DLC, which are further complemented by CD Projekt Red's level design in Dog Town.
Despite the numerous positive qualities of Phantom Liberty, a few reviewers have pointed to a few minor bugs.
Some outlets encountered instances of frame rate drops, UI bugs, and other hitches, which became minor blemishes on an otherwise exceptional experience throughout the expansion.
It should be noted that CD Projekt Red restricted video reviews to footage provided by the studio, leading to some outlets delaying their video reviews till the release day.
Phantom Liberty is scheduled to be released on September 26, marking a new era for Cyberpunk 2077. With new characters, more significant decision-making, and refined RPG mechanics, Cyberpunk 2077 is better than ever.
Prior to the expansion, CD Projekt Red announced that it would not release any further DLC for the game. However, this compromise may have been worth it, as the expansion provides a satisfying and engaging new adventure for CD Projekt Red's latest IP.
Was our article helpful? 👨‍💻
Thank you! Please share your positive feedback. 🔋
How could we improve this post? Please Help us. 😔
[News Reporter]
Avinash is currently pursuing a Business degree in Australia. For more than three years, he has been working as a gaming journalist, utilizing his writing skills and love for gaming to report on the latest updates in the industry. Avinash loves to play action games like Devil May Cry and has also been mentioned on highly regarded websites, such as IGN, GamesRadar, GameRant, Dualshockers, CBR, and Gamespot.