Capcom has a long and illustrious history. Capcom is a video game developer and publisher based in Japan. Resident Evil, Monster Hunter, Street Fighter, Mega Man, Devil May Cry, Dead Rising, and Marvel vs. Capcom are its most commercially successful gaming brands.
Capcom is not planning to slow down anytime soon as they aim to release Major New titles this year. Capcom recently published their Fiscal Year 2021/2022 Report, in which they revealed that they are planning to release Multiple Major New Titles this Fiscal Year with some other additional information such as projected sales and SKUs.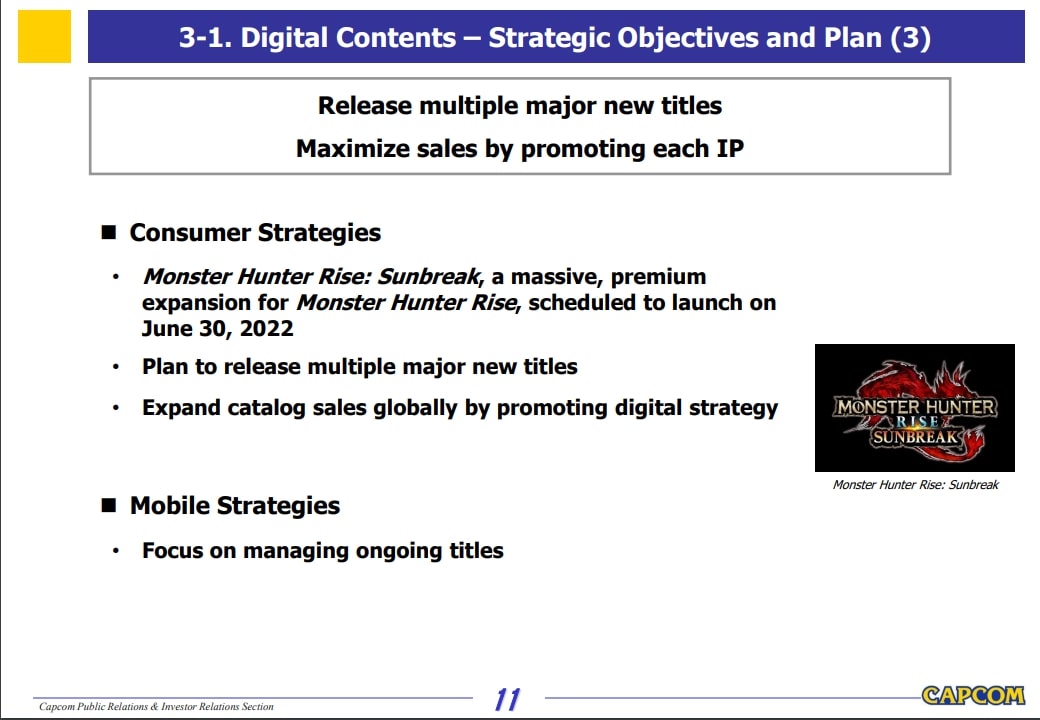 Additionally, Capcom plans to release Monster Hunter Rise: Sunbreak, which is supposed to be a massive expansion for Monster Hunter Rise by 30th June, together with multiple new titles later this year. Furthermore, they plan to maintain and manage the current titles, including Shinsekai into the Depths, Monster Hunter Stories, Spirit of Justice, Apollo Justice, Miles Edgeworth Dual Destinies, and Street Fighter IV: CV.
So far, Capcom has announced the following projects, which are projected to release later this year;
Monster Hunter Rise Sunbreak ( NSW/PC )
Capcom Fighting Collection (NSW/PC/PS4/PS5/X1/XS)
Resident Evil 2/3/7 Next Gen Upgrade (PC/PS5/XS)
Resident Evil Verse ( PC/PS4/X1 Until now )
Resident Evil Village DLC ( Supposedly PC/PS4/PS5/X1/XS)
Capcom 2nd Arcade Stadium ( NSW/PC/PS4/X1)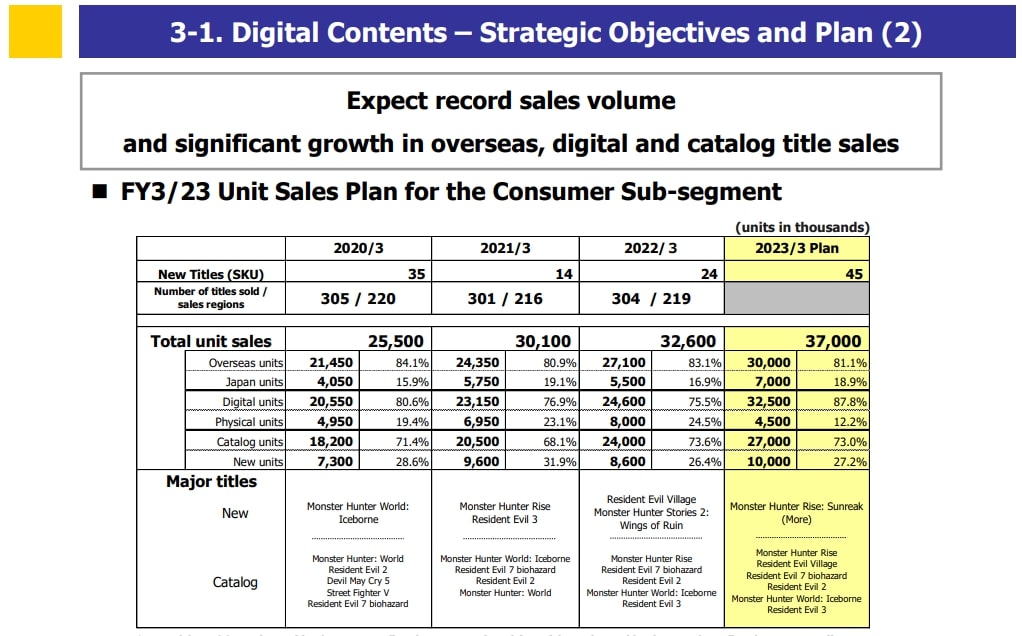 Additionally, Capcom is apparently planning to release 45 SKUs (a distinct product – for example: an SKU each for Assassin's Creed Valhalla and Assassin's Creed Valhalla Gold Edition) this fiscal year alone, double the amount from the previous fiscal year. The most SKUs Capcom has planned to release in the last three years.
Capcom has also announced the following titles, but there has been no information regarding their release dates.
Exoprimal (PC/PS5/PS4/XS/XB1)
Pragmata (PC/PS5/XS)
Street Fighter 6 ( No Platforms announced )
Finally, Capcom plans to expand its market share in Japan, with over 7 million units expected to be sold, up from 5.5 million last year. Similarly, Capcom anticipates a more robust overall performance, with 37 million units expected, over 12 million more than 2020.
Nonetheless, in addition to the titles previously announced, we can expect more from Capcom shortly. Capcom appears to be on a roll and intends to keep it going in the following year. Capcom has promised to release significant new titles, so perhaps we will see more great titles from them.
What are your thoughts on Capcom's Claim? What titles do you think they are planning to announce next?
Related News: Elden Ring Worldwide Shipments Exceed 13.4m Units
Was our article helpful? 👨‍💻
Thank you! Please share your positive feedback. 🔋
How could we improve this post? Please Help us. 😔