Assassin's Creed is Ubisoft's biggest and most impactful IP. With over 15 years of history, the series has been through many ups and downs, selling over 200 million units since 2007.
The latest installment of the franchise has also been released today, bringing it back to a traditional formula with varying degrees of success. However, on the same date, Ubisoft also released Assassin's Creed Odyssey in the past.
As the second game in the RPG trilogy, this entry took players to Greece exactly 5 years ago.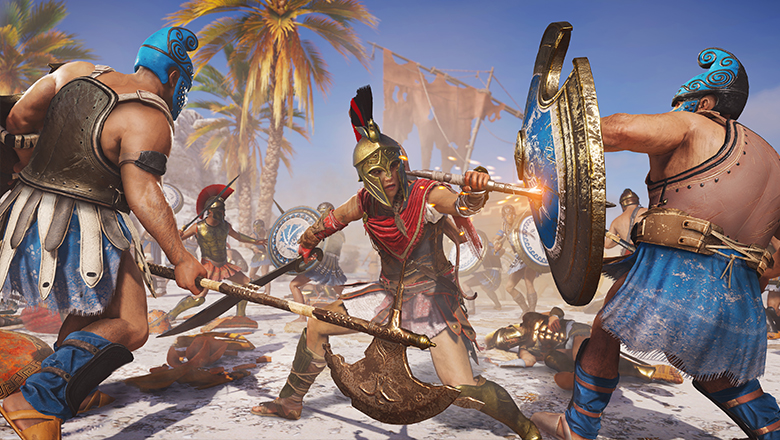 Assassin's Creed Odyssey was well-received by fans and critics for its beautiful visuals, distinctive storytelling, and exciting exploration, as the game offered the biggest world in the franchise at that point.
Compared to previous games, Assassin's Creed Odyssey allowed players to pick between a male and female character. While this was not the first example of a playable female character, Kassandra had the most significant role of any female in the franchise.
The game was built on the foundation of Assassin's Creed Origins, expanding it with more mystical elements. Ancient Greece was also larger than previous maps, allowing players to visit landmarks like the Statue of Poseidon and the Altar of Prometheus.
This culminated in an immersive RPG experience, but Assassin's Creed Odyssey also marked the beginning of demand for a traditional game from the series. However, this did not stop the game from selling well.
Ubisoft sold over 10 million units of the game by March 2020, making it one of the best-selling Assassin's Creed entries.
The publisher also expanded upon the game through two DLC expansions. Legacy of the First Blade and The Fate of Atlantis provided extra content for fans of the game within one year of release.
While Assassin's Creed Mirage is out today and has scored 77/100 on Metacritic, the game may not have been possible without the incredible success of Assassin's Creed Odyssey.
The 2018 title's success motivated Ubisoft to push for more innovations and expansion into this style of gameplay, leading to the growing demand for a return to the IP's roots.
Today, Assassin's Creed Odyssey can be found on sale below $20, making it one of the cheapest Assassin's Creed games to pick up and enjoy.
Was our article helpful? 👨‍💻
Thank you! Please share your positive feedback. 🔋
How could we improve this post? Please Help us. 😔
[News Reporter]
Abiyan is on track to complete his Computer Science bachelor's degree. His enthusiasm for writing and gaming motivates him to keep readers and gamers updated with the latest information from the industry. In his free time, Abiyan enjoys playing Dota 2 and Rocket League. Abiyan has also been cited in reputed websites such as Kitguru, Comicbook, GamingBible, Eurogamer and Gamingbolt.