Taipei, Taiwan – September 28, 2020 – ADATA, a leading manufacturer of high-performance DRAM modules, NAND Flash products, gaming products, and mobile accessories, has confidently stepped into the gaming peripheral business just last year. In Pakistan, a wide variety of XPG (Xtreme Performance Gear) products has already been well recognized by Pakistan gamers. Having a growing PC market and unearth competitive gaming scenario, the demand for gaming products, especially peripherals, has been increased. To serve the gaming community, ADATA XPG has pleased to announce the launch of its innovative gaming gear includes gaming peripherals and other new components in Pakistan.
XPG, the gaming division of ADATA Technology, presents a set of new gaming peripherals in the Pakistan market, includes brand new Summoner RGB Mechanical Keyboard, Precog Gaming Headset, XPG Battleground XL mouse pad. In addition to gaming peripherals, XPG options for users to build their custom rigs include XPG SPECTRIX S40G RGB PCIe Gen3x4 M.2 SSD, SPECTRIX D60G DDR4 RGB Memory Module, Battlecruiser Chassis, 80 PLUS GOLD Corereactor Power Supply Unit, Asetek AIO CPU Cooler and ARGB Extension MB & VGA Cable. This wide range of products is to fulfill the requirements of gamers, PC enthusiasts, and modders, who are seeking an uncompromised quality build and performance products.
"The Pakistan Gaming market has gained a noticeable hold and especially after the COVID-19, the space for emerging business opportunities is open. During the pandemic impact, the time spends on PCs and games have been increased. People across the globe are quarantined at their homes are looking for ways to keep themselves occupies. Subsequently, Gaming has emerged as a popular means of entertainment which also allows for social connectivity at large. A lot of new opportunities are opened in recent years for the PC market and gaming scene. Therefore, we are confident about the XPG range of gaming products, are the right fit for the gaming demand". Says Mr. Patrick Yeh (ADATA|XPG Regional Sales Manager, South Asia)
XPG SUMMONER Keyboard:
Three types of Cherry MX switches to choose from (Silver, Red, and Blue) the XPG SUMMONER keyboard is designed to offer gamers the versatility and tactile feedback they require for amazing gaming. For added comfort during long gaming sessions, the keyboard sports an ergonomic wrist rest.
XPG PRIMER gaming mouse:
Armed with a Pixart PMW3360 optical sensor, the XPG PRIMER offers the perfect balance of accuracy, quality, and value. Sporting an optical sensor capable of 12000 DPI, eye-catching RGB lighting, and durable OMRON switches offers to those who want a complete and hassle-free device, with a mouse with exceptional price-performance value.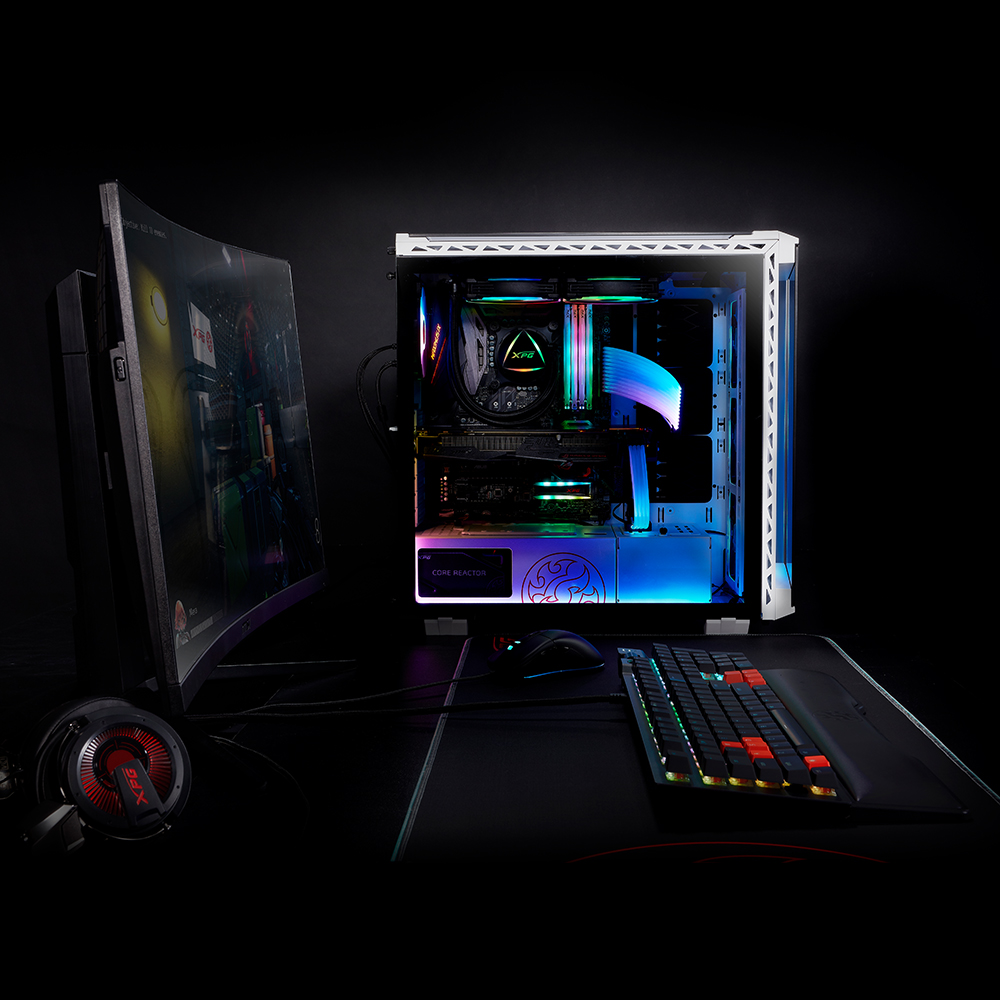 XPG BATTLEGROUND Gaming Mouse pad:
The XPG Battleground mousepads are made with smooth, scratch-resistant, and splash-proof CORDURA fabric. Available in extra-large sizes, the XPG BATTLEGROUND XL and BATTLEGROUND XL PRIME mousepads are ideal for creating large gaming-space with a mousepad that will include your mouse and keyboard.
XPG PRECOG Headset:
The XPG PRECOG Headset is the world's first dual-driver gaming headset. It is designed to offer gamers the ultimate gaming audio experience with an excellent frequency response range for immersive, multi-layered sound. The headset features three audio modes (FPS, Virtual 7.1 Surround Sound, and Music) for optimized sound for different applications and ENC (Environment Noise Cancellation) technology to help gamers communicate with team members clearly despite the presence of ambient noise.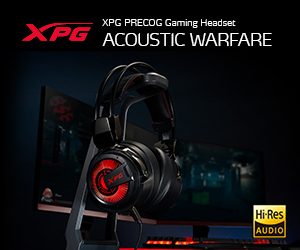 XPG BATTLECRUISER Chassis:
The XPG BATTLECRUISER offers flair, stability, functionality, and easy upgradability. XPG BATTLECRUISER's insane cooling capabilities including a high airflow layout, four 120mm ARGB fans as well as support for multiple radiators (up to 360mm) and a CPU cooler (up to 170mm).
XPG LEVANTE 240mm Cooler:
The XPG LEVANTE 240 features an Asetek closed-loop design, employed by many of the top AIO manufacturers, with the performance that should be up there with the best thanks to a thermally optimized copper plate and a 240mm radiator. XPG has also equipped both the pump housing and 120mm radiator fans with RGB lighting to give your case a dash of color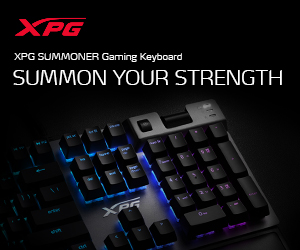 XPG CORE REACTOR:
The 80 plus Gold certified XPG CORE REACTOR gives users 90% efficiency at 50% load. It comes in 650W, 750W, and 850W for different needs. The power supply surpasses Cybenetics LAMBDA-A and ETA-A certification standards to meet the exacting needs of gamers for power transfer efficiency and low-noise operation.
XPG PRIME ARGB EXTENSION CABLE: MB:
Controls the lighting effects with ease via RGB software from major motherboard manufacturers. Its 24-pin connector support allows users to extend the length of the supply connection. The built-in controller has eight built-in ARGB effects, giving you more options.
XPG PRIME ARGB EXTENSION CABLE – VGA:
Support for 8-pin (6+2) VGA connectors and two bundled cables let you work with various graphic cards. These cables are designed to enhance lighting transmittance and vivid colors while retaining real cable functionality.
XPG SPECTRIX S40G RGB SSD:
The XPG SPECTRIX S40G RGB SSD is the latest in gaming SSD offers persistent read/write speeds of up to 3,500/3,000MB per second and customizable RGB lighting. It also comes with a few performance-enhancing features. SPECTRIX S40G RGB is supported by the NVMe standard that makes use of the high-speed PCIe Gen3x4 interface while creating an energetic experience for the users. In addition to this S40G RGB comes with a next-generation 3D Flash memory that offers a leap forward in capacity, efficiency, and durability as stated by the company.
XPG SPECTRIX D60G RGB Memory Module:
The XPG SPECTRIX D60G RGB Memory Module has a dual light diffuser design. Which means there is more surface area for the light to shine through. In fact, according to ADATA, 60% of the surface area has RGB LED lighting. In terms of performance, ADATA will be offering the XPG Spectrix D60G line in 3200MHz up to 4133MHz speeds. It also comes with Intel XMP 2.0 support as usual, so that users can easily load higher frequencies without tweaking in the BIOS.
Price, Availability, Warranty:
Pacific Computers is the sole distributor of XPG in Pakistan.
Tel:+92-3004005757
Office # 1, 2nd Floor, Hafeez Centre, Gulberg III, Lahore, Pakistan
About XPG – XTREME PERFORMANCE GEAR
XPG (XTREME PERFORMANCE GEAR) was established by ADATA to provide high-performance products for Gamers, Esports Pros, and Tech Enthusiasts. We are committed to developing products that deliver extreme performance and therefore work closely with the Gaming and Esports community to gain insight into the real needs of users. We provide a full range of products from Components, Peripherals to Systems, and create them with the highest standards of stability, reliability, and performance in mind. We also develop products with sheer cool designs that have earned several prestigious international awards, such as iF Design and Good Design. Beyond products, we play an active role in sponsoring and supporting Esports events and teams globally to realize Xtreme Gaming experiences at the highest levels.