Microsoft today revealed all the details of the Xbox Series X. The next-Gen console from Microsoft camp will use current-generation "Zen 2" x86-64 CPU cores @3.80 GHz (3.66 GHz when the STM is enabled) specifically designed for the console. When it comes to graphics, we have 3352 Stream Processors @ 1825 MHz under the RDNA2 architecture with 12 TFLOPs performance and RayTracing hardware acceleration.
Both the CPU and GPU are manufactured at "7nm Enhanced". We do not know if they are the 7nm + or N7P of TSMC.
The rest of the specifications, go through 16 GB of GDDR6 memory, which is divided into 10 GB with a bandwidth of 560 GB / s and 6GB @ 336 GB / s. We assume that 10 GB is for the system and 6 GB for the GPU.
Additionally, the new console will have 1TB NVMe SSD with a capacity of 4800/2400 MB / s, we can expand the storage with an "expansion card" that would be a 1TB SSD, it will support mechanical hard drives through a USB 3.2 port, it will have a Blu Ray unit limited to 4K content, and the console will offer 4K @ 60 FPS and "up to 120 FPS" games, which makes it clear that it will reach that speed at a resolution lower than 4K.
Microsoft Xbox Series X Complete Specifications:
CPU: 8x Zen 2 Cores at 3.8GHz (3.6GHz with SMT)
GPU: 12 TFLOPs, 52 CUs at 1.825GHz, Custom RDNA 2
Die Size: 360.45mm2
Process: TSMC 7nm Enhanced
Memory: 16GB GDDR6
Memory Bandwidth: 10GB at 560GB/s, 6GB at 336GB/s
Internal Storage: 1TB Custom NVMe SSD
I/O Throughput: 2.4GB/s (Raw), 4.8GB/s (Compressed)
Expandable Storage: 1TB Expansion Card
External Storage: USB 3.2 HDD Support
Optical Drive: 4K UHD Blu-ray Drive
Performance Target: 4K at 60fps – up to 120fps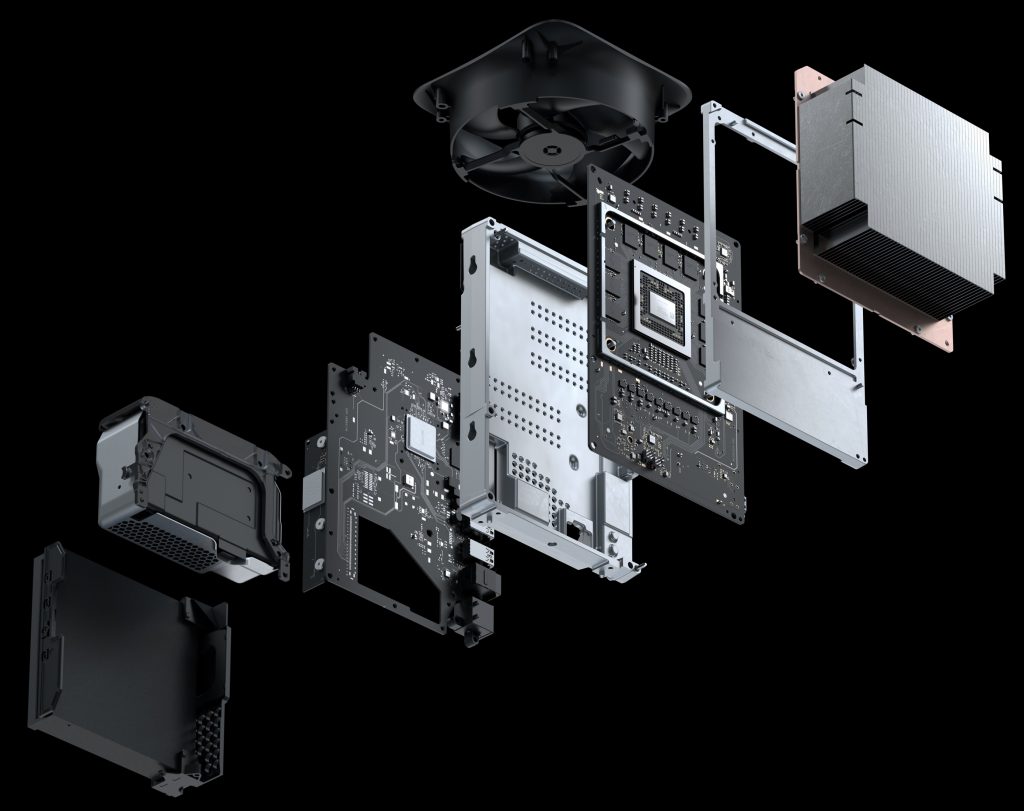 When it comes to cooling, we see how a generous fan will be in charge of expelling the hot air through the upper part of the chassis. The graphics (which you can see in the right side of above image) will be cooled by a very dense aluminum radiator, while the CPU, which is positioned on the opposite side separated by an aluminum piece, seems to also have its independent cooling system, Although we cannot see the other side of this backplate to confirm if it uses another radiator or has an active cooling system.