Since the introduction of Windows Defender in Windows 8, many PC users have become accustomed to not installing other third-party antivirus, especially those are free but less efficient, more annoying, and require more system resources.
Over the years, Microsoft improved and perfected Windows Defender to become currently not only the number one choice of PC users for convenience (since it pre-installed free with Windows 8-10), but also for its effectiveness.
Check this out. WIndows Defender classified as "BEST antivirus" by independent lab @avtestorg. As I blogged about last year https://t.co/PIUgTeq3dm Defender is now the most commonly used antivirus in the Enterprise and SMB customers. https://t.co/V4B9Yhe6Fv

— Brad Anderson (@Anderson) August 7, 2019
As reported by the independent study of AV-Test, Windows Defender is currently among the best antivirus options for Windows. AV-Test publishes updated reports of many antivirus programs every two months, and Windows Defender had already positioned itself among the best in October of last year. However, in June of this year, Windows Defender obtained a perfect score in the three categories that AV-Test analyzes, which are protection, performance and ease of use.
Only three other antivirus solutions got the same result. They are F-Secure Safe 17, Kaspersky Internet Security 19.0 and Norton Security 22.17, which have a cost when their trial periods conclude.
In the AV-Test assessment, Windows Defender detected all 307 samples of zero-day malware, compared to the average industry antivirus that obtained 97.1%. It also detected 2428 malware samples scattered in the last week, although this measure is less impressive, given that the industry average is 99.8%.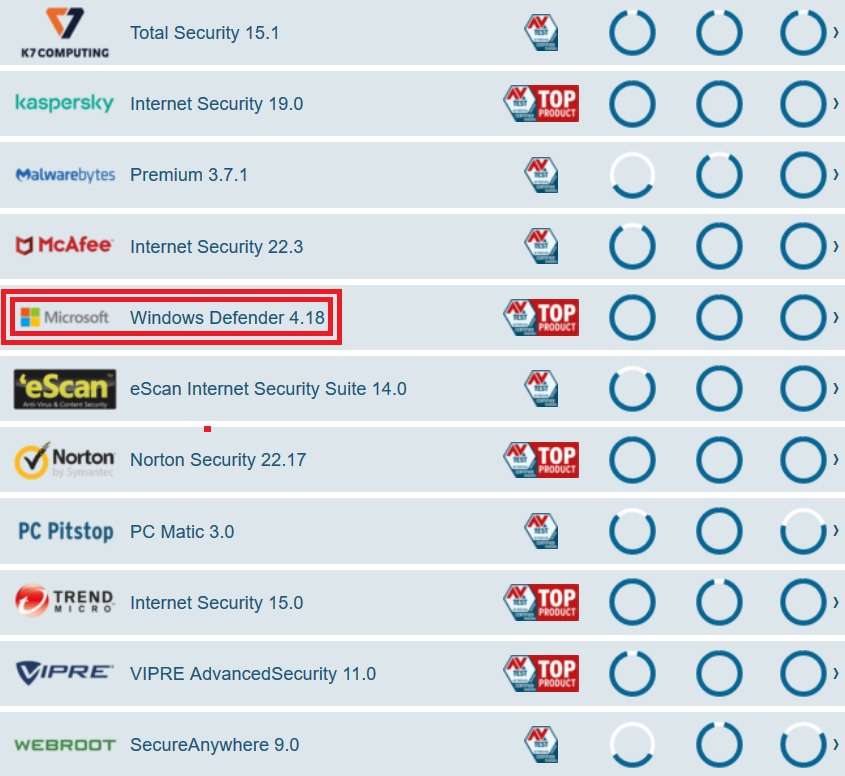 Undoubtedly, this is a great achievement for Microsoft, who celebrated the feat by stating that Windows Defender is the leading protection solution for small and medium businesses, as well as corporate ones.
So You know. Before installing free antivirus such as AVG, McAfee, remember that the best solution is simply not to install them, since Windows Defender meets all the requirements of the current Windows user.