A couple of days ago, Microsoft rolled out the new Creators Update that included a number of changes for the operating system. One of the anticipated update was the Game Mode, which was the center of the attention for most PC gamers.
People were curious about the Windows 10 Game Mode and some questions were left in mind regarding the performance improvement and the advantages it will bring. Lately, the studio highlighted some of the major perks of the update.
According to the company, the Game Mode is designed in a way so that the gamers can enjoy better performance with consistency. The mode optimizes system resources efficiently for the specific applications so that the users can enjoy the best gaming performance.
As per the details shared by the company, some titles from the Microsoft Windows Store have been 'whitelisted' for the feature, however, any game can be optimized with the Game Mode when the users enable it from the settings. It does increase the overall framerates as well as average framerates at some points.
The users can witness boost of up to 5% in the performance with this mode.
Because the game only has to be in the foreground to see the benefits of Windows Game Mode, games are still compatible when in fullscreen, borderlessfullscreen or windowed mode. Microsoft predicts about a 2 to 5 percent increase4 in performance which is perfect if you are just on the edge of a solid 60 FPS and need that additional push.
If you have installed the new Creators Update on your operating system, you can enable the mode by tapping Windows Key + G and you will get the settings bar. From there, you can select the titles you wish to have supported with the mode.
But another report published by Dark Side of Gaming suggests that the performance is slightly increased after having test results. The system used for test had following specs and the test was conducted using DX11 as they had some significant decrease in the performance.
Intel i7 4930K (overclocked at 4.2Ghz) with 8GB RAM, NVIDIA's GTX980Ti and GTX690, Windows 10 64-bit and the latest WHQL version of the GeForce drivers. While the results are below;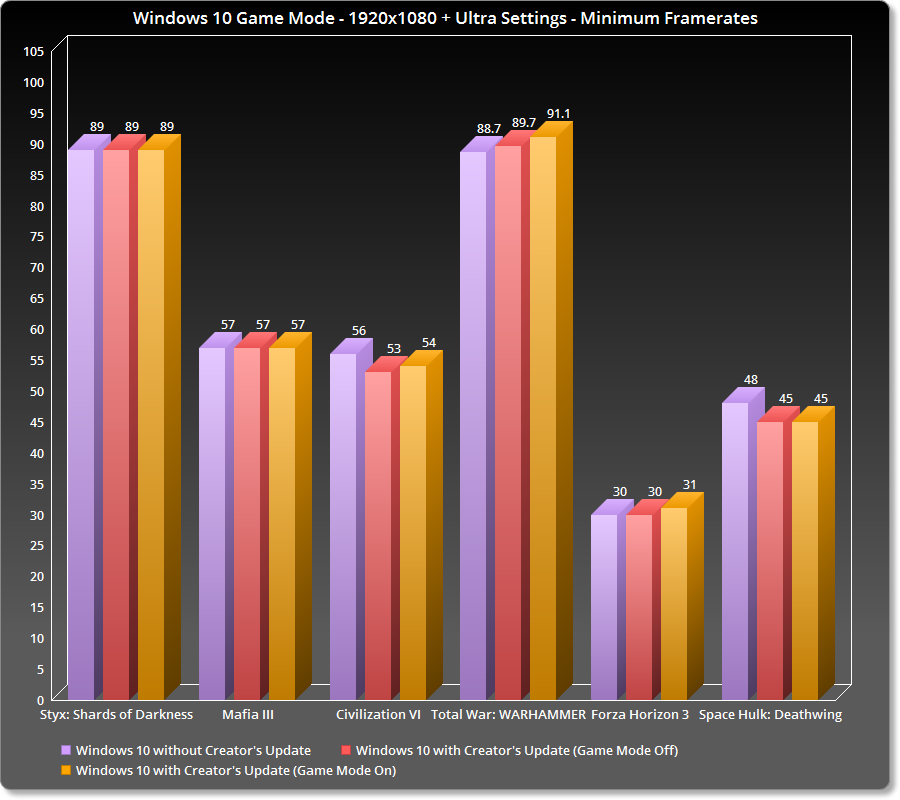 As seen above, there is a little difference in the performance. Maybe the mode is recent and will take some to be more effective in the near future. Stay tuned for more updates!