Microsoft is working on a new "Game Mode" for Windows 10, a feature that promises to improve gaming experience by minimizing the background application resources to almost nothing, making them to work better and faster in general terms. Today, through a chat at the Windows Central site with Kevin Gammill, one of the people responsible for the Xbox Platform, revealed that the Game Mode feature of Windows 10 centralizes your GPU and CPU. In principle, the goal behind Game Mode is to provide greater game consistency, although it is also planned to provide performance improvements – or just more FPS.
Windows 10 Game Mode
 Now Available for Fast Ring Insiders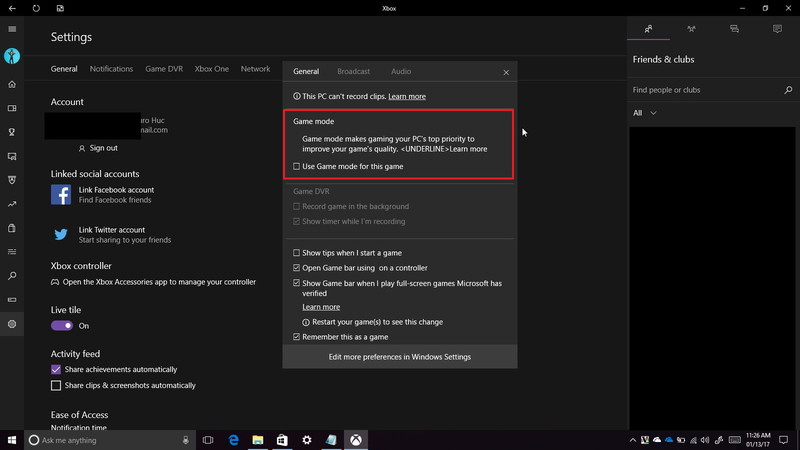 You Might Like: Windows 10 Game Mode will also support Win32 Games – Details of 'Creators Update'
This mode will prevent system resources from stealing game resources, making the performance more consistent. You should see fewer FPS drops as a result of Game Mode, especially in those situations that are much more intense during the use of hardware.
On the other hand, Game Mode will limit the contention of CPU threads between existing games and system processes, helping to speed things up even more. This concept is already available on Xbox One, giving priority to games when using system resources.
Enabling Game Mode is as simple as activating a button on the Xbox Game Bar in Windows 10 when you press the Windows key and G. Windows 10 will remember which games you have activated in the Game Mode until you decide to disable it.
The Win32 PC (Steam) games will have some Game Mode benefits, but games from UWP (Windows 10 Store) will have major improvements. This is because the UWP environment is a bit more standard than Win32, and Microsoft can easily optimize this feature as a result. Microsoft is also working with Intel, AMD, and NVIDIA to ensure Game Mode is as good as it can be, optimizing the most popular hardware.
Game Mode is enabled by default on certain games being tested, such as Halo Wars 2 and Forza Horizon 3, which already use that mode by default.
The developers will have nothing to do at the moment for supporting Game Mode in their games, since it will be a default enabler at the system level. However, Microsoft is exploring ways for developers to take advantage of this way for their games for better optimization.
The first version of Game Mode is already available in Build 15019 for members of the Fast Ring program. At first, not all games can work with this mode, only some that have been selected to test it.