Western Digital formally entered the market for solid state drives (SSD) with two models: the WD Blue and WD Green. The Western Digital WD Blue are designed for those who use extensive applications, which is why it promises to offer a sequential speeds up to 545 MB / s in regards to reading while writing reaches 525 MB / s. We will have three models of 250GB, 500GB and 1TB capacity available in two formats: the classic 2.5 " with 7 mm thick, and a modern M.2 2280. The basic model of 250 GB would be around 79 euros, while than 1TB would reach 299 euros. The top model promises a durability of up to 400 terabytes.
Western Digital launches WD Blue and WD Green SSDs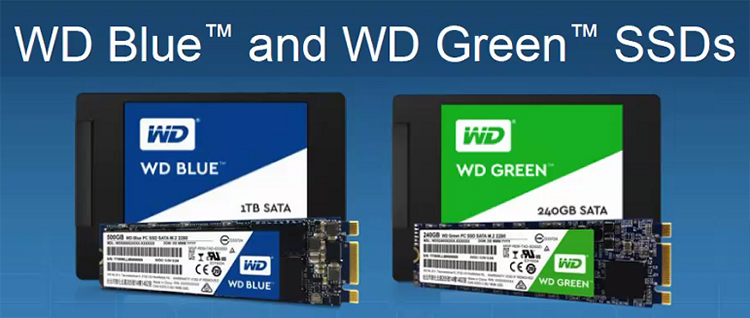 "There is significant demand among our core WD resellers and consumers for a broad set of flash-based storage options," says Eyal Bek, senior director, Devices Bsiness Unit, Western Digital. "The expansive reach of the WD channel enables availability of a Western Digital SSD solution. We are very proud to have developed and launched WD Blue and WD Green SSDs, and believe they'll provide the instant-on, reliability and capacity benefits our customers have been demanding."
The Western Digital WD Green will be the economic variant, being available for computers with multimedia use. It will also be available in formats of 2.5 "and M.2 2280, but only in capacities of 120GB and 240GB. Read speeds up to 540 MB / s and 405 MB / s write with a durability of up to 80 Terabytes. No details on the prices for these models, the information is completed with the support of a full suite of software with 3 year warranty.