Coffee Stain and Iron Gate Studio revealed that Valheim has sold over three million units in just 16 days since it launched on Steam via Early Access. The Viking invasion continues unabated as Valheim's maximum concurrent player record continues to climb, surpassing 390,000 earlier this week, breaking all-time highs for AAA titles such as Monster Hunter: World and GTA 5.
"We always work with the assumption that the Early Access launch would be successful, so I guess it doesn't really change our plans much. Except maybe now we can afford a bigger office, "said Richard Svensson, CEO of Iron Gate Studio. About the Valheim community. He added: "I love it when fans make Valheim-inspired paintings, music and other creative works. I guess I like to inspire people to create things. "

"THREE MILLION?!! Already?" said Albert Säfström, CEO of Coffee Stain Publishing. "This level of success is unknown to Coffee Stain. Fortunately we have Daniel Kaplan, who was part of the rise of Minecraft, on our team, as well as the excellent developers at Iron Gate. We are excited to embark on this journey together.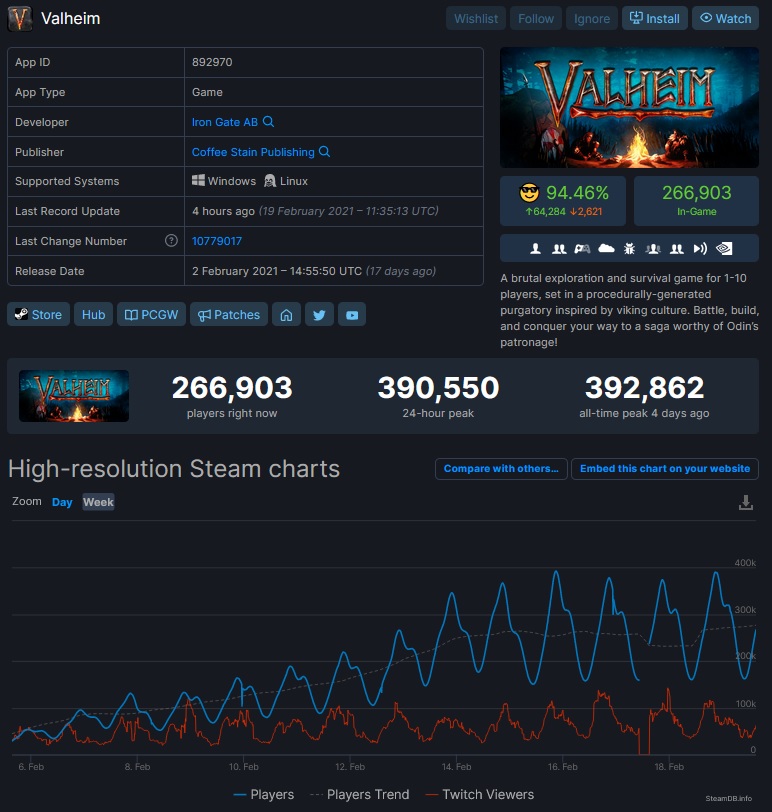 Despite the constant influx of new souls, Valheim maintains its critical acclaim, with over 59,000 "extremely positive" user reviews on Steam. Today, Valheim also officially became part of the 250 highest rated games of all time on the platform, reaching number 78 and everything seems to indicate that it will continue to rise.
Not only are there millions of Vikings playing Valheim, but the game also maintains a strong audience on Twitch. Currently, it is the seventh most watched game on the platform, ahead of CS: GO, Dota 2, Minecraft and Rust, fans have seen more than 20 million hours of gameplay since its launch. Valheim also drew more than 147,000 concurrent viewers on February 17, the highest number yet.
Iron Gate Studio has already revealed an Early Access roadmap that will be kept alive with future updates, promising new biomes, new enemies, and improvements to combat, ships, and more. Created by Iron Gate Studio, Valheim started as a one-man project by CEO Richard Svensson in 2018, and the team expanded to five in 2020. Coffee Stain, also based in Skövde, joined as a publisher in 2019.
Coffee Stain Publishing is a publisher founded in 2017, the team has worked with a select number of titles, including the acclaimed arcade shooter Huntdown, which is coming soon to Steam, and Deep Rock Galactic, which has sold over two million units. early this year. Satisfactory, the otherworldly factory building game developed and published by Coffee Stain, currently in Early Access, will soon release its highly anticipated Update 4, and Midnight Ghost Hunt, the viral 4v4 accessory hunting game, is gearing up for enter a public alpha that will remain active until launch.
Valheim is available now on Steam Early Access for Windows and Linux for $ 19.99 or regional price.