Continuing the Ubi30 promotional gifts for 30 years in the industry, now Ubisoft announced to start a 30 days giveaway campaign from November 24 to December 23 of this year. During this period, players will discover free games, digital resources free of charge and some special discounts on the Ubisoft Store. You will see new offer each day in limited quantity, so do not forget to regularly check the promotion page.
Ubisoft Celebrating 30 Years In Industry: Full List Of 30 Days Giveaways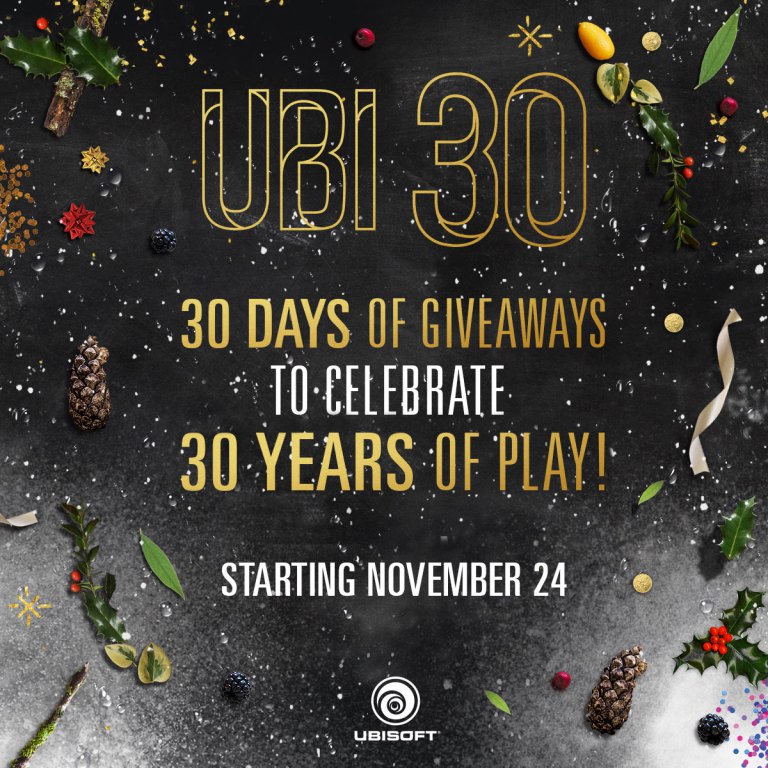 Anyone with an account of Ubisoft can participate, although some deals will be limited to certain countries. Over the past 30 years, Ubisoft has been engaged in creating original and memorable experiences for players. Fans and users have always been the center of success and evolution of Ubisoft, and gifts are a way to thank them for their support. The 30 days giveaway campaign of Gifts will begin on November 24, 2016 and will last until December 23, 2016, with new surprises every day.
On the other hand, a user on Reddit manage to find the list of games and "property" that Ubisoft will be giving away in these 30 days.
Day 1 (24/11): Rayman Classic for Android and iOS
Day 2 (25/11): 30% discount on Ubisoft games
Day 3 (26/11): Exclusive collection letters E3 2016
Day 4 (27/11): Ubi30 exclusive gift
Day 5 (28/11): For Honor GIFs
Day 6 (29/11): Image Ubi30 360
Day 7 (30/11): Welcome Card Just Dance
Day 8 (01/12): Ubisoft DIY Advent Calendar
Day 9 (02/12): Steep Wallpaper
Day 10 (03/12): Digital Exclusive Posters E3 2016
Day 11 (04/12): Rabbids Holiday Goodies
Day 12 (05/12): WWW Wallpaper
Day 13 (06/12): Recipes for drinks Ubisoft

Day 14 (07/12): Assassin's Creed 3 for PC
Day 15 (08/12): Ubisoft wrapping paper
Day 16 (09/12): Giveaway of 300 games, the first 300 players who reach is one of 3 Ubisoft released last take
Day 17 (10/12): Watch_Dogs 2 Wallpaper
Day 18 (11/12): Ubisoft gift tags
Day 19 (12/12): Ubisoft Dessert Recipes
Day 20 (13/12): Ghost Recon GIFs
Day 21 (14/12) Mobile Wallpaper

Day 22 (15/12): Prince of Persia for PC

Day 23 (16/12): Rayman Legends for PC

Day 24 (17/12): Splinter Cell for PC

Day 25 (18/12): The Crew free for PC
Day 26 (19/12): Rayman GIF
Day 27 (20/12): Steep GIF
Day 28 (21/12): Holiday Cards 2017
Day 29 (22/12): Ubi30 Wallpaper
Day 30 (23/12): Ubisoft decorations