In its latest tax report, the Polish company CD Projekt shared the number of copies of The Witcher from its launch on May 15, 2015, until the end of 2019.
According to the chart, The Witcher 3 sold more than 29 million copies across all platforms the game was released on, including the recent launch on Switch on October 15. Beyond the popularity of the latter, the Nintendo console recorded 11% of total sales in 2019, while on PC it was a shocking 53%, probably thanks to the launch of The Witcher 3 series on Netflix, along with the numerous sales of Steam and GOG.
Although PlayStation 4 sold more than copies than PC in the year of its release, but overall PC represents 46.8% of the copies sold from 2015 to date, beyond the cost of the GOTY edition now (especially in sales) is much lower than its premiere in May 2019.
Be that as it may, this shows how the PC is a platform that tends to bear more fruit in the future compared to its console counterparts.
You Might Like: CD Projekt RED Dominating Warsaw Stock Exchange! The company overtook its largest competitor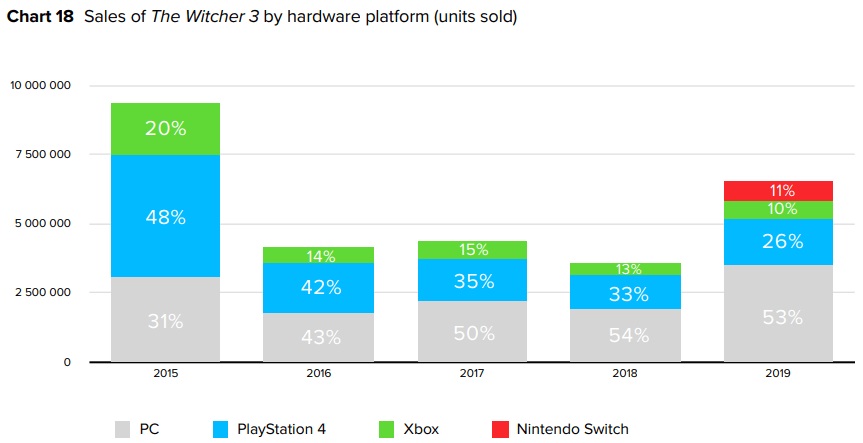 It should be noted that 65% of the copies sold were in digital format. It is also curious that, in the year of its launch, 71% of the copies sold were in physical format, probably due to sales on consoles, which in that year exceeded those of PCs.
Maybe we shouldn't be surprised, but South America only represents 7% of the copies sold. A fairly low percentage, which publishers are used to.
Copies sold per year:
2015 : 9,471,830
2016 : 4,190,140
2017 : 4,401,408
2018: 3,591,549
2019 : 6,619,718
Total copies sold: 28,274,645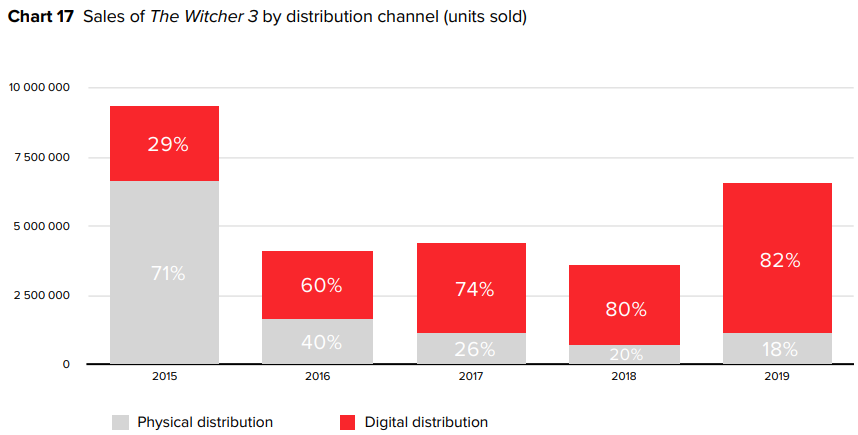 In addition, the company announced that in 2019 there was a 44% increase in earnings compared to 2019, thanks to the launch on Switch, PC sales and the release of GWENT on mobile devices.
— CD PROJEKT IR (@CDPROJEKTRED_IR) April 8, 2020