The International Data Corporation (IDC) revealed increase in sales of desktop PCs, laptops (including Chromebook) and desktop workstations due to telecommuting and studying from home in this Global pandemic situation. With all these pre-assembled PCs experiencing an increase in the number of shipments of 13 percent last year, for a total of 302.6 million units. Which is impressive, considering last time such growth was seen in 2010 (13.7%).
This year-on-year increase is reinforced, mainly, by the increase in sales during the fourth quarter of 2020, in which worldwide shipments of PCs achieved a notable increase of 26% from the fourth quarter of 2019; In the fourth quarter of 2020 alone, 91.6 million units were shipped. In that particular quarter, Lenovo led the top three vendors with a 25.2% share of sales, followed by HP (20.9%) and Dell (17.2%).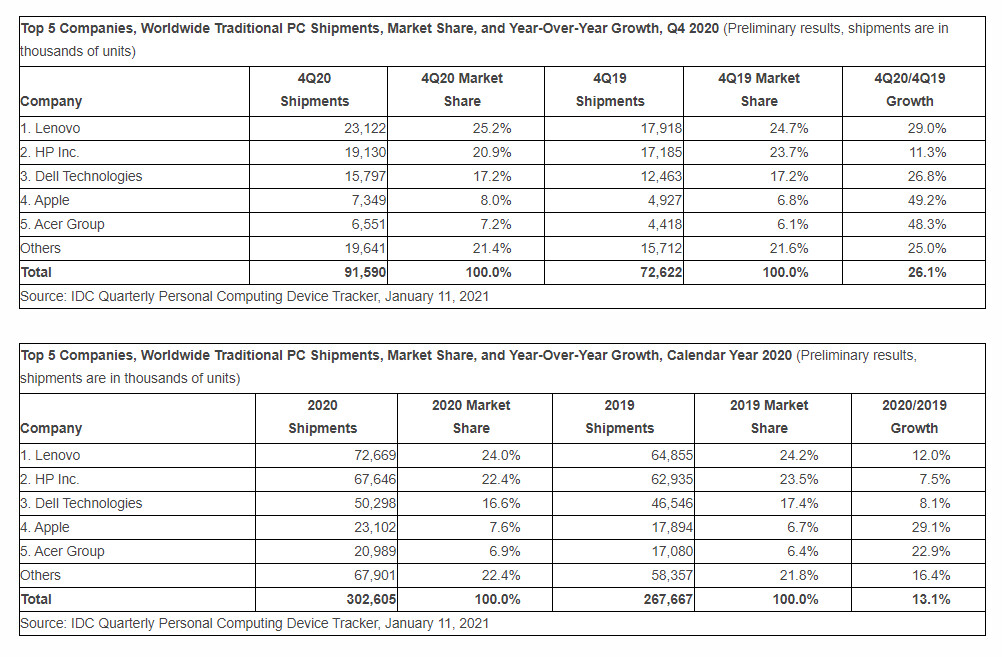 Apple comes in fourth with just 8% market share, but it shows the highest growth among the top five vendors, at 49.2% annually, and that's with Apple's comparatively small product portfolio when it compares to any of the other top three vendors offering a huge variety of equipment. 
"Demand is driving the PC market and all signs are that this increase still has a way to go. The obvious drivers of growth last year were focused on work from home and distance learning needs, but not the strength of the consumer market should be overlooked. We continue to see gaming PCs and monitor sales reaching unprecedented levels , and ChromeOS-based devices are expanding beyond education into the consumer market. In retrospect , the pandemic not only fueled demand for the PC market, but also created opportunities that led to market expansion. "