BANDAI NAMCO Entertainment today announced that the seventh installment of the Tekken series 'Tekken 7' will launch on the PC via Steam, Playstation 4 and Xbox One on June 2.
Tekken 7 Coming To PC and Consoles on June 2 – New Screenshots and Trailer
You Might Like: Tekken 7 – Kuma and Panda announced; Gameplay Trailer
"TEKKEN 7 for PC and console consoles represents the culmination of the highest level of development in fighting games, and even surpasses its namesake for game rooms, offering greater balance and purification, including a dramatized story mode, More characters, and the implementation of online tournament modes that will undoubtedly spark the fighting spirit of players around the world. "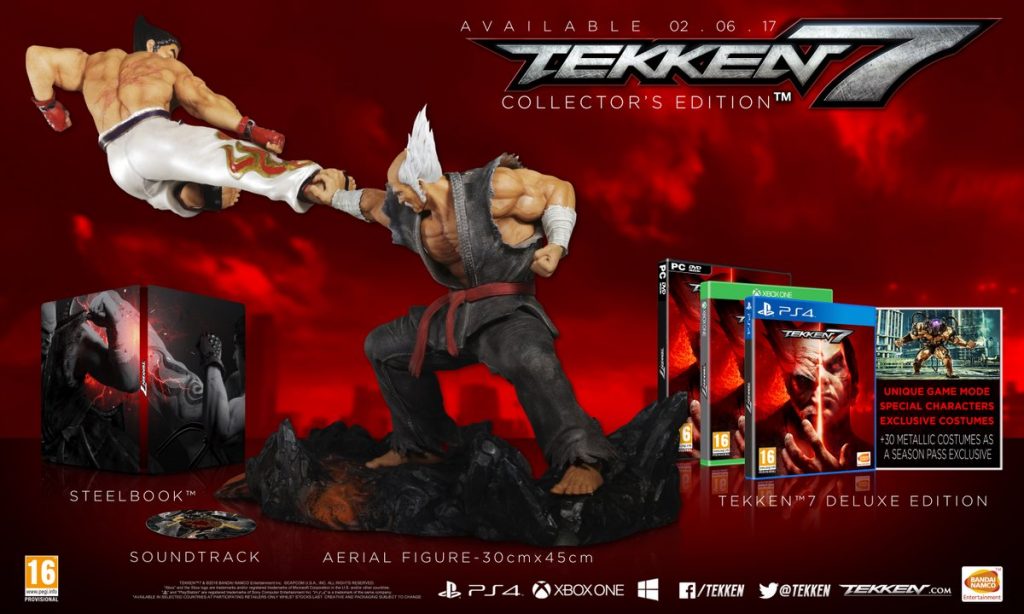 Pre-order bonus in digital format of TEKKEN 7 (already available for PlayStation 4, Xbox One and PC, for all digital copies and in participating stores), which has DLC access to Eliza, the famous vampire character who made his debut On the franchise with TEKKEN Revolution.
In addition to Eliza, orders anticipated in digital format the Xbox Store awarded as bonus a free copy of TEKKEN 6 by backward compatibility (available as pre – order bonus for the Xbox Shop from 31 January 2017).
The collector 's edition of the game (available for PlayStation 4, Xbox One and PC). Collectors and hardcore fans of Tekken will be happy to know that there will be a collector 's edition of Tekken 7 , which contains the deluxe edition and the season pass (only available in Europe, Middle East , Africa and Australasia East) and a spectacular figure, about 30 cm high and 45 cm wide, plasma Kazuya a dynamic pose kicking in midair Heihachi, a special SteelBook ™, and the official soundtrack of Tekken 7 .
The TEKKEN 7 season pass (available for PlayStation 4, Xbox One and PC), which will give players access to downloadable content to extend the TEKKEN 7 experience, which will include special characters, new phases, a new mode Game, packs of suits, and a bonus pack of 35 metallized suits exclusive to the season pass. * Downloadable content packages within the TEKKEN 7 season ticket can also be purchased separately.
The deluxe digital edition of the game (available for PlayStation 4, Xbox One and PC) also includes the season pass.
This time the game has been developed with Unreal Engine 4 and it will be released for PCs and next-Gen consoles on 2nd June.