A few days ago, both Counter-Strike: Global Offensive and Steam had broken new records for concurrent users who were playing – or logged in – at the same time on the platform.
While the previous record was nearly twenty million (19,728,027 to be exact), now the figure reached the new peak of 21,360,226. Of course, much of this has to do with the coronavirus, which is holding some countries in the world hostage in partial or total quarantine.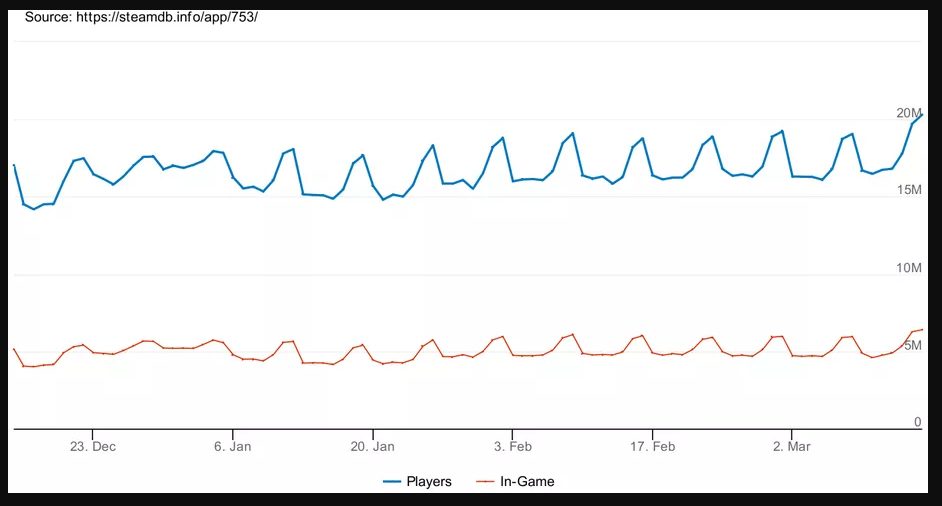 It was expected that so many gamers could take advantage of the quarantine to catch up on their favorite games.
The ten most played titles during this peak of users were:
| | | | |
| --- | --- | --- | --- |
| Current players | Peak today | | Game |
| 1,055,436 | 1,055,436 | | Counter-Strike: Global Offensive |
| 527,731 | 644,468 | | Dota 2 |
| 169,300 | 195,870 | | Tom Clancy's Rainbow Six Siege |
| 155,106 | 156,149 | | Football Manager 2020 |
| 153,755 | 501,729 | | Playerunknown's Battlegrounds |
| 128,747 | 157,340 | | Grand Theft Auto V |
| 101,623 | 103,644 | | Destiny 2 |
| 100,653 | 100,653 | | DOOM Eternal |
| 99,309 | 111,202 | | ARK: Survival Evolved |
| 99,041 | 219,730 | | Monster Hunter: World |