Once again, the mandatory quarantine in many countries due to coronavirus is increasing the number of users playing at the same time day by day. As a consequence, Valve's digital platform and some of its most popular current titles breaking record every few days.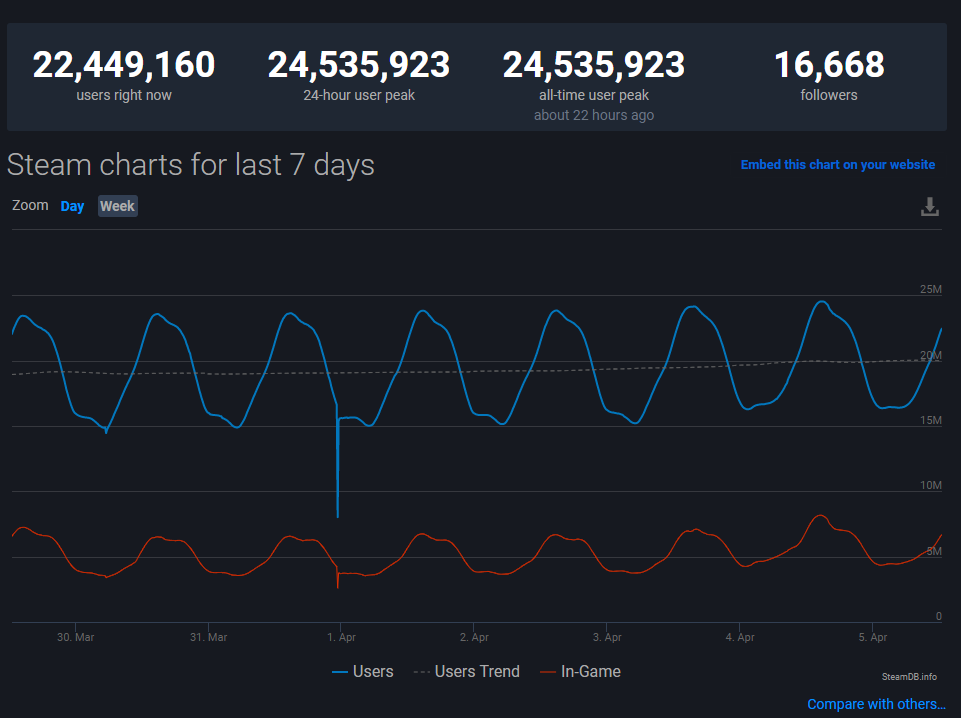 The previous record for users connected at the same time on Steam on March 30 was 23,572,311, while in the last 24 hours it increased to 24,535,923 and it will probably continue to grow over the days.
Steam's record is largely due to the highly anticipated Mount & Blade 2: Bannerlord, whose Early Access debut recorded a surprising peak of 178,562 players within hours of its launch on the platform (not counting those who purchased it from the Epic Games Store. on March 31) and two days ago registered 228,662 simultaneous users. This figure is not far from the peak of users in the last 24 hours, which was 222,349.
The ten most played titles during this peak of Steam Concurrent Users were the following:
| | | |
| --- | --- | --- |
| Current players | Peak today | Game |
| 553,040 | 1,191,540 | Counter-Strike: Global Offensive |
| 299,749 | 729,223 | Dota 2 |
| 158,220 | 222,349 | Mount & Blade II: Bannerlord |
| 141,525 | 560,748 | PLAYERUN ancla'S BATTLEGROUNDS |
| 101,504 | 180,287 | Tom Clancy's Rainbow Six Siege |
| 97,820 | 192,251 | Grand Theft Auto V |
| 85,880 | 125,452 | Rust |
| 73,004 | 91,925 | Destiny 2 |
| 66,033 | 79,507 | Team Fortress 2 |
| 61,182 | 91,726 | Rocket league |