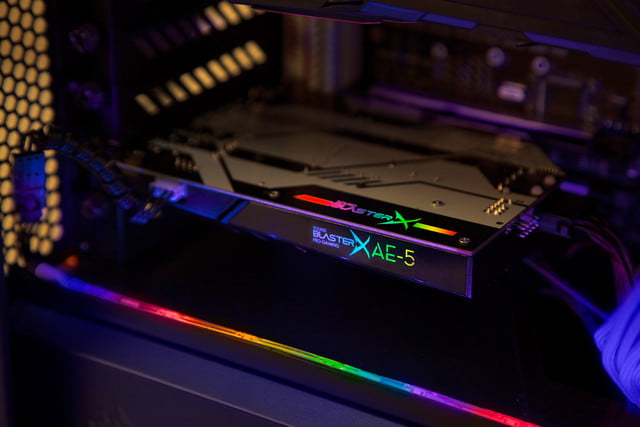 Creative announced the launch of its new Sound BlasterX AE-5, which is the first sound card to incorporate an RGB LED lighting system in order to patch it with the rest of the build.
Sound BlasterX
 AE-5: Built-In Headphone AMP and RGB Lightning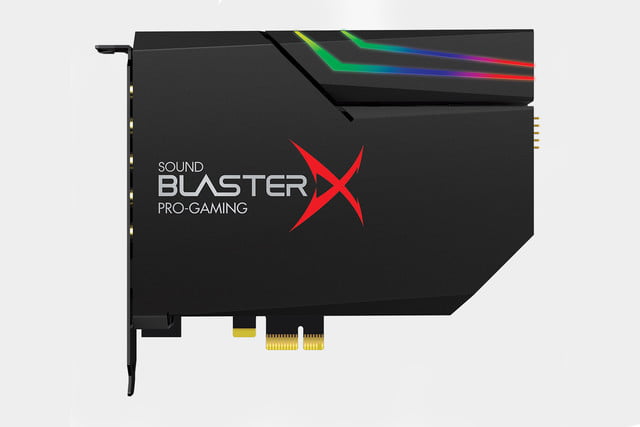 You Might Like: Sound Blaster PLAY! 3: USB DAC Amp and External Sound Card
Let's care about the specs. The Creative Sound BlasterX AE-5 handles an ESS Saber DAC that allows playback of up to 122 dBa @ 32 bits / 384kHz (above the average 28-bit/198kHz of most hi-res audio) with an amplified output for headphones of up to 600Ω (ohms), which is why the company catalogs it as a card for Gamers with audiophile ear. To be more specific, the company has used quad-core Sound Core3D audio digital signal processor (DSP) with the Saber DAC as a result it is capable of delivering up to 32 times more sound clarity than motherboard-integrated audio solutions. In addition to the injection of more algorithms to improve the sound of games, music and movies in 5.1 speaker configurations.
In conclusion, the headphone amplifier is backed by discrete transistors and high-end WIMA capacitors with a dual-amplifier design to extend both audio channels individually. Of course, the RGB lightings are configurable through the Aurora System Reactive Lightning application, even allowing you to connect up to four RGB strips to the sound card controlled by the software.
It is expected that the sound card will be available in July at a price of around $150.