A fresh Jon Peddie Research report dedicated to the world's supply of graphics cards in the second quarter of this year revealed very disturbing results for graphics cards manufacturers (add-in boards). According to analysts, over the past three months, graphics cards shipments have fallen by 27.96%, which is easily explained by a significant drop in interest of Cryptocurrency market.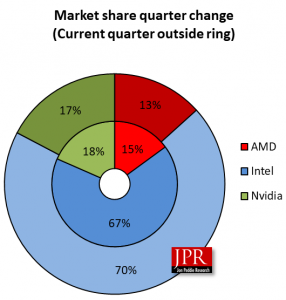 Quick highlights
AMD's overall unit shipments decreased -12.28% quarter-to-quarter, Intel's total shipments increased 2.62% from last quarter, and Nvidia's decreased -7.49%.
The attach rate of GPUs (includes integrated and discrete GPUs) to PCs for the quarter was 135% which was down -4.61% from last quarter.
Discrete GPUs were in 32.83% of PCs, down -6.28%.
The overall PC market increased 1.9% quarter-to-quarter and increased 2.04% year-to-year.
Desktop graphics add-in boards (AIBs) that use discrete GPUs decreased -27.96% from last quarter.
As for the general situation in the market for discrete graphics cards and integrated graphical processing units, which are part of laptops and CPUs, Intel is the leader here with 70%. The market was less favorable for AMD and NVIDIA, whose shares fell to 13% and 17%, respectively.
Of the interesting facts cited in the report of Jon Peddie Research, you can see a 2% increase in PC shipments in the year-to-year comparison, with 32.8% of computers equipped with a discrete graphics cards. At the same time, for the last year, desktop graphics cards shipments fell by 6%, mobile ones – by 5%.
A detailed report on the alignment of forces in the segment of graphics cards market will be published in next few days.