Samsung today announced the launch of Galaxy S8 and Galaxy S8 +. In recent months, rumors about them even flooded the Internet. Let us see how many of them turned out to be true. Journalists have the opportunity to familiarize themselves quite short, so I got to know all the details. Definitely we will publish more information in the full review.
Samsung Galaxy S8 and S8 + – First Impression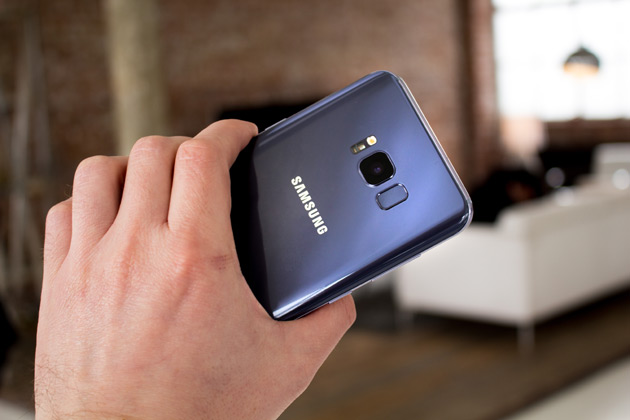 Samsung Galaxy S8 definitely catches the eye. All this thanks to a very narrow frame around the display. The screen is a huge front surface in combination with curved glass and rounded corners does a brilliant impression (both Galaxy S8 / Plus have curved edges rather than flat). Yes, smartphones are large, but comfortably fit in the hands and look great.
The display takes so much space that it was necessary to remove the buttons from the bottom of the frame. They even removed the classic, hardware Home key. Now the home key located under the screen recognizes the central force which is the nice combination of hardware and software. The user will feel the vibration on the surface of the glass, under the finger.
The solution is similar to those already used in the iPhone 7, though not identical. We do not have the entire display recognizing the pressure, but the selected portion.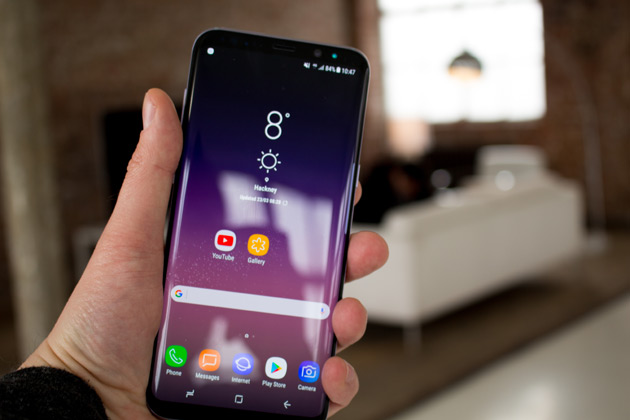 Samsung Galaxy S8 and S8 + will be available in four colors: black, silver, blue and Orchid Gray. In my view, however, gray color next to the blue looks better in reality.
Waterproof and dust-proof housing (IP68)
Very narrow frame around the display
Rounded corners of the display
Rounded glass front and back
Metal side edges
Rear camera does not protrude beyond the housing
Fingerprint reader transferred to the rear
IRIS scanner with face recognition (front)
Samsung Galaxy S8 and S8 + Display:
In addition to the effect of "WOW!" at first sight due to impressive design in the form of narrow frame, you should also pay attention to the aspect ratio of display compared to previous models. Samsung Galaxy S8 and S8 + screens have 18.5: 9 aspect ratio that is similar to the LG G6, but even longer (more panoramic).
Samsung Galaxy S8 has a diagonal of 5.8 inches and a resolution of 1440×2960 ​​px (WQHD +), which translates into very good detail on the level of about 570 pixels per inch (the same as in the Galaxy S7). The image quality is impressive, whether in video, photos or text. Samsung added a feature film scale 16: 9 18.5 9. Also look great movies 21: 9.
In turn, Galaxy S8 + features 6.2 inch display and up to the same resolution. This gives details about 530 pixels per inch – theoretically less than in the basic S8, but in practice you will not notice any difference with the naked eye. Both displays are equally good.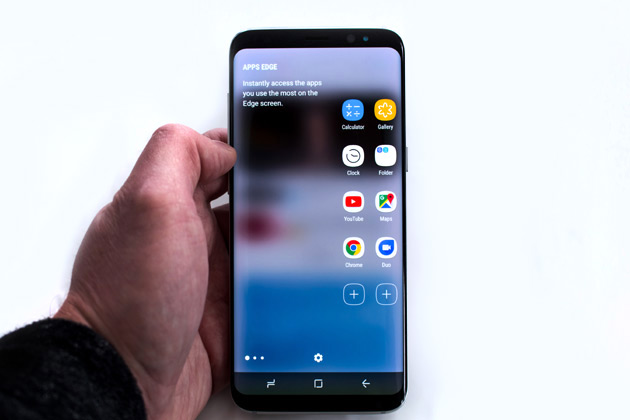 It should be noted that by default both devices set to a slightly less resolution: 1080 x 2220 px (FHD +). All this to reduce power consumption. The full resolution can be enabled in the display settings.
Samsung Galaxy S8 Super AMOLED 5.8 ", 1440×2960 ​​px, 567 ppi
Samsung Galaxy S8 + Super AMOLED 6.2 ", 1440×2960 ​​px, 530 ppi
Comparison of dimensions with predecessors:
Galaxy S8 (5.8 inches): 148.9 x 68.1 x 8.0 mm
Galaxy S7 (5.2 inches): 142.4 x 69.6 x 7.9 mm
Galaxy S8 + (6.2 inches): 159.5 x 73.4 x 8.1 mm
Galaxy S7 edge (5.5 inches): 150.9 x 72.6 x 7.7 mm
As you can see, despite the use of a much larger screen in Samsung Galaxy S8, it is 1.5 mm narrower than its predecessor, and only 6.5 mm higher. On the other hand S8 + S7 in comparison to edge is about 0.8 mm wider and 8.6 mm higher.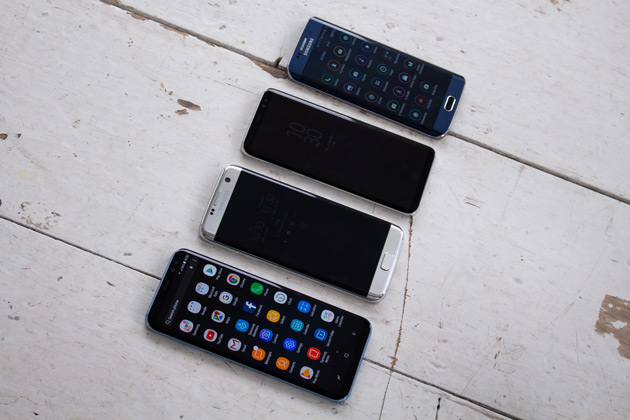 Fingerprint scanner and IRIS
Since the Galaxy S8 bid farewell to the hardware Home button, at the same time it had to say goodbye to the fingerprint reader, which was previously built into the home button. Disappeared from the front and appeared at the back, next to the camera.
It seems like Samsung wants to get users to more use of the iris scanner. They put it on the front and combined with Face Recognition, in order to prevent cheating of one of the sensors, for example. Displaying user picture.
Galaxy S8 has major 4 security features – fingerprints, facial recognition and eye scan. There is also a well-known and effective encryption system memory Samsung Knox. This smartphone can arouse interest among business users. The best, however, is that facial recognition and iris operates efficiently even in low light.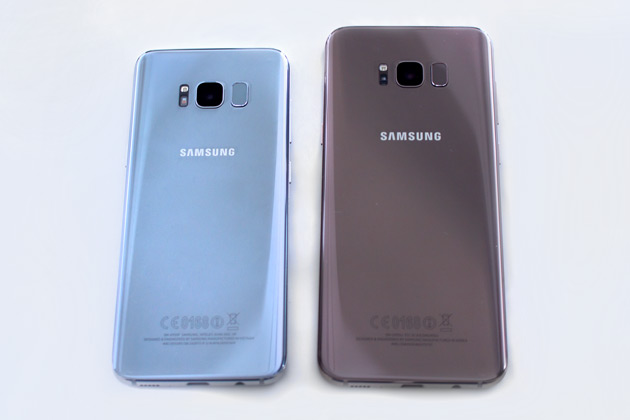 Samsung Galaxy S8 and S8 + camera, processor, memory, battery
In addition, the rear camera does not protrude beyond the housing you will not see major changes in relation to the Galaxy S7. It still has a 12 megapixel sensor, f / 1.7 optical image stabilization and video recording 4K UHD, unfortunately, still at 30 fps.
Laser rangefinder supports autofocus. At the next opportunity will check whether it accelerates focus – after all, already in the Galaxy S7 AF system it was very fast. When it comes to picture quality, the first impressions are very positive. The front camera now has 8 megapixels and autofocus – a plus delicate change compared to the previous model. Samsung also facilitated the operation with one hand.
Samsung Galaxy S8 will be available in most other countries with the Exynos 8895 SoC manufactured on 10-nanometer lithography. The SoC also includes the efficient layout of the Mali-G71, most likely with twenty cores (ie, MP20). In the American version you will receive devices with Snapdragon 835.
Built-in memory in each model has a capacity of 64 GB (very fast UFS 2.1) combined with a powerful processor and 4 GB of RAM and a well optimized system gives very fast and smooth operation of Android 7.0. First impressions of the service are phenomenal. The memory can be expanded using a MicroSD card.
Samsung Galaxy S8 has a battery of 3000 mAh and Galaxy S8 + 3,500 mAh. Both devices also support quick battery charging and wireless charging accessories.
Samsung Galaxy S8 and Galaxy S8 + Specifications:

Operating system
Android 7.0 Nougat
Screen
Super AMOLED 5.8 "1440×2960 px, 567 ppi
Super AMOLED 6.2" 1440×2960 px, 530 ppi
Processor
Exynos 8895 octa, GPU Mali-G71
RAM
4 GB
Internal storage
64GB + microSD card reader
Camera
12 megapixels Dual Pixel f / 1.7 (recording 4K UHD 30 fps) / 8 megapixels
Communication
Wi-Fi 802.11 a / b / g / n / ac, Bluetooth 5.0, NFC, LTE
Battery
3000 mAh, quick charge
of 3500 mAh, quick charge
Additional features
a fingerprint reader, iris scanner, watertight (IP68)
Dimensions
148.9 x 68.1 x 8 mm
159.5 x 73.4 x 8.1 mm
Samsung Dex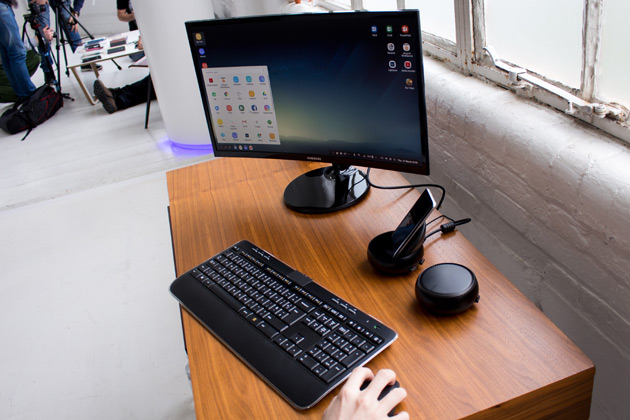 Samsung Dex is the abbreviation of the Desktop Experience. It is a small docking station with HDMI output to the monitor and two USB ports which connect the keyboard and mouse.
The idea is not new, previously we have seen lots of similar solutions for top smartphones with Windows called Microsoft Continuum. All indications are that Samsung has learned from the mistakes of the MS and suggested something that works a whole lot smoother. The Android 7.0 interface is displayed on the full screen in Full HD, and applications are in the form of scalable windows (as in the usual Windows).
We can compose SMS using the keypad to write text in Word, use Excel spreadsheets, browse the web comfortably (in a separate dex browse) and a number of other facilities, including notice.
It is not a simple "copy screen" (mirroring), but quite mature, useful mode "desktop". During use smartphone battery is being charged. After removing your running applications are not closed, but automatically go into roaming mode. This allows you to seamlessly move from field work, for stationary operation. Samsung Dex was doing surprisingly well.
New Bixby AI Assistant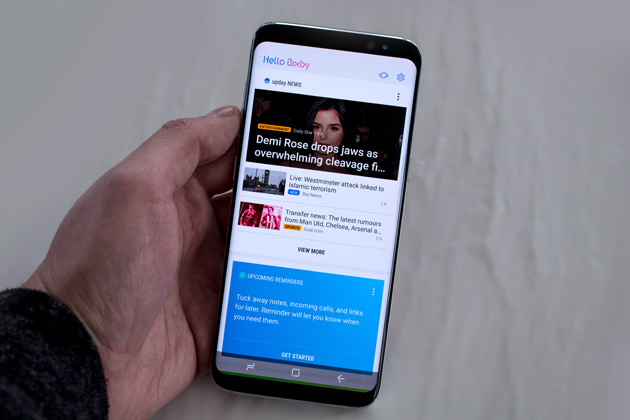 Another novelty is the Galaxy S8 digital assistant Bixby. It is something like Google or Assistant Siri, but with slightly different functionality. Run it by the button located below the volume control.
The function seems to be quite interesting – for example, to view the video or photo from your smartphone on your TV  you just have to say "show this on TV." You have to speak in English because Bixby does not recognize other languages.
It's good
Although the time I spent with the new Galaxy S8 and S8 + was quite short, both devices have made a great first impression. Particularly impressive is the huge screen surrounded by a narrow frame and elegant glass-metal waterproof casing. I can not wait to test devices with Dex. The Galaxy S8 will cost about 800 euros, and the Galaxy S8 + 900 euros. The kits will include headphones AKG, and the sale is to begin in April.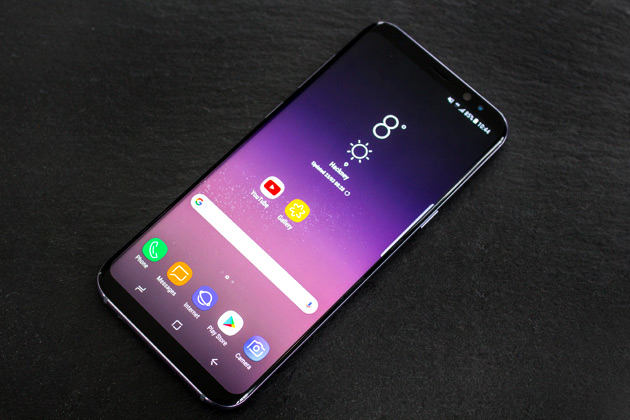 Samsung Galaxy S8 and S8 Pictures From Live Event: