AMD has taken a good bite out of the price of its top-of-the-range HEDT processor, and this is none other than the AMD Ryzen Threadripper 3990X. This processor originally went on sale in the United States at the beginning of the year at an official price of $ 3,999, but this weekend it has seen how its price received a generous cut of $ 540.01, so today it costs $ 3,499. For reference, the latest price of its direct rival, the Intel Xeon W-3275 is $ 4,537.90 (5,299 euros in Europe).
The AMD Ryzen Threadripper 3990X is a 64-core processor with 128 processing threads at a Base / Turbo frequency of 2.90 / 4.30 GHz and a TDP of  280W, while the Intel Xeon W-3275 is the high-performance processor that fights in the same price segment, offering a 28-core, 56-processing threads configuration at a Base / Turbo frequency of 2.50 / 4.40 GHz with a TDP of 205W.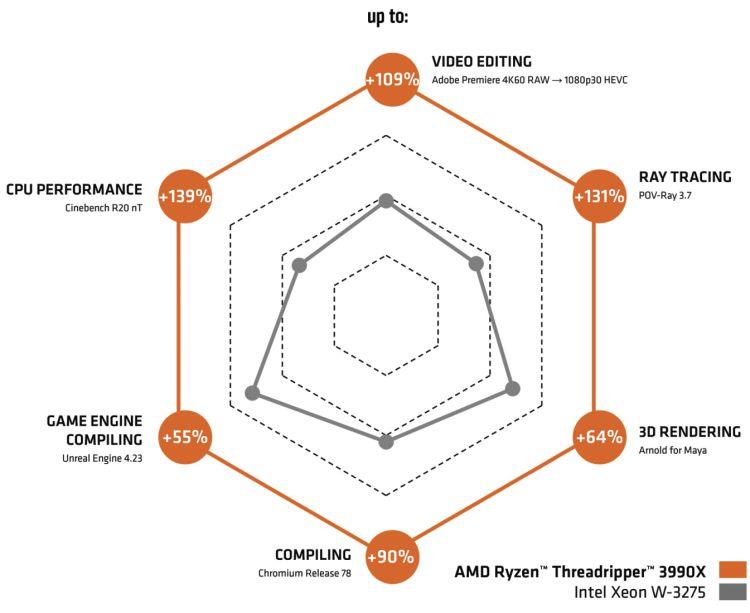 You Might Like: AMD lowered the price of Ryzen 9 3900X to welcome Intel Core i9-10900K
According to the tests offered by AMD itself, its processor is 109% faster in editing video in Adobe Premiere; 131% dealing with RayTracing in POV-Ray 3.7; 64% in 3D rendering with Arnold for Maya; 90%  faster compiling in Chromium 78, 55% faster compiling in the Unreal Engine 4.23 graphics engine, 139% in a benchmark that squeezes all the cores such as the Cinebench R20, and all at a price that already was unbeatable, so now imagine what happens after this price cut!