Resident Evil 7 Biohazard was released on Tuesday this week and turned out to be a successful game. Soon after its release, Capcom announced two DLCs, the Banned Footage Volume 1 and the Banned Footage Volume 2 with a release date set for January 31st and February 14th respectively.
However, Capcom planned a surprised free DLC for the gamers entitled as Not a Hero which got revealed after the end of the story mode. The expansion pack will be released sometime during Spring this year with the protagonist Chris Redfield as a lead character.
[Spoilers Alert]
After the credits, players will be introduced to a character named 'Redfield', who lands from the helicopter of the Umbrella Corporation and wears tactical gear of the Umbrella Corporation. He simply introduces himself as Redfield and most of us wondering if he's the Chris Redfield, the star of Resident Evil 1, 5 and 6. Some believe that he might be a clone of Chris Redfield as he resembles a lot with him.
But the Redfield comes in the uniform of the Umbrella Corporation, known as the enemy of Chris Redfield. Some theories also suggest that he might be the Chris Redfield who later turned traitor. Whatever it is, we will come to know once the DLC gets released in coming months or the Capcom updates its blog with a press release.
One NeoGAF member shared this picture;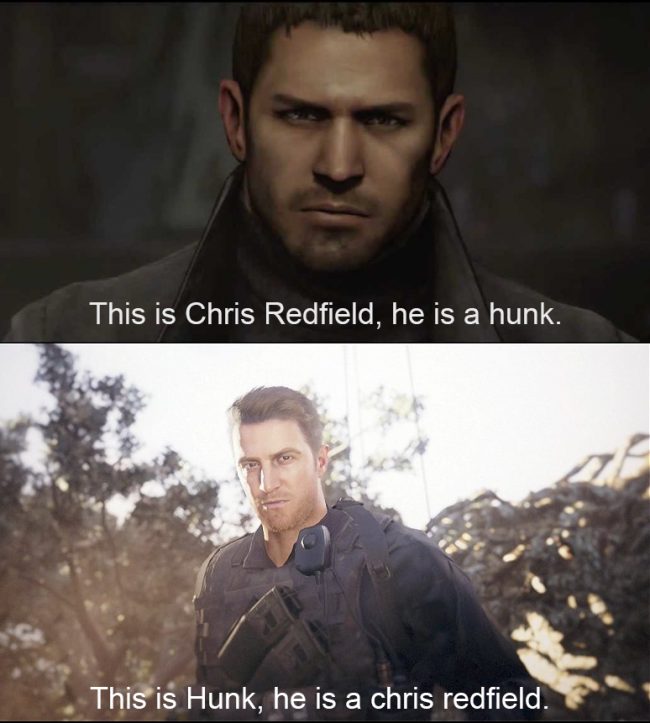 The difference in the looks could be possible due to the new game engine used for Resident Evil 7. All of the confusion will be ended after a while when Capcom clears everything. The free DLC Not a Hero appears to be very important for the game's story.
See Also: Resident Evil 7 Biohazard Sold More Than 2.5 Million Units Worldwide
Resident Evil 7 is now available for PC, PS4 and Xbox One and is a VR exclusive on PS4. Stay tuned for more updates!