Red Dead Redemption 2, the next installment of the famous action-adventure franchise was all over the internet last year following the leaks and rumors related to the possible reveal. Thanks to Rockstar Games for finally affirming the development of the sequel and releasing the announcement trailer during October last year.
Red Dead Redemption 2 Release Date Published By Online Retailer
Last year, it was announced that the Red Dead Redemption 2 will be released during Fall 2017. The game was in development for a long time and is perhaps the most anticipated release of this year. The studio is yet to unveil more information regarding the in-game elements, story, characters and release date, but one online retailer Littlewoods updated the release date on its website.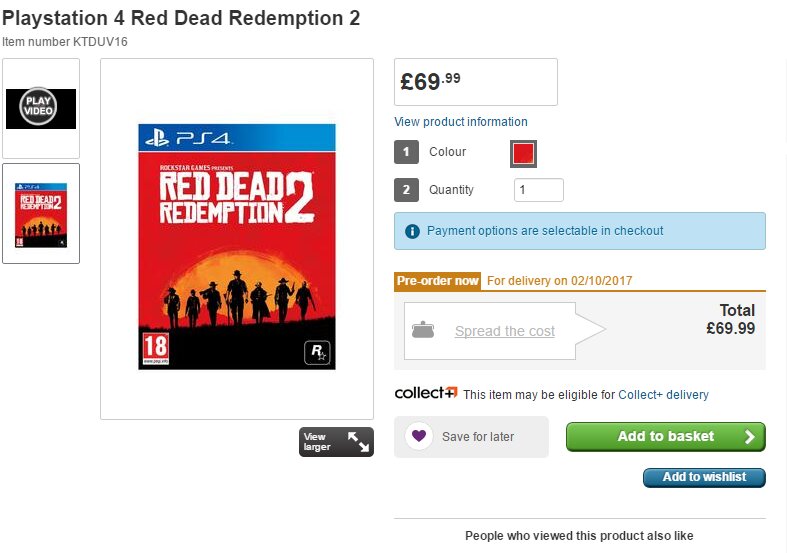 According to the listing, Red Dead Redemption 2 will be available on 2nd October, 2017. There is no official word regarding the release date, nor any other retailer updated its listing with the release date of the game.
See also: Red Dead Redemption 2 To Have "Incredible Emotional Depth" – Take Two CEO
Whether this date turns out to be true or some other piece of rumor on the internet remains to be seen. Red Dead Redemption 2 is due sometime in Fall 2017 for PlayStation 4 and Xbox One. Just like the previous installment, the game is not announced for PC as of yet, barring the most popular platform in the gaming industry.
PC gamers have signed a petition on Change.org demanding Rockstar Games to consider the PC launch of the game. We hope that the game releases for PC as well. Stay tuned for more updates!