Rockstar's most popular and the anticipated game for 2018, the Red Dead Redemption 2 has been under development for more than a year.
The game was announced for PlayStation 4 and Xbox One with release window set for the Fall of last year, which got delayed for this year. The developers have been updating us regarding the game but unfortunately, they didn't announced the PC version of the game, just like the first installment of the franchise.
Interestingly, they didn't ruled out the possibility of game's PC version either. While the recent discovery suggests that the game is indeed being developed for the PC. A reddit user 'theinsightfulwatcher' was going through the LinkedIn profile of Rockstar's Leeds Programmer, which mentioned Red Dead Redemption 2 as his most recent project, which will be released for PC, PS4 and Xbox One.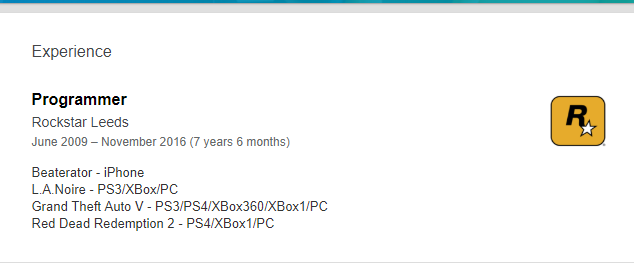 However, we don't have a release date or any official confirmation from the Rockstar's representatives at the moment, but it seems that the studio was secretly working on the game and there was a plan to announce the news which may come as a surprise to the biggest gaming audience of the world.
See also: Cyberpunk 2077: E3 Demo System Used Core i7-8700K and GeForce GTX 1080 Ti
The Red Dead Redemption 2 will be released for PS4 and Xbox One on October 27th this year, while we are still waiting for the official announcement and reveal trailer for the PC version of the game. Stay tuned for more updates!