Less than a week ago, we informed about the PC version of Red Dead Redemption 2 mentioned in the Rockstar Social Club client, and mentions continue to appear in other company codes. At this point we are no longer sure if these are employee clues or concrete clues to take us to an imminent announcement, but what is certain is that all this is real, so there is no doubt that Red Dead Redemption 2 will reach to the PC platform.
On this occasion, the user "rollschuh2282" of GTA Forums published code integrated in the Complementary app of Red Dead Redemption 2 that directly mentions graphic options of the version for the PC platform, being also supported by the user «Spider-Vice» who noted that these are not simply leftovers from the code used for GTA 5.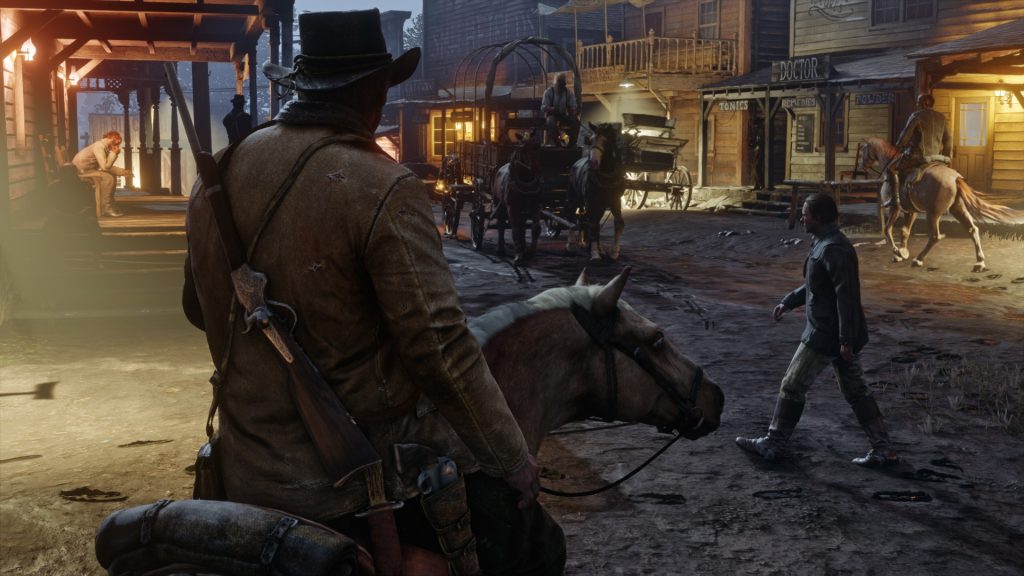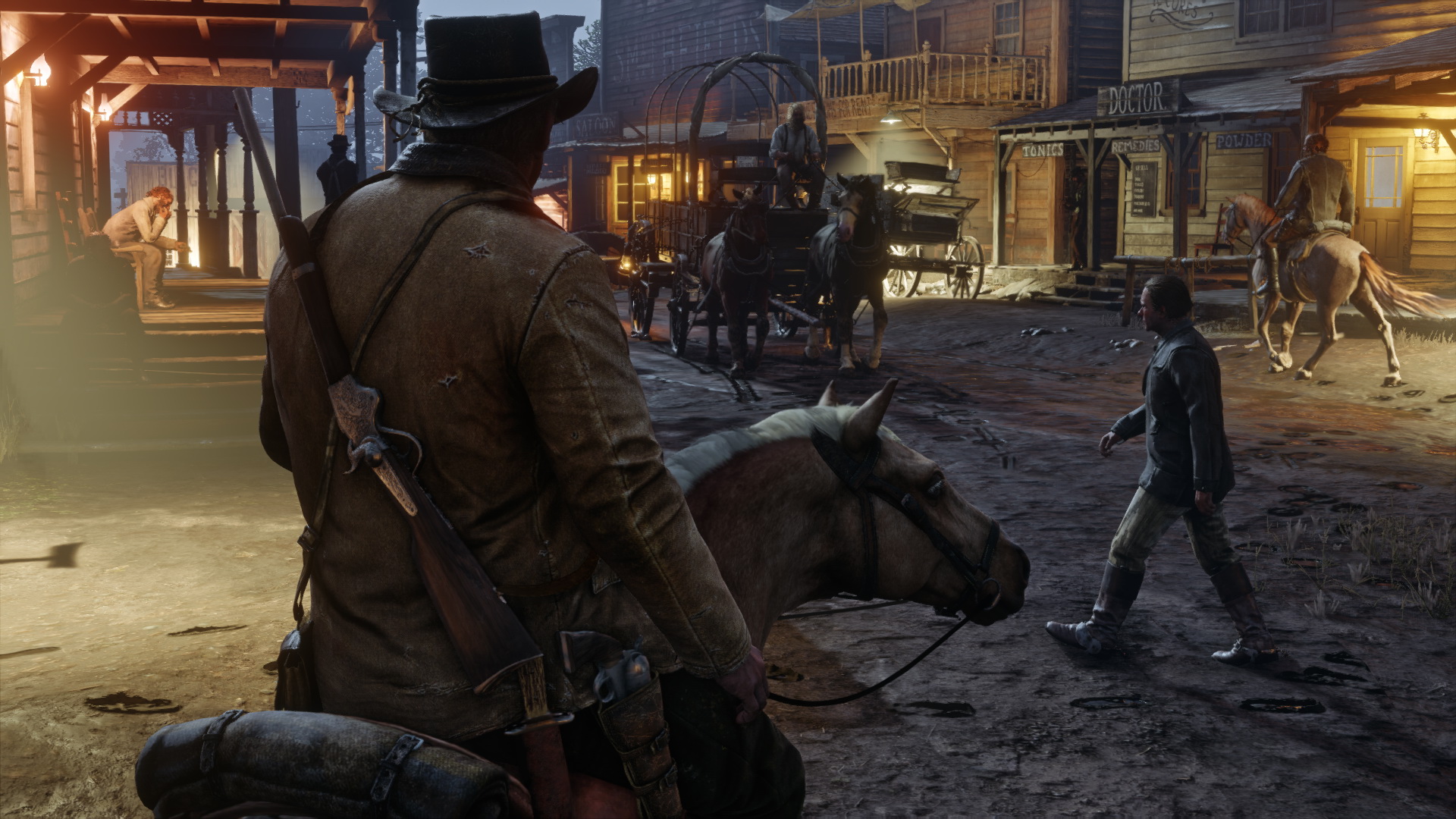 You Might Like:Red Dead Redemption 2 – Leaked Video Gives Us Look At PC Graphics Settings
Among the options that can be differentiated from those used for GTA 5, the most notable – without a doubt – is DirectX 12.1, a version that has not been present in any of the previous Rockstar games nor it has been incorporated into consoles, due to its main use focused on ray tracing.
On the other hand, many of the options that Grand Theft Auto 5 were adjusted by means of scroll arrows, which will be now controlled with sliders, this also points to the last game developed by the company.
As always, we just have to keep waiting. Below you can find the PC graphics option code.
<? 

xml version 

= 

"1.0" 

encoding 

= 

"UTF-8" 

standalone 

= 

"no" 

?> 




<uiSettingsDynamicGroupRoot> 


  

<id> 

display 

</ id> 


  

<version 

 

value 

= 

"4" 

/> 


  

<groupMetaData> 


    

< 

niche 

> 

PM_SCR_DISPLAY 

<? > 


    

<description /> 


    

<displayStyle> 

kSettingDisplay_StandardGroup 

</ displayStyle> 


  

</ groupMetaData> 


  

<Settings> 


    

<Item 

 

type 

= 

"rage__fwuiSettingsItemInfo_UInt32" 

>


      
      

<displayStyle> 

kSettingDisplay_Stepper 

</ displayStyle> 


      

<displayName> 

MO_COLORBLIND 

</ displayName> 


      

<description /> 


      

<maximum 

 

value 

= 

"3" 

/> 


      

<displayConverter> 

pause / settings / colorblind_mode 

</ displayConverter> 


      

<flags> 

kSettingFlags_SyncToProfile 

</ flags> 


    

< / Item> 


    

<Item 

 

type 

= 

"rage__fwuiSettingsItemInfo_UInt32" 

> 


      

<id> 

gamma 

</ id> 


      

<displayStyle> 

kSettingDisplay_Button 

</ displayStyle> 


      

<displayName>

MO_BRI 

</ displayName> 


      

<description>

SETTING_DESC_GAMMA 

</ description> 


      

<tipText> 

SETTING_TIP_GAMMA 

</ tipText> 


      

<transition> 

gamma 

</ transition> 


      

<maximum 

 

value 

= 

"30" 

/> 


      

<default 

 

value 

= 

"15" 

/> 


    

</ Item> 


  

</ Settings> 


  

<SubGroups> 


    

<Item 

 

type 

= 

"uiSettingsDynamicSubGroup" 

> 


      

<id> 

hud 

</ id> 


      

<groupMetaData> 


        

<displayName> 

MO_HUD 

</ displayName> 


        

<description /> 


        

<displayStyle>

kSettingDisplay_StandardGroup 

</ displayStyle> 


      

</ groupMetaData>


      

<Settings> 


        

<Item 

 

type 

= 

"rage__fwuiSettingsItemInfo_UInt32" 

> 


          

<id> 

mode 

</ id> 


          

<displayStyle> 

kSettingDisplay_Stepper 

</ displayStyle> 


          

<displayName> 

MO_HUD 

</ displayName> 


          

<description /> 


          

<default 

 

value 

= 

"1" 

/> 


          

<maximum 

 

value 

= 

"1" 

/> 


          

<displayConverter> 

enabled_disabled 

</ displayConverter> 


          

<syncToProfile 

 

value 

= 

"true" 

/> 


        

</ Item> 


        

<Item 

 

type 

= 

"rage__fwuiSettingsItemInfo_UInt32" 

>


          

<id> 

reticle 

</ id> 


          

<displayStyle> 

kSettingDisplay_Stepper 

</ displayStyle> 


          

<displayName> 

MO_HUD_TARG 

</ displayName> 


          

<description /> 


          

<maximum 

 

value 

= 

"4" 

/> 


          

<displayConverter> 

weapon_target 

</ displayConverter> 


          

<syncToProfile 

 

value 

= 

" true " 

/> 


        

</ Item> 


        

<Item 

 

type 

= 

" rage__fwuiSettingsItemInfo_Float " 

> 


          

<id> 

reticuleSize 

</ id> 


          

<displayStyle>

kSettingDisplay_DontShow 

</ displayStyle> 


          

<displayName>

MENU_OPTION_DISPLAY_RETICLE_SCALE 

</ displayName> 


          

<description /> 


        

</ Item> 


        

<Item 

 

type 

= 

"rage__fwuiSettingsItemInfo_UInt32" 

> 


          

<id> 

subtitles 

</ id> 


          

<displayStyle> 

kSettingDisplay_Stepper 

</ displayStyle> 


          

<displayName> 

MO_SUB 

</ displayName> 


          

<description /> 


          

< maximum 

 

value 

= 

"2" 

/> 


          

<default 

 

value 

= 

"0" 

/> 


          

<displayConverter> 

subtitles 

</ displayConverter> 


          

<syncToProfile 

 

value 

= 

"true" 

/> 


        

</ Item>


        

<Item 

 

type 

= 

"rage__fwuiSettingsItemInfo_Float" 

> 


          

<id> 

safeframePercentageX 

</ id> 


          

<displayStyle> 

kSettingDisplay_Slider 

</ displayStyle> 


          

<displayName> 

MO_SAFEZONE_X 

</ displayName> 


          

<description /> 


          

<minimum 

 

value 

= 

"0.70000000" 

/> 


          

<default 

 

value 

= 

" 0.95000000 " 

/> 


          

<step 

 

value 

= 

" 0.01000000 " 

/> 


        

</ Item> 


        

<Item 

 

type 

= 

" rage__fwuiSettingsItemInfo_Float " 

>


          

<id> 

safeframePercentageY 

</ id>


          

<displayStyle> 

kSettingDisplay_Slider 

</ displayStyle> 


          

<displayName> 

MO_SAFEZONE_Y 

</ displayName> 


          

<description /> 


          

<minimum 

 

value 

= 

"0.70000000" 

/> 


          

<default 

 

value 

= 

"0.90000000" 

/> 


          

<step 

 

value 

= 

"0.01000000" 

/> 


        

</ Item > 


        

<Item 

 

type 

= 

"rage__fwuiSettingsItemInfo_Float" 

> 


          

<id> 

scale 

</ id> 


          

<displayStyle> 

kSettingDisplay_Slider 

</ displayStyle> 


          

<displayName>

MO_HUD_SCALE 

</ displayName> 


          

<description />


          

<minimum 

 

value 

= 

"0.90000000" 

/> 


          

<maximum 

 

value 

= 

"1.20000000" 

/> 


          

<default 

 

value 

= 

"1.00000000" 

/> 


          

<step 

 

value 

= 

"0.01000000" 

/> 


          

<syncToProfile 

 

value 

= 

"true" 

/> 


        

</ Item> 


      

< / Settings> 


    

</ Item> 


    

<Item 

 

type 

= 

"uiSettingsDynamicSubGroup" 

> 


      

<id> 

radar 

</ id> 


      

<groupMetaData> 


        

<displayName> 

MO_RAD 

</ displayName> 


        

<description /> 


        

<displayStyle>

kSettingDisplay_StandardGroup 

</ displayStyle> 


      

</ groupMetaData> 


      

<Settings> 


        

<Item 

 

type 

= 

"rage__fwuiSettingsItemInfo_UInt32" 

> 


          

<id> 

mode 

</ id> 


          

<displayStyle> 

kSettingDisplay_Stepper 

</ displayStyle> 


          

<displayName> 

MO_RAD 

</ displayName> 


          

<description /> 


          

<default 

 

value 

= 

"1" 

/> 


          

<maximum 

 

value 

= 

"1" 

/> 


          

<displayConverter> 

radar_mode 

</ displayConverter> 


          

<syncToProfile 

 

value 

= 

"true" 

/> 


        

</ Item> 


        

<Item

 

type 

= 

"rage__fwuiSettingsItemInfo_Bool" 

> 


          

<id> 

gps 

</ id> 


          

<displayStyle> 

kSettingDisplay_Stepper 

</ displayStyle> 


          

<displayName> 

MO_DISPGPS 

</ displayName> 


          

<description /> 


          

<default 

 

value 

= 

"true" 

/> 


          

<syncToProfile 

 

value 

= 

"true" 

/> 


        

</ Item> 


      

</ Settings> 


    

</ Item> 


    

<Item 

 

type 

= 

"uiSettingsDynamicSubGroup" 

> 


      

<id> 

screen 

</ id> 


      

<groupMetaData>


        

<displayName> 

MO_SCREEN 

</ displayName>


        

<description /> 


        

<displayStyle> 

kSettingDisplay_StandardGroup 

</ displayStyle> 


      

</ groupMetaData> 


      

<Settings> 


        

<Item 

 

type 

= 

"rage__fwuiSettingsItemInfo_UInt32" 

> 


          

<id> 

gamma 

</ id> 


          

<displayStyle> 

kSettingDisplay_Slider 

</ displayStyle> 


          

<displayName> 

MO_BRI 

< 


          

> 

> 

<description /> 


          

<maximum 

 

value 

= 

"30" 

/> 


          

<default 

 

value 

= 

"15" 

/> 


        

</ Item> 


        

<Item 

 

type 

= 

"rage__fwuiSettingsItemInfo_Bool" 

> 


          

<id>

gammaSet 

</ id> 


          

<displayStyle> 

kSettingDisplay_DontShow 

</ displayStyle> 


          

<displayName> 

MO_DISPGPS 

</ displayName> 


          

<description /> 


          

<default 

 

value 

= 

"false" 

/> 


        

</ Item> 


        

<Item 

 

type 

= 

"rage__fwuiSettingsItemInfo_Bool" 

> 


          

<id> 

killFX 

</ id> 


          

<displayStyle> 

kSettingDisplay_Stepper 

</ displayStyle> 


          

<displayName> 

MO_SKFX 

</ displayName> 


          

<description /> 


          

<default 

 

value 

= 

"true"

/> 


          

<syncToProfile 

 

value 

=

"true" 

/> 


        

</ Item> 


      

</ Settings> 


    

</ Item> 


    

<Item 

 

type 

= 

"uiSettingsDynamicSubGroup" 

> 


      

<id> 

camera 

</ id> 


      

<groupMetaData> 


        

<displayName> 

PM_PANE_CAM 

</ displayName> 


        

<description /> 


        

<displayStyle > 

kSettingDisplay_StandardGroup 

</ displayStyle> 


      

</ groupMetaData> 


      

<Settings> 


        

<Item 

 

type 

= 

"rage__fwuiSettingsItemInfo_UInt32" 

> 


          

<id> 

height 

</ id> 


          

<displayStyle>

kSettingDisplay_Slider 

</ displayStyle> 


          

<displayName> 

MO_CAMERAHEIGHT

</ displayName> 


          

<description /> 


          

<displayConverter> 

camera_height 

</ displayConverter> 


          

<syncToProfile 

 

value 

= 

"true" 

/> 


        

</ Item> 


        

<Item 

 

type 

= 

"rage__fwuiSettingsItemInfo_Bool" 

> 


          

<id> 

killCam 

</ id> 


          

<displayStyle> 

kSettingDisplay_Stepper 

< / displayStyle> 


          

<displayName> 

MO_CAM_EKC 

</ displayName> 


          

<description /> 


          

<syncToProfile 

 

value 

= 

"true" 

/> 


        

</ Item> 


        

<Item 

 

type 

= 

"rage__fwuiSettingsItemInfo_Bool" 

> 


          

<id>

forceKillCam 

</ id> 


          

<displayStyle> 

kSettingDisplay_Stepper 

</ displayStyle> 


          

<displayName> 

MO_CAM_FKC 

</ displayName> 


          

<description /> 


          

<syncToProfile 

 

value 

= 

"true" 

/> 


        

</ Item> 


        

<Item 

 

type 

= 

"rage__fwuiSettingsItemInfo_Bool" 

> 


          

<id> 

disableOnFootFlex 

</ id> 


          

<displayStyle> 

kSettingDisplay_Stepper 

</ displayStyle> 


          

<displayName> 

MO_CAM_DISABLE_OFF 

</ displayName> 


          

<description /> 


          

<syncToProfile 

 

value 

= 

"true" 

/> 


        

</ Item> 


        

<Item

 

type 

= 

"rage__fwuiSettingsItemInfo_Bool" 

> 


          

<id> 

autoSideSwitch 

</ id> 


          

<displayStyle> 

kSettingDisplay_Stepper 

</ displayStyle> 


          

<displayName> 

MO_CAM_AUTO_SWITCH 

</ displayName> 


          

<description /> 


          

<syncToProfile 

 

value 

= 

"true" 

/> 


        

</ Item> 


      

</ Settings > 


    

</ Item> 


    

<Item 

 

type 

= 

"uiSettingsDynamicSubGroup" 

> 


      

<id> 

notifications 

</ id> 


      

<groupMetaData> 


        

<displayName> 

PM_PANE_FEE 

</ displayName> 


        

<description /> 


        

<displayStyle>

kSettingDisplay_StandardGroup 

</ displayStyle> 


        

<syncToProfile 

 

value 

= 

"true" 

/> 


      

</ groupMetaData> 


      

<Settings> 


        

<Item 

 

type 

= 

"rage__fwuiSettingsItemInfo_Bool" 

> 


          

<id> 

phone 

</ id> 


          

<displayStyle> 

kSettingDisplay_Stepper 

</ displayStyle> 


          

<displayName> 

FEED_PHONE 

< / displayName> 


          

<description /> 


          

<default 

 

value 

= 

"true" 

/> 


        

</ Item> 


        

<Item 

 

type 

= 

"rage__fwuiSettingsItemInfo_Bool"

> 


          

<id> 

stats 

</ id>


          

<displayStyle> 

kSettingDisplay_Stepper 

</ displayStyle> 


          

<displayName> 

FEED_STATS 

</ displayName> 


          

<description /> 


          

<default 

 

value 

= 

"true" 

/> 


        

</ Item> 


        

<Item 

 

type 

= 

"rage__fwuiSettingsItemInfo_Bool" 

> 


          

<id> 

crew 

</ id> 


          

< displayStyle> 

kSettingDisplay_Stepper 

</ displayStyle> 


          

<displayName> 

FEED_CREW 

</ displayName> 


          

<description /> 


        

</ Item> 


        

<Item 

 

type 

= 

"rage__fwuiSettingsItemInfo_Bool"

> 


          

<id> 

friends 

</ id>


          

<displayStyle> 

kSettingDisplay_Stepper 

</ displayStyle> 


          

<displayName> 

FEED_FRIENDS 

</ displayName> 


          

<description /> 


          

<default 

 

value 

= 

"true" 

/> 


        

</ Item> 


        

<Item 

 

type 

= 

"rage__fwuiSettingsItemInfo_Bool" 

> 


          

<id> 

socialClub 

</ id> 


          

< displayStyle> 

kSettingDisplay_Stepper 

</ displayStyle> 


          

<displayName> 

FEED_SOCIAL 

</ displayName> 


          

<description /> 


          

<default 

 

value 

= 

"true" 

/> 


        

</ Item>


        

<Item 

 

type 

=

"rage__fwuiSettingsItemInfo_Bool" 

> 


          

<id> 

store 

</ id> 


          

<displayStyle> 

kSettingDisplay_Stepper 

</ displayStyle> 


          

< 

n 

> 

FEED_STORE 

</ displayName> 


          

<description /> 


        

</ Item> 


        

<Item 

 

type 

= 

"rage__fwuiSettingsItemInfo_Bool" 

> 


          

<id> 

tooltip 

</ id> 


          

<displayStyle> 

kSettingDisplay_Stepper 

</ displayStyle> 


          

<displayName> 

FEED_TOOLTIP 

</ displayName> 


          

<description /> 


          

<default 

 

value 

= 

"true"

/> 


        

</ Item> 


        

<Item 

 

type 

=

"rage__fwuiSettingsItemInfo_UInt32" 

> 


          

<id> 

delay 

</ id> 


          

<displayStyle> 

kSettingDisplay_Slider 

</ displayStyle> 


          

<displayName> 

FEED_DELAY 

</ displayName> 


          

<description /> 


          

<default 

 

value 

= 

"1" 

/> 


        

</ Item> 


      

</ Settings> 


    

< / Item> 


  

</ SubGroups> 




</ uiSettingsDynamicGroupRoot>