A few months ago, Raja Koduri abandoned AMD to work with Intel to create a family of high-performance graphics cards. Since then, thanks to virtually unlimited resources from Intel, we are already convinced that Nvidia will face a serious rival in the year 2020.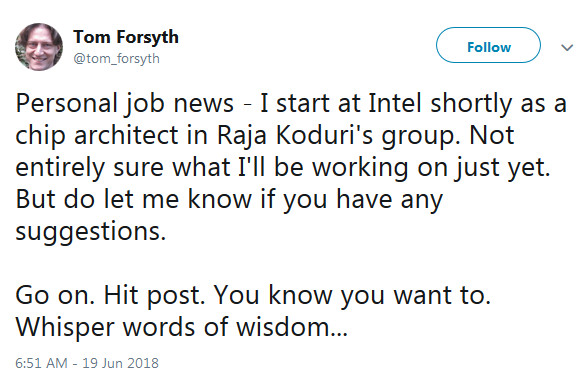 The last movement came from Raja himself, who has signed Tom Forsyth, the creator of the Larrabee architecture. About ten years ago, Intel was talking up its x86-derived Larrabee GPGPU. On paper, it sounded like a real threat to Nvidia and ATI (now AMD), but after facing several delays and complications, plans to market a consumer version of Larrabee were put on hold indefinitely. While Larrabee did not achieve its goal and considered a failure by many, but it brought some interesting improvements to the world, such as the AVX-512 extension, currently utilizing by Xeon Phi brand.
Tom recently worked at Oculus, Valve and 3DLabs, on his Twitter profile he announced that he will join Intel under Raja, but he is still not sure what he will be working on. In Oculus and Valve he worked on Virtual Reality projects, for example, he wrote large fragments of Team Fortress 2 VR support for Oculus Rift. Taking a look at Tom's resume suggests that he could join the Intel team as a lead in projects related to virtual reality, as it is undoubtedly one of Raja's favorite subjects.