AMD today announced the launch of Radeon RX 580 and Radeon RX 570 and thanks to Digital Foundry, we have a performance comparison between the Radeon RX 580, the Radeon RX 570, the Radeon RX 480 and the GeForce GTX 1060 6GB.
AMD Radeon RX 580 Vs RX 570 Vs RX 480 Vs NVIDIA GTX 1060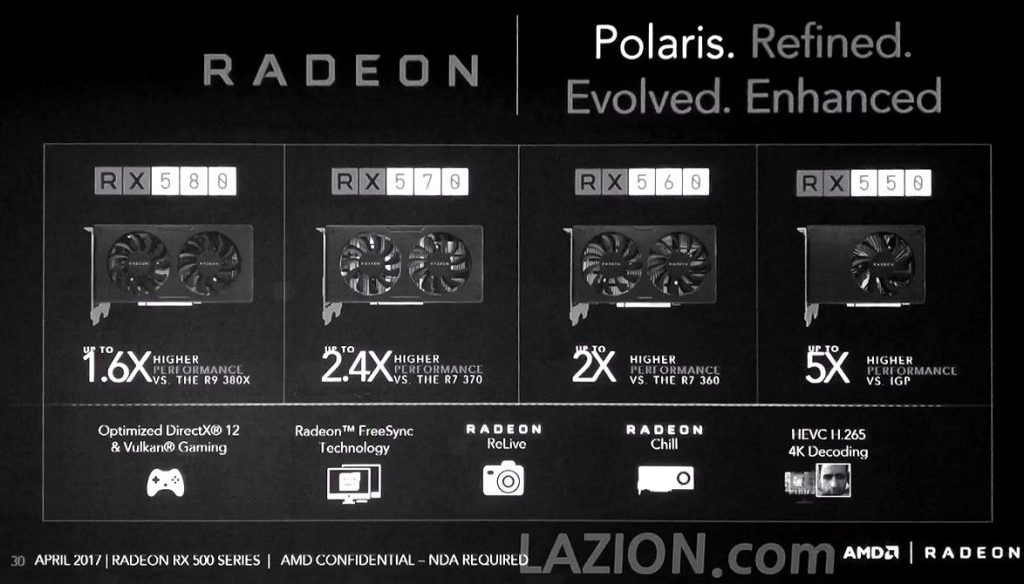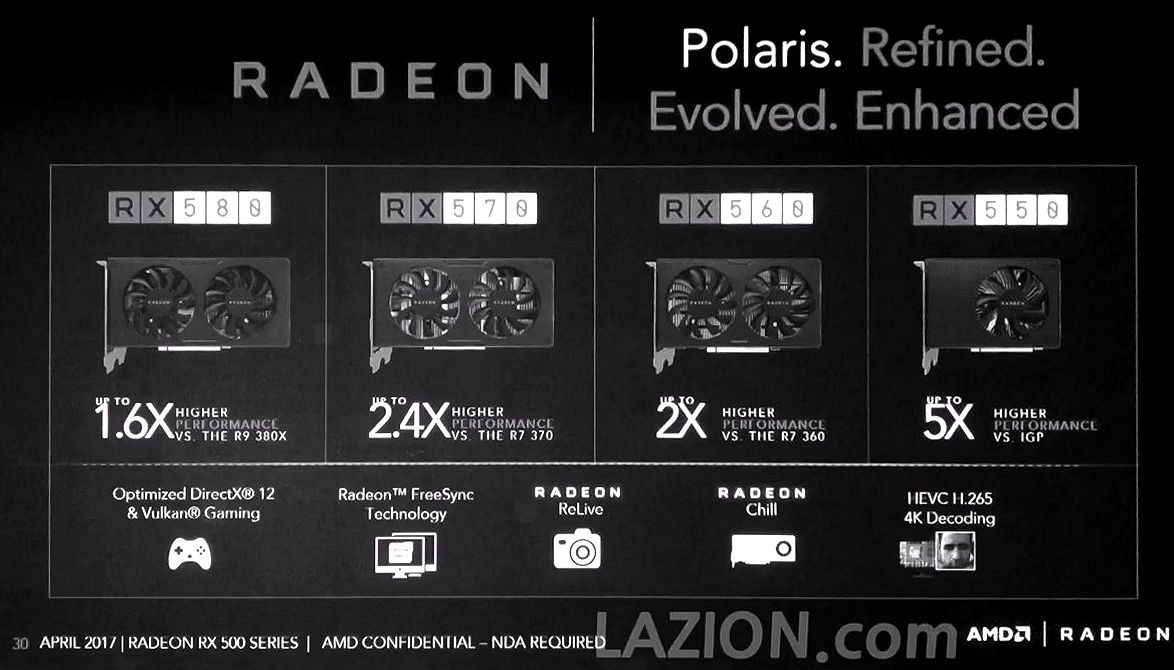 Thanks to the 8 tested games, we can see how Sapphire Radeon RX 580 @ 1450 MHz offers an average performance of 71.35 FPS, while the MSI Radeon RX 580 @ 1393 MHz offers an average of 70 FPS. On the other side Radeon RX 480 @ 1266 MHz (reference frequency) is at a significant disadvantage, being tested against Overclocked models, but it still yields an average respectable performance of 64.83 FPS, thus 6, 5 slower FPS with a difference of 184 MHz.
The Asus STRIX Radeon RX 570 @ 1300 MHz (vs. 1026 MHz Mod.Ref) reaches an aeverage of 62.3 FPS. The GeForce GTX 1060 gives an average of 68.5 FPS, so it manages to surpass a graphics card, which is not its rival.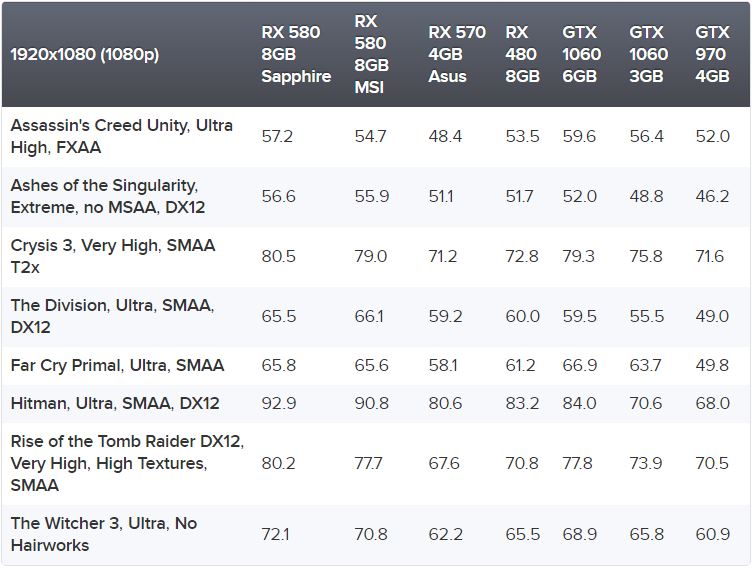 Tests at 1440p (2K)
At 2560 x 1440 pixels, the trend continues: Sapphire Radeon RX 580 = 50.7 FPS, MSI Radeon RX 580 = 49.92 FPS  and  Radeon RX 480 Reference = 45.92 FPS. At 2k resolution, the Asus STRIX Radeon RX 570 reaches 44.14 FPS, just over 1 FPS of the RX 480 with 4 GB less GDDR5 memory. We ended up with a GeForce GTX 1060 reaching an average of 47.65 FPS.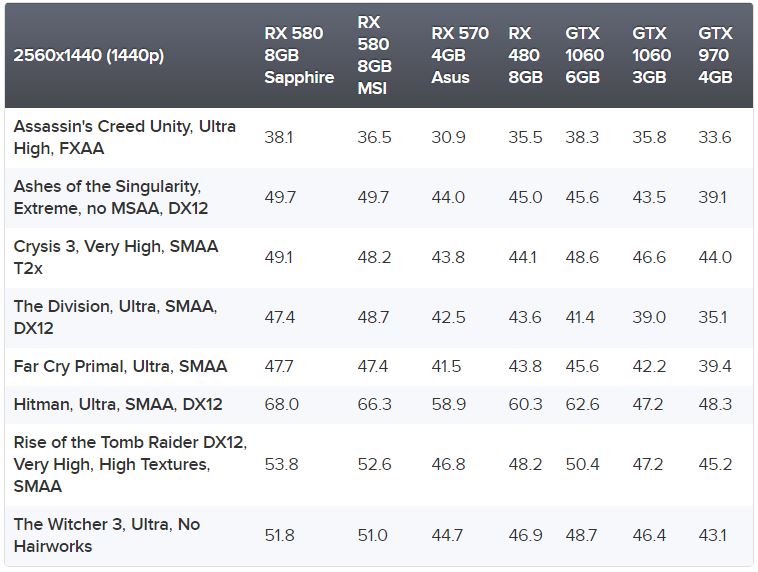 We started with a 271W power consumption (for the whole PC) with the RX 480, which increases up to 272W / 285W OC with the RX 570, 292W / 325W OC for the MSI RX 580 and the 327 / 338W OC with the Sapphire RX 580. This translates into that the Sapphire RX 580 is on avg 6.5 FPS faster than the RX 480 reference while consuming 67W more, a tease with a GeForce GTX 1060 which makes the equipment consumes 230W.
The only graphics card which is worth taking in terms of price and performance ratio is the Radeon RX 570, this new graphics card is now listed for 209 euros compared to the 249 euros of the RX 580 (both with 4 GB VRAM), even better option than the GeForce GTX 1060 from NVIDIA camp.
At 1080p resolution, RX 570 is running most of the game at more than 60 FPS (80.6 FPS on Hitman or 71.2 FPS in Crysis 3), while at 2K the Radeon RX 480 is a solid deal.
AMD Radeon RX 500 Series Specifications

Radeon RX 580
Radeon RX 570
Radeon RX 560
Radeon RX 550
GPU
Polaris 20 XTR/XTX
Polaris 20 XL
Polaris 11
Polaris 12
Cores
TMUs
ROPs
?
Base Frequency
?
Boost Frequency
Memory Clock
?
Memory
Memory Bus
Bandwidth
?
Typical Board Power
?
?
MSRP
?
?