Today at Consumer Electronic Show 2017 in Las Vegas Qualcomm announced its new high-end SoC, the Snapdragon 835. The new flagship SoC from the company manufactured at lithograph of 10 nanometers FinFET 2nd Generation, thus promising a smaller size to give life to thinner smartphones, leaving more space for the battery, lower power consumption thus extending the battery life of the device. As shown in company's slide that Snapdragon 835 consumes half power compared to Snapdragon 801, about 40% faster than the Snapdragon 810 and about 20% over its predecessor, the Snapdragon 820.
Qualcomm Snapdragon 835 Officially Announced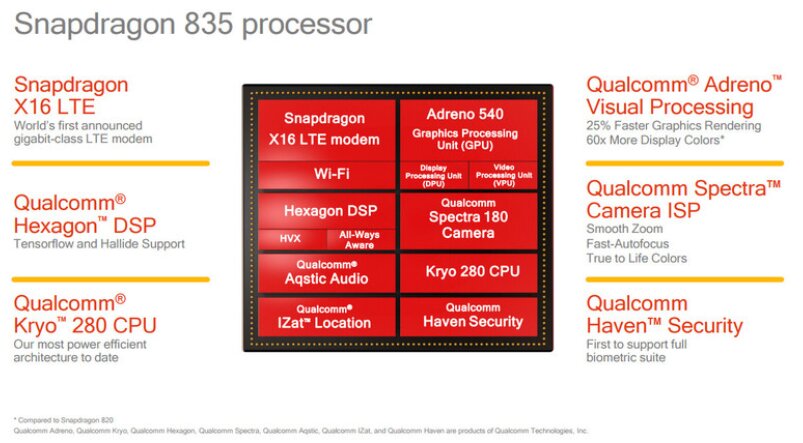 Inside we find eight Kryo 280 cores divided into two clusters of four cores each: the high – performance 2.45 GHz and low consumption at 1.90 GHz. These cores, along with next – generation Adreno 540 graphics, promise a great 3D performance thanks to its impressive performance and support for new low-level API, DirectX 12 and Vulkan. The ability to play 4K content at 10 Bits and backed by a DSP (Digital Signal Processor) Hexagon 690 that will allow to reach 4K resolution @ 60 FPS.
This SoC is able to withstand photographic sensors of up to 32 megapixels (or two 16MP cameras) to capture 4k content @30FPS, the Adreno 540 graphics are 25 times faster in 3D rendering respect the Adreno 530. This new SoC is compatible with ultra – fast charging technology Quick charge 4.0, where in 15 minutes device will be charged up to 50 percent of the device's battery. In terms of connectivity, the new SoC supports 4G LTE Cat.16, Bluetooth, WiFi 802.11ad ( 4.6 Gbps) and it is expected that the LG G6, HTC 11 and Samsung Galaxy S8 will be the first devices to use Qualcomm Snapdragon 835 in the coming months..