Digital Foundry unveiled the official specifications of Project Scorpio, Microsoft's next-generation console that promises to run games at 4k resolution. Let's go to what is important, the specifications, the new console is equipped with 8 Custom cores manufactured @ 16nm  "optimized for Scorpio" at a frequency of 2.30 GHz, unfortunately, the new chip is not based on AMD Zen architecture (AMD Ryzen) because we are facing Jaguar 8 cores.
Project Scorpio Specifications Announced: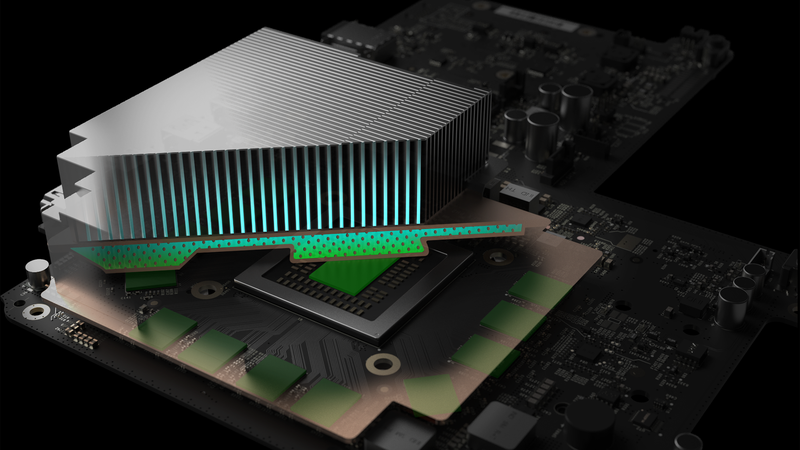 Moving to the graphical section, we know that the graphics card used will have 2560 Shaders Processors at a frequency of 1172 MHz, slightly more than the Radeon RX 480 (2304 SP) offers but at a lower speed thus compensating the performance / consumption / temperature. No details on the architecture (Polaris or VEGA).
We know that all this will be coupled with no less than 12 GB of GDDR5 memory (vs. 8 GB of PS4 Pro) yielding a bandwidth of 326 GB / s (vs. 218 GB / s) and will include a 4K Blu-ray drive Ultra HD next to a mechanical hard disk of 1 TB of capacity.
Project Scorpio Vs PS4 Pro Vs Xbox One Specifications Comparasion: 
Project Scorpio

Xbox One

PS4 Pro

CPU

8 custom cores
@ 2.30 GHz

8 custom Jaguar cores
@ 1.75 GHz

8 custom Jaguar cores
@ 2.13 GHz

GPU
40 Compute Units
@ 1172 MHz
12 Compute Units
@ 853 MHz (Xbox One S: 914 MHz)
36 Compute Units
@ 911 MHz
Memory
12GB GDDR5
8GB DDR3 + 32MB ESRAM
8GB GDDR5
Bandwidth
326GB / s
DDR3: 68GB / s, ESRAM 204GB / s max.
Xbox One S: 68GB / s & 219GB / s
218GB / s
Hard Drive
1TB 2.5 "
500GB / 1TB / 2TB 2.5 "
1TB 2.5 "
Optical Drive
4K UHD Blu-ray
Blu-ray (Xbox One S: 4K UHD)
Blu-ray
On the other hand, it has been indicated that the cores integrated in Scorpio are 31% faster than those of the Xbox One (interestingly, that% is in line with the speed gain of the Jaguar cores of the Xbox One), The 8 cores are divided into two 4-core clusters with full access to 4 MB of L2 cache. Get support for Dolby Atmos audio technology, obviously it supports the DirectX 12  API (Windows 10) and will use a vapor chamber- backed cooling system (like many current GPUs or CPU coolers).
In theory, all this together, would run games 4K @ 60 FPS.
Improvements for Xbox One Games
In addition, Project Scorpio will offer something similar to the "Turbo" found in the PlayStation 4 Pro, which means that, taking advantage of the backward compatibility of the games, running the Xbox One games in Project Scorpio will improve frame rates, although it is not known whether it will be at 30 or 60 FPS, plus the possibility of rescaling the resolution to reach 1080p in most games in addition to forcing the anisotropic filtering to x16 to improve the quality of the textures. There's a caveat, there, however: This may not apply to all games, depending on compatibility issues.
All existing Xbox games (including Xbox One Backward Compatible titles) will run smoother, look better and load faster without requiring an update or any work from developers. All games running on Project Scorpio will achievemore consistent framerates, faster load times, improved anisotropic filtering, and will run at their peak resolution if the title implemented dynamic scaling. In addition, developers will also have the option to update existing titles to further take full advantage of Project Scorpio's advanced capabilities including full 4K assets and 4K resolution.
Finally, with regard to its price, it could be around 499 euros. In order to compete with PlayStation 4 / Pro, Microsoft will need to ensure that it has a lineup of games as impressive as the Sony. Microsoft has said that Scorpio will be out this fall.