The latest report released by DRAMeXchange, a division of the TrendForce research firm, indicates that the price of DDR4 RAM modules is rising, due to the great shortage of NAND Flash memory and high demand for smartphones and SSDs. According to sources prices are likely to increase by 50% at the end of this year (2016), because most of the production is going in favor of a LPDDR4 memory for smartphones that generates more profit margins.
Price Of DDR4 Memory Will Be Increased By 50% At Year's End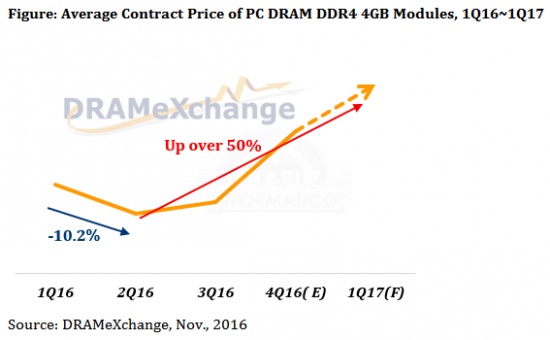 Leading manufacturers like Samsung or Hynix, both have already moved part of its production of DRAM to NAND Flash to meet demand, thus limiting the availability of memory used to create RAM modules, prices are still much lower of what the industry wanted, which is why this oligarchy is violating the laws of market moving their production only to increase their profits, while Micron is still busy upgrading its factories due to economic problems.
Thus, if you need DDR4 memory, then you should buy it before the end of this year in order to avoid paying more. Also, we remind you that next-Gen AMD Zen APUs and CPUs will also support DDR4 memory so the demand will increase more. The basic rules of supply and demand will always affect the price of any product. If supply decreases and demand remains unchanged, then it leads to higher prices and lower quantity.