PlayerUnknown's Battlegrounds has been all over the Steam since past recent weeks. The game is not even released in its full form but it manages to break quite many records recently and continues to beat another one successfully.
Last night, the game managed to surpass Dota 2 in terms of most number of concurrent players on the Steam and became the top game. As per the details reported by tracking site Steam Spy, the PlayerUnknown's Battlegrounds now enjoys more than 850,000.
Dota 2 is known as the most popular game available on Steam and that too, as a free-to-play title. Despite the fact that this game is new and available via Steam Early Access, it achieved a new milestone. Recently, the game dethroned Counter Strike: Global Offensive in number of concurrent players and this time, it dethroned Valve's own free-to-play title Dota 2.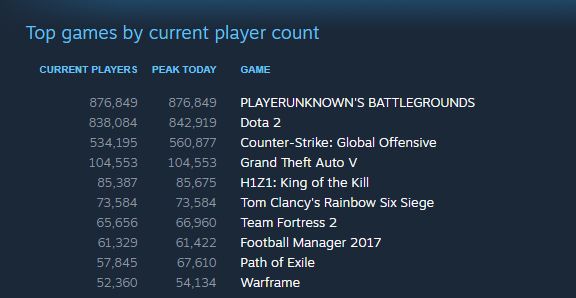 Last Sunday during Gamescom event, game designer Brendan Greene announced that the title has successfully sold over 8 million copies in by now and still going strong.
See also: PlayerUnknown's Battlegrounds Will Be Released This Year on Xbox One
PlayerUnknown's Battlegrounds is still under its final stages of development and is yet to get a confirmation date for its final version. While the game was announced for Xbox One as well with late 2017 release date. Stay tuned for more updates!