Things get a bit more heated when it comes to PC gaming as it often leads to the topic of piracy, which is still in practice and a major concern for the game developers as compared with the current generation console. Most of the people believe that the console is relatively more safe and profitable platform as compared to the PC, but apparently that is not the case as the PC hardware sales beat that of console with about 122% in the third quarter of 2016.
Although Sony has broken all records with the PlayStation 4, which would be close to reaching the 50 million units sold and the console Xbox One would be moving about 23.5 million but these figures are enough to remove the colors from the PC industry. During the current year (2016) the console industry (encompassing the above consoles) managed to generate revenues of 90.4 billion dollars, a figure that may seem very high until we know that the PC industry generated almost 200 billion dollars.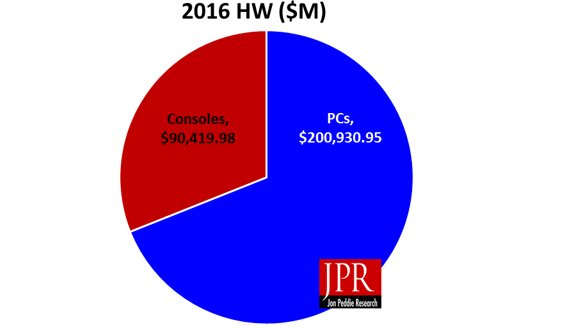 The reason was quite simple, the arrival of the new graphics cards, AMD Radeon RX and NVIDIA GeForce GTX 1000 series helped increase revenues of the graphics market by 20 percent, while the gaming notebooks are enjoying the best year in its sales history. To this is added that these laptops now offer almost the same graphics performance compared to their desktop counterparts with low power consumption hence the large growth experienced.
See also: AMD 8-core Zen "Summit Ridge" will launch on January 17 – Comparison Video "Summit Ridge" Vs "i7-6900k"
If we compare these figures with the combined sales of PlayStation 4 and Xbox One along with the newly released PS4 Pro and Xbox One S, the PC industry still manages to lead the sales chart with huge numbers. It is also a point of concern for many game developers who sometimes prefer to work for the console or for consoles first and then go with porting the title for PC which often leads to several performance related issues at launch.