During today's presentation, the CEO of the NVIDIA, Jensen Huang made one of the most surprising and expected announcements in the world of graphics cards: from January 15, when the first Nvidia certified driver of 2019 will be released, all monitors with a variable refresh rate (VRR) will be able to use G-Sync technology on Nvidia GeForce GTX 10XX and RTX 20XX series graphics cards. This means that any monitor with Freesync (developed by AMD but in the public domain) can now also be used if you have a green team badge.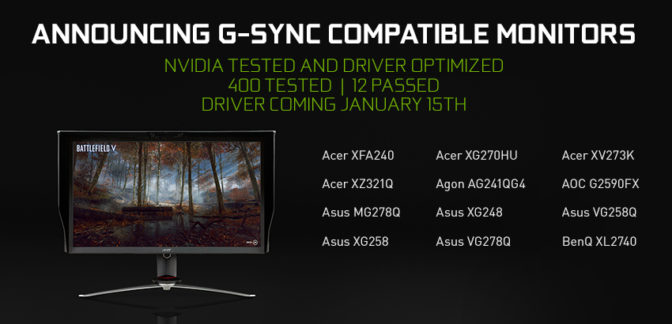 ""We tested about 400 [adaptive sync] monitors and 12 of them passed," Nvidia CEO Jensen Huang said at the company's CES press conference Sunday. "We're going to test every async monitor the world has made, and for the ones that pass, we're going to certify them, and we're going to optimize the software to support them, and we're going to turn it on in our software so that whatever Geforce customer enjoys that panel can now enjoy it as if they purchased a G-Sync monitor."
Luckily, Nvidia certification is not required for all the rest of the monitors that have not passed the test, since the driver itself will allow to activate the variable rate in any FreeSync panel manually, implying that this certification through "Exhaustive tests" is just a marketing job, rather than real technical specifications. Here is a list of approved models.
ACER XFA240

ACER XZ321Q

ACER XG270HU

ACER XV253KASUS

Agon AG241QG4

AOC G2590FX

BenQ XL2740

ASUS MG278Q

ASUS XG248

ASUS VG258Q

ASUS XG258

ASUS VG278Q