NVIDIA has published the first benchmark of a graphics card based on the Volta GPU core, this is none other than the professional graphics card Tesla V100 in comparison with Tesla P100 using the Pascal architecture.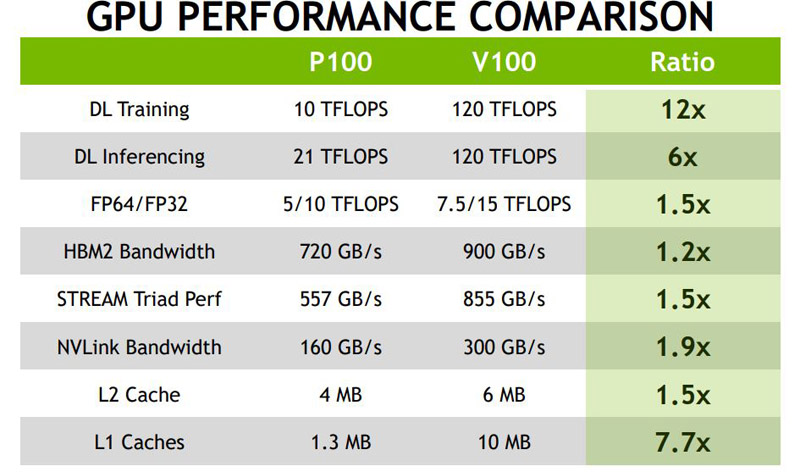 You Might Like: NVIDIA ships its first Volta based DGX-1V systems, costs $ 149,000
The company revealed that its new graphics card improves performance up to 12 times in Deep Learning, from a performance of 10 TFLOPs to no less than 120 TFLOPs. By implementing the NVLINK 2.0 interconnect, the company managed to improve bandwidth by 90 percent, from yielding 160 to 300 GB / s along with faster HBM2 memory that allows it to offer bandwidth 900 GB / s. Another important improvement is in the increase of the cache L1, concretely in a 770%.
Unfortunately, NVIDIA did not reveal new information about this promising architecture for exclusive graphics cards focused on giving life to supercomputers. It is only known that with the Tesla V100, NVIDIA is again advancing in leaps and bounds being the most advanced product of its kind on the market while AMD is far behind with its Radeon Instinct.
To give you an idea, we have the first benchmark of NVIDIA DGX-1 systems based on the Tesla V100, in both the CUDA API and the OpenCL API. The first result in OpenCL gives no less than 481504 points, while CUDA offers a score of 743537, which shows a brutal performance of this system, much higher than other solutions in the market based on the Tesla P100 (320,031 points), even double performance or more.