As it had already been anticipated, NVidia today announced Nvidia GeForce GTX 1660 Ti, and this time there is no Founders Edition model, so we will only have access to the custom models by different AIB partners of NVIDIA, while other surprises is that the GTX 1660 Ti does not end up unseating in terms of performance to the GeForce GTX 1070, but its performance is very similar, so you should expect that after future updates card will even perform better.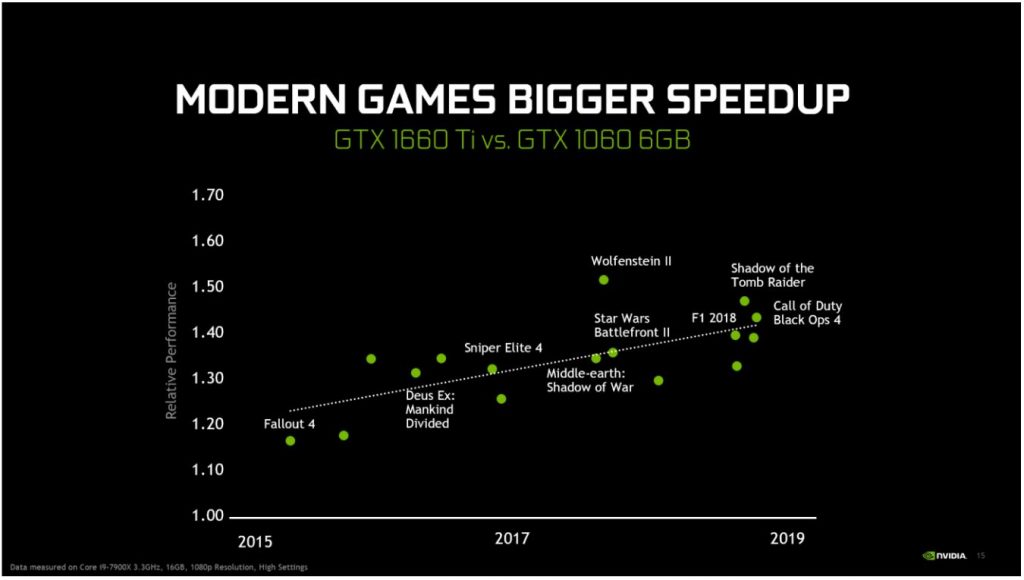 The GeForce GTX 1660 Ti will replace the GeForce GTX 1060 with a recommended price of $ 279, a price that may be lower or higher depending on the assembler and cooling system used.
GPU

GeForce GTX 1060 (Pascal)

GeForce GTX 1660 Ti (Turing)

SMs

10

24

CUDA Cores

1280

1536

Freq.Base

1506 MHz

1500 MHz

Freq.Turbo

1708 MHz

1770 MHz

FLOPS

4.4 TFLOPs

11 TOPs (5.5 TFLOPs FP32 / 5.5 




TFLOPs INT32)

FP16 FLOPS

4.4 TFLOPs

11 TFLOPs

Texture Units

80

96

Texel fill-rate

120.5 Gigatexels / sec

169.9 Gigatexels / sec

Freq.Memory

8,000 MHz

12,000 MHz

Bandwidth

192 GB / sec

288.1 GB / sec

Max Mem Cache L1

480 KB

1536 KB

TDP

120W

120W

Transistors

4,400 million

6.600 million

Size of the DIE

200 mm²

284 mm²

Node

16 nm

12 nm FFN
As we can see, with respect to the GeForce GTX 1060 6GB we have a noticeable performance improvement, and with Adaptive Shading technology, you can easily see extra performance of of 50 percent compared to the GeForce GTX 1060 6GB in the Wolfenstein II, and in the worst case you will see performance improvement of up to 20% in Fallout 4 or 30 percent in Shadows of War. Of course, not all games will have a 40-50% additional performance compared to the GTX 1060, but on average there is a difference of 30% according to Nvidia.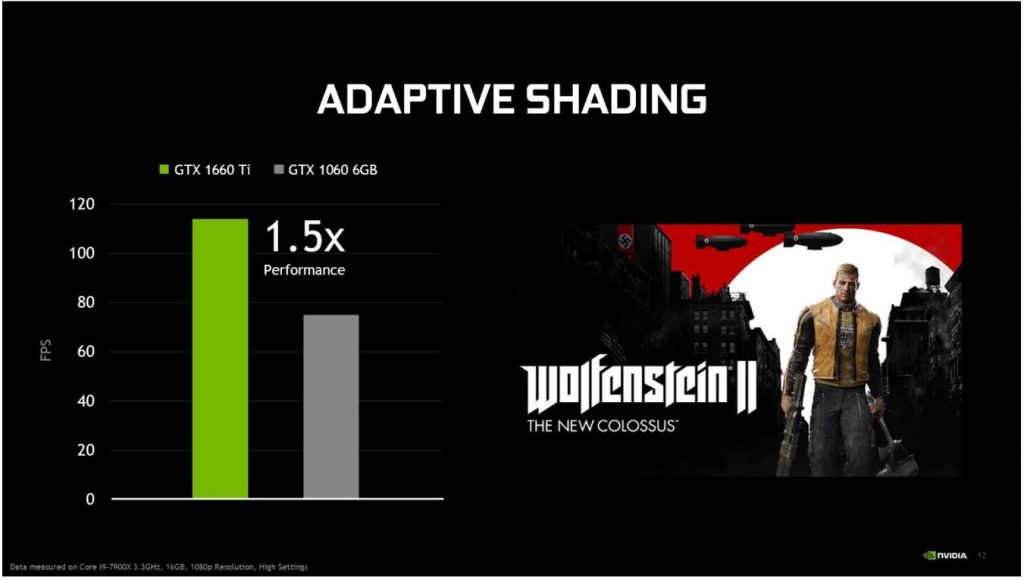 In addition, the NVEnc codec of the GTX 1660 Ti has been improved for streamers and broadcasters, comparing it even with the Core i9-9900K using the x264 Fast codec.