Due to a high demand for gaming GeForce and the professional Quadro graphics card, the financial performance of the American company NVIDIA continues to conquer new heights. A few days ago the price of one share of "Green" chip maker has reached a record high of $ 160 per unit, showing more than three-time increase in the year. In June 2016 the stock was worth less than $ 50, and only a month, this figure was around $ 100. And now the market capitalization of NVIDIA Corporation is very close to one hundred billion US dollars, and now stands at $ 95.5 billion.
NVIDIA market capitalization is close to the mark of $ 100 Billion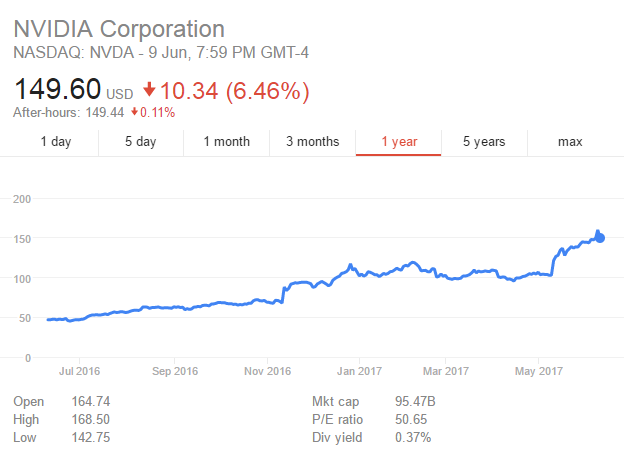 You Might Like: SoftBank bought a $ 4 BN stake in NVIDIA, becoming fourth largest shareholder
According to analysts, this growth is due to many factors. The sale of gaming and professional graphics cards bring the lion's share of revenues. Also NVIDIA is focused in the field of Supercomputing, artificial intelligence, machine learning, robotics and self-driving vehicles, all this helped to increase the income in a relatively short time. In addition, it should be noted that the growing popularity of Cryptocurrency is also playing an important role. Recently, new miners optimized for Pascal architecture have made waves in the market.