Nvidia today announced two new GPUs, and these are the GeForce RTX 3050 Ti and the GeForce RTX 3050, both for laptops, unfortunately, it is expected that no counterpart of these models will reach desktop computers anytime soon. Following the launch, many manufacturers will announce their updated notebook PCs with high-performance Intel Tiger Lake-H processors.
The Nvidia GeForce RTX 3050 Ti makes use of a graphics chip with 2560 CUDA Cores enabled (1280 less vs GeForce RTX 3060), accompanied by 80 Tensor Cores and 20 RT Cores, all of which operate at frequencies between 1030 and 1695 MHz depending on the chosen model (Max-Q the slowest vs Max-P). This graphics chip is accompanied by 4 GB of GDDR6 memory with a 128-bit memory interface and the power consumption will be between 35 and 80W depending on the model.
The Nvidia GeForce RTX 3050 uses the same graphics chip but with 2048 CUDA Cores alongside 64 Tensor Cores and 16 RT Cores. This chip reaches speeds of 1057 to 1740 MHz and the memory, memory interface and power consumption are maintained.
NVIDIA GeForce RTX 30 Series Laptop Specifications

RTX 3070
Laptop GPU
RTX 3060
Laptop GPU
RTX 3050 Ti
Laptop GPU
RTX 3050
Laptop GPU
CUDA Cores
5120
3840
2560
2048
ROPs
80
48
32?
32?
Boost Clock
1290 – 1620MHz
1283 – 1703MHz
1035 – 1695MHz
1057 – 1740MHz
Memory Clock
14Gbps GDDR6
14Gbps GDDR6
12Gbps? GDDR6
12Gbps? GDDR6
Memory Bus Width
256-bit
192-bit
128-bit
128-bit
VRAM
8GB
6GB
4GB
4GB
TDP Range
80 – 125W
60 – 115W
35 – 80W
35 – 80W
GPU
GA104
GA106
GA107
GA107
Architecture
Ampere
Ampere
Ampere
Ampere
Manufacturing Process
Samsung 8nm
Samsung 8nm
Samsung 8nm
Samsung 8nm
Launch Date
01/26/2021
01/26/2021
05/11/2021
05/11/2021
Performance
In terms of performance, both GPUs are capable of running Minecraft RTX or the Call of Duty: Black Ops Cold War at 1080p 60 FPS, and it should be noted that they are the first GeForce RTX GPUs of the x50 series, so that Nvidia DLSS technology will give a lot of life to these GPUs without the need to resort to higher performance models and, therefore, more expensive, so users with tight budgets will be in luck, since another advantage is that all this is integrated on thin and light equipment.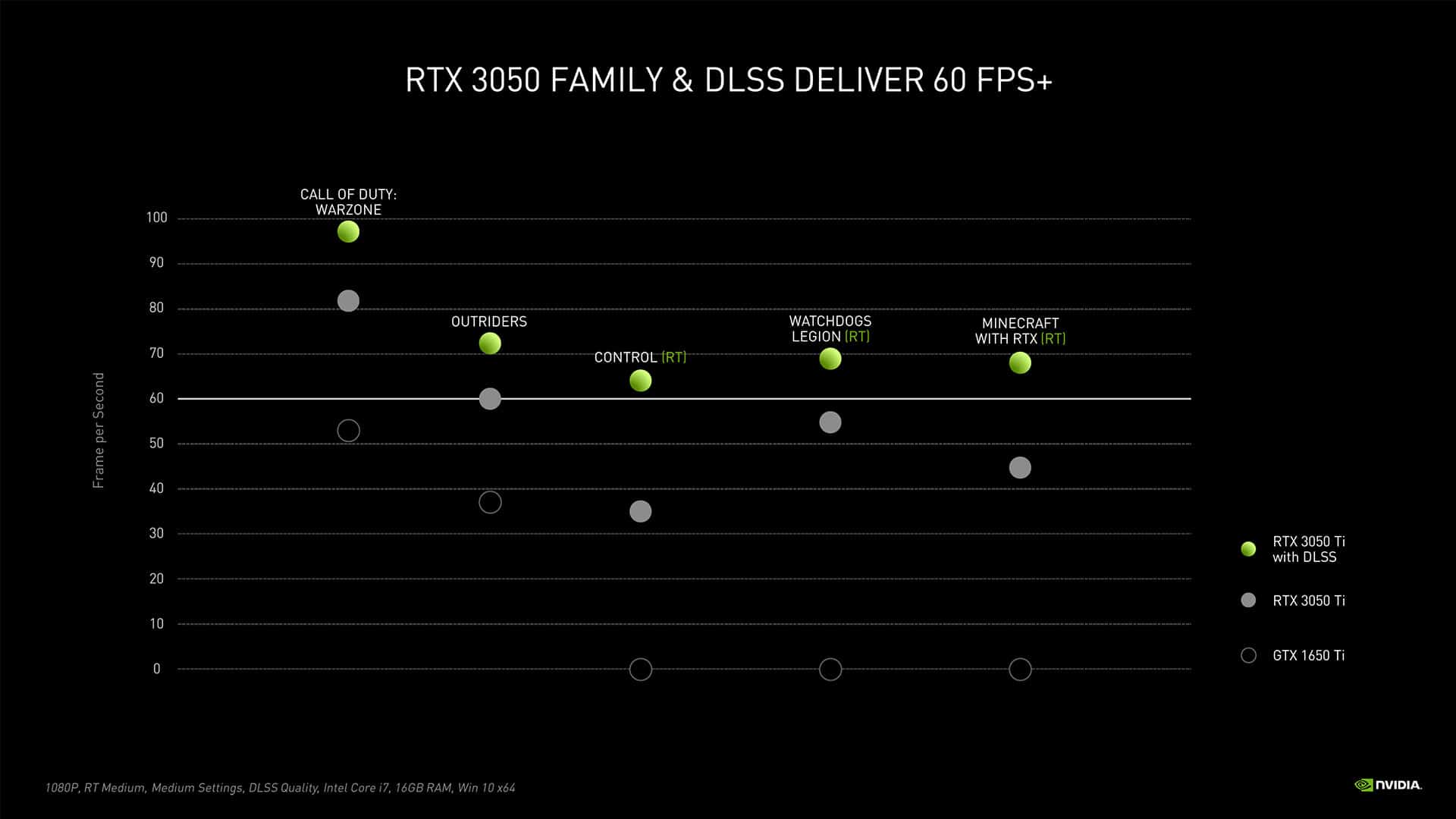 According to NVIDIA:
"Notebook owners, who routinely upgrade their PCs every four years of use, can see a huge performance gain with the latest GeForce RTX 3050 notebook GPUs. With NVIDIA DLSS, GeForce RTX 3050Ti notebooks are up to twice as fast than the previous generation, "says Nvidia.

"Tensor cores that enable NVIDIA DLSS technology are only available on RTX GPUs. DLSS is a technology that is already available in more than 40 triple-A and indie games with recent additions such as Outriders, Call of Duty: Warzone, Call of Duty : Modern Warfare, NARAKA: BLADEPOINT and Mortal Shell.