During the 2017 GDC in San Francisco, NVIDIA officially announced the long-awaited GeForce GTX 1080 Ti. The new flagship graphics card uses GP102 silicon under Pascal architecture conformed by 3584 CUDA Cores along with 224 TMUs and 88 ROPs. Luckily, it has the same CUDA as the GeForce GTX Titan X Pascal and reaches a faster frequency of 1.60 GHz (vs. 1531 MHz) promising to reach up to 2.00 GHz by Overclocking.
NVIDIA Announces GeForce GTX 1080 Ti – Specifications, Features and Price
The GPU core is attached to 11GB of GDDR5X @ 11GHz memory with 352-bit memory interface (vs. 12GB GDDR5X / 384 bits) and requires two 8 + 6-pin PCI-Express connectors for power.
According to the company itself, we are facing the best GeForce GTX x80 Ti launch, because as compared to GeForce GTX 1080, the GeForce GTX 1080 Ti is 35% percent faster, compared to 25% that was the performance jump of the GTX 980 vs GTX 980 Ti and 18% of the GTX 780 vs GTX 780 Ti. This substantial improvement is due to new compression technology to improve bandwidth.
In the above video you can see NVIDIA GeForce GTX 1080 Ti Founders Edition, which employs the company's cooling solution which will have to deal with a 7-phase VRM power supply that will deliver 250A to the GPU. According to the company, it would also feature slightly improved heatsink maintaining a 220W TDP. Thanks to a new design of the steam chamber, the graphics will be 5ºc cooler than the GTX 1080 Founders and 2.5 dBA quieter.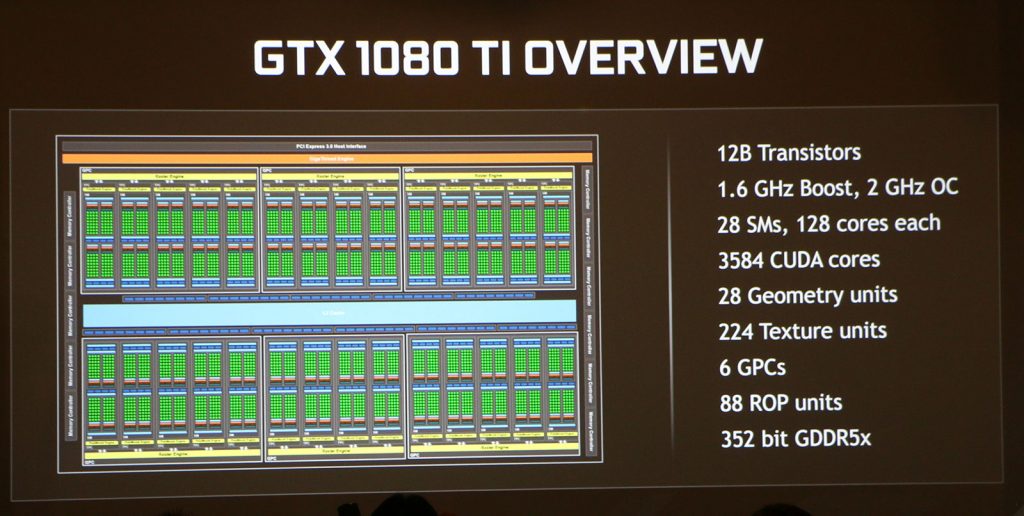 Thanks to the Overclocking of GDDR5X memory up to 11 GHz (vs. 10 GHz reference GTX 1080), the company promises that its graphics card will be able to run games like Deus Ex or Watch Dogs 2 at 5k resolution, perhaps in an attempt to minimize collateral damage of a Radeon RX VEGA that will use the HBM2 memory to will benefit in such resolutions.
Below you will see the complete specifications of the GeForce GTX 1080 Ti.
12 trillion transistors
1.6 GHz Boost, withOverclocking potential up to speeds of 2 GHz
28 Streaming Multiprocessors, with 128 CUDA cores each
3584 CUDA cores
28 units of Geometry
224 Texture Units
6 GPCs
88 ROP units
352-bit Micron GDDR5x Memory
11 GB of VRAM
220W TDP
In addition, they announced that there will be Overclocked versions of the GeForce GTX 1060 and GTX 1080, which will have a memory speed of 9 and 11 GHz respectively – whereas its predecessors are 8 and 10 Ghz respectively.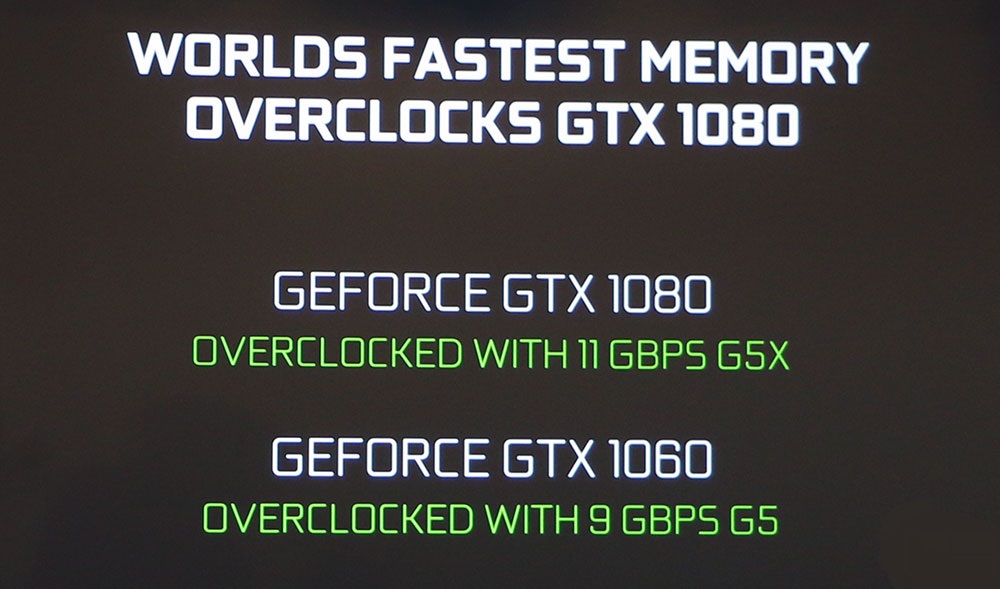 As for the price, best of all, its price will be 699 dollars and will be on sale next week. Undoubtedly, a rather logical and aggressive move by NVIDIA that will seek to take all demanding players before the AMD Radeon RX VEGA go on sale, which obviously will have to offer an even more competitive price after this move from NVIDIA camp.