Moments ago, the Videocardz site has published the first official benchmarks of already rumored -and leaked- GeForce RTX 3060 Ti with 8GB GDDR6 that, as can be seen in the benchmarks table, has a performance better than RTX 2080 SUPER $ 699. The exact cost of the GeForce RTX 3060 Ti is still unknown, but it will cost less than $ 400.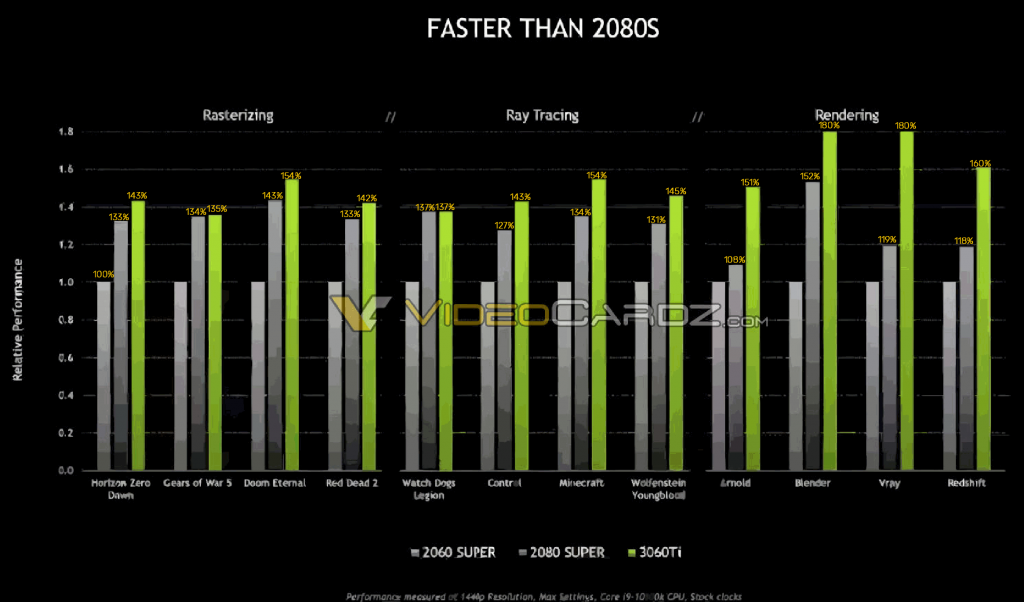 You Might Like: Gigabyte prepares to launch 4x GeForce RTX 3060 Ti with 8GB GDDR6
The results of the comparison were divided into three groups: rasterization, ray tracing and rendering. The RTX 3060 Ti wins against the RTX 2080 SUPER in all scenarios, including ray tracing, despite having fewer RT cores than the RTX 2080 SUPER (38 vs 48). The graphics cards were tested with stock clocks at 1440p resolution, accompanied by an Intel Core i9-10900K.
NVIDIA hasn't confirmed the specifications of the previously leaked graphics card, but the company has confirmed that RTX 3060 Ti will launch on December 2, 2020.
NVIDIA GeForce RTX 30 Series Specifications

RTX 3090

RTX 3080

RTX 3070

RTX 3060 Ti

SKU

PG132 SKU 30

PG132 SKU 10

PG142 SKU 10

PG190 SKU 10

GPU

8nm GA102-300

8nm GA102-200

8nm GA104-300

8nm GA104-200

Tablet Size

Transistors

CUDA Cores

GPU utilization

Tensor Cores

RT Cores

Base Clock

Boost Clock

Shader Perf.

Memory

Memory Clock

Memory Bus

Maximum Bandwidth

Consumption

Price

Release date

24th September

September, 17th

October 29th

December 2nd