The Nvidia GeForce RTX 3060 Ti is now available for pre-order in very well-known Taobao store in China, something quite strange if we consider that this GPU would go on sale, or at least it would be announced, in the middle of November.
As revealed by the Chinese store, this graphics card could cost up to 2,999 yuan, which is 378 euros at the exchange rate, although it is expected that the official price of Nvidia, at least for the reference model and the most basic models of its partners would be 399 dollars, which could translate to about 400 euros.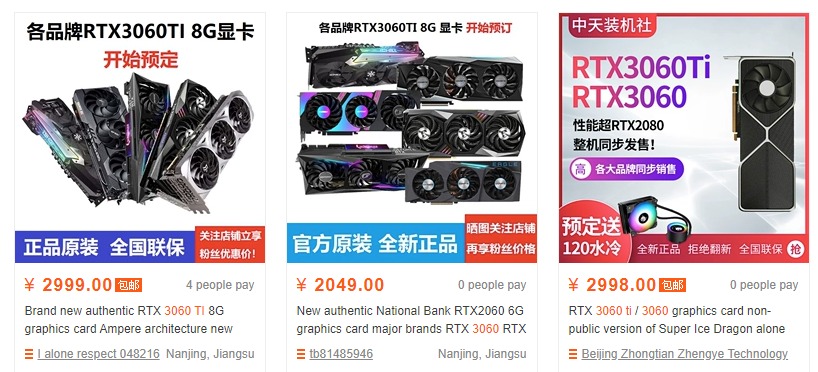 You Might Like: Gigabyte prepares to launch 4x GeForce RTX 3060 Ti with 8GB GDDR6
The Nvidia GeForce RTX 3060 Ti would arrive with the GA104-200 silicon made up of 4864 CUDA Cores (1024 cores less compared to the GeForce RTX 3070) at a Turbo frequency around  1700 MHz  that would give us a performance around 16 TFLOPs. This silicon would be accompanied by 8 GB of GDDR6 @ 14 GHz memory  together with a 256-bit memory interface that would give us a bandwidth of 448 GB / s.
Nvidia GeForce RTX 30 Series Specifications (* unconfirmed)

Model
RTX 3090
RTX 3080
RTX 3070
RTX 3070 Ti *
RTX 3060 Ti *
GPU
8nm GA102-300
8nm GA102-200
8nm GA104-300
8nm GA102-150
8nm GA104-200
Die Size
 628 mm2
 628 mm2
 392 mm2
 628 mm2
 392 mm2
Transistors
 28,300M
 28,300M
 17,400M
 28,300M
 17,400M
CUDA Cores
 10496
 8704
 5888
 7424
 4864
Silicon 
 98%
 81%
 96%
 70%
 79%
Tensor Cores
 328
 272
 184
 232
 152
RT Cores
 82
 68
 46
 58
 38
Freq. Base
 1395 MHz
 1440 MHz
 1500 MHz
N / A
 1410 MHz
Freq. Turbo
 1695 MHz
 1710 MHz
 1725 MHz
N / A
 1665 MHz
Shader Perf.
 35.6 TFLOPS
 29.8 TFLOPS
 20.3 TFLOPS
N / A
 16.2 TFLOPS
Memory
 24 GB G6X
 10GB G6X
 8GB G6
 10GB G6X
 8GB G6
Freq. Memory
 19.5 Gbps
 19 Gbps
 14 Gbps
N / A
 14 Gbps
Memory interface
 384-bit
 320-bit
 256-bit
 320 bits
 256 bits
Bandwidth
 936 GB / s
 760 GB / s
 448 GB / s
N / A
 448 GB / s
TDP
 350W
 320W
 220W
320W
 ~ 180W
MSRP
1549 euros
719 euros
 519 euros
???
 -399 dollars
Launch Date
24th September
September, 17th
October 29th
Unknown
Mid November