Tomorrow is the day that on which NVIDIA GeForce GTX 1080 Ti will go on sale at a price of 829 euros for the Founders Edition (reference) model, while it is expected that the custom models would come later at different prices depending on the cooling system, the quality of the components assembled to the PCB and factory Overclocked frequencies.
NVIDIA Geforce GTX 1080 Ti Leaked Review – Titan XP Level Performance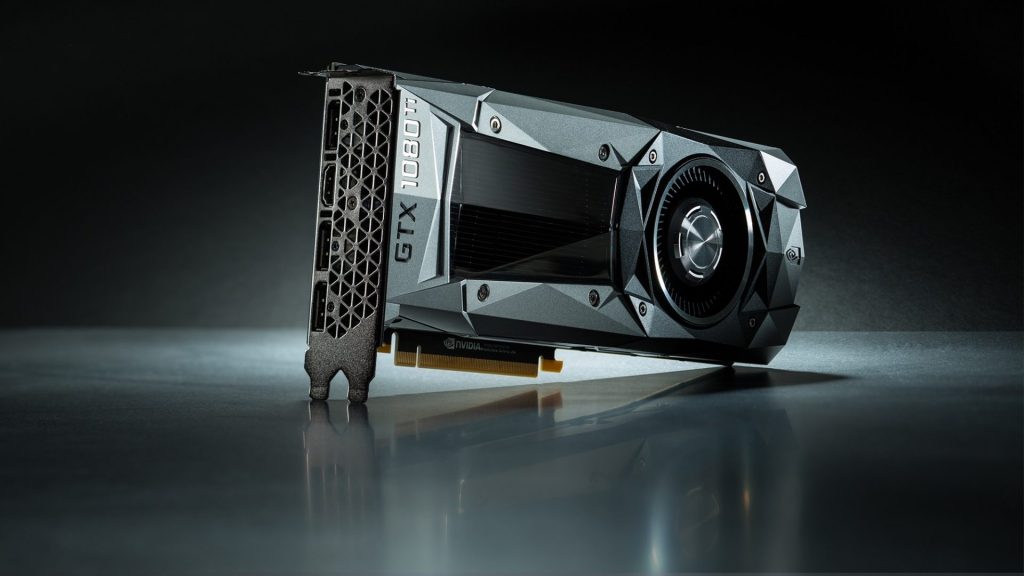 You Might Like:Feast your eyes on the first EVGA GeForce GTX 1080 Ti FTW3 image
Before its launch, it is better to enjoy a leaked review that gives us a preview of its performance thanks to a Russian website 3DNews, where in addition to knowing its performance in games and under professional applications, we also have details on the temperature of graphics card and Overclocking levels it reaches.
According to the overall results, the NVIDIA Geforce GTX 1080 Ti works around the same as the Titan X Pascal (and in some cases it surpasses it). In terms of specifications the GeForce GTX 1080 Ti is the most powerful graphics card in the market, something possible when using GP102 GPU Core conformed by 3584 CUDA Cores along with 224 TMUs and 88 ROPs at a Base / Turbo frequency of 1480 / 1582 MHz (promising to reach 2.00 GHz with Overclocking), and coupled with 11 GB of GDDR5X @ 11 GHz memory together with a 352-bit memory interface will offer a bandwidth of 484 GB / s.
NVIDIA GeForce GTX 1080 Ti Gaming Benckmarks
In terms of games, no surprise, because thanks to the higher frequencies in both the GPU and memory regarding TITAN X, the GeForce GTX 1080 Ti is the clear winner without leaving any opportunity to a TITAN X which is currently selling for 1,369 euros. Obviously, in front of the GeForce GTX 1080 there is a big performance difference, for example 30 extra FPS in the Metro: Last Light, or 33 FPS in Tom Clancy's The Division and Crysis 3.
Click to enlarge images
NVIDIA GeForce GTX 1080 Ti Performance in Professional applications
The same happens, for example, in H.265 decoding at Full HD resolution (1920 x 1080p) or 4K (3840 x 2160p) or with H.265 content, the GeForce GTX 1080 Ti is unrivaled, only the GTX TITAN X draws the NVIDIA GeForce GTX 1080 Ti and delivers a high performance for those who are thinking about it, as in the SiSoftware Sandra 2016, Sony Vegas 13 Pro or LuxMark 3.x applications, where a professional graphics card optimized for it will gain the advantage.
NVIDIA GeForce GTX 1080 Ti Temperature and Power Consumption
Accompanied with a Core i7-5960X @ 4.00 GHz, an Asus Rampage V Extreme motherboard, 4 × 4 GB DDR4 @ 2133 MHz RAM and with a Corsair AX1200i power supply, the computer gets a great performance gain by seeing how this graphics card was able to reach 2216 MHz (2.16 GHz), although its high temperature does not allow it to be advisable, reason why its strong point is limited by the own design of the GPU.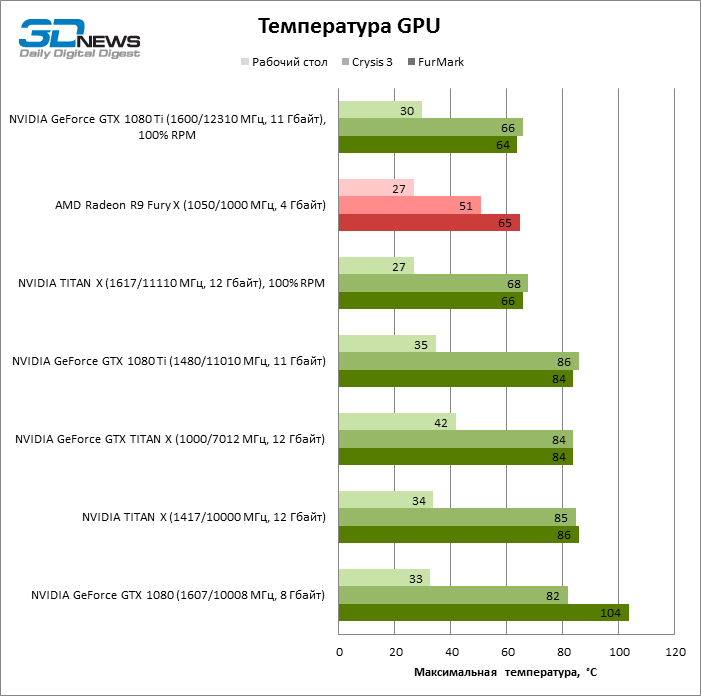 As expected, the reference blower style cooling system is the main problem. Although the GeForce GTX 1080 was a barbecue, something that we criticize enough here, since the GPU was able to exceed 100ºC in the worst case, the GeForce GTX 1080 Ti @ 1480 MHz (freq.ref) offers a very high temperature more restrained although high, where in the worst case reach 86 ° C  (but summer is just around the corner).
The only way to decrease temperatures will be to increase the fan speed, where at maximum speed (100%), at a frequency of 1600 MHz for the GPU, and 12310 MHz for memory (vs 11008 Mhz Mod.Ref) reaches a maximum temperature of 66 ° C, but of course, the generated sound will be a big problem.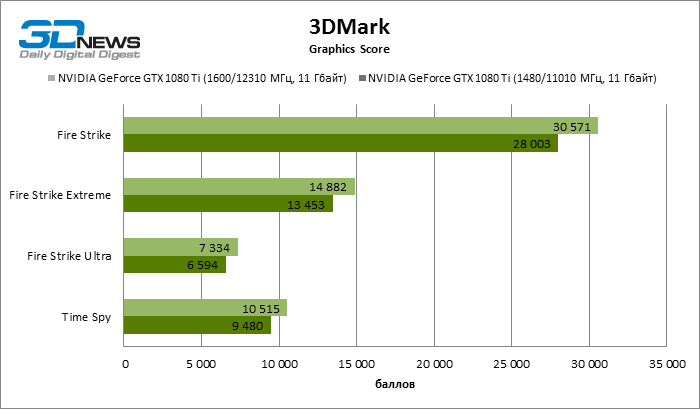 In terms of power consumption, passing the FurMark, the system along with the GeForce GTX 1080 Ti is able to reach peaks of up to 380W, 90W more than the GeForce GTX 1080, 15W more than the TITAN X, or 30W less than the GTX 1080 at 1600/12320 MHz (410W).