New Coronavirus has spread to more than 120 countries, prompting the WHO to declare the disease as a global pandemic. Recently, NVIDIA called on PC gamers to help fight the coronavirus by donating idle GPU computing power.
NVIDIA GeForce official Twitter announcement:
PC Gamers, let's put those GPUs to work.

Join us and our friends at @OfficialPCMR in supporting [email protected] and donating unused GPU computing power to fight against COVID-19!

Learn more → https://t.co/EQE4u7xTZT pic.twitter.com/uO0ZCq8PEv

— NVIDIA GeForce (@NVIDIAGeForce) March 13, 2020
Folding @ home is a distributed computing project that studies protein folding, misfolding, aggregation, and related diseases. It was chaired by the Pande Group of Stanford University's Department of Chemistry and officially launched on October 1, 2000.
Folding @ home is currently the world's largest distributed computing project and was recognized by Guinness World Records in 2007. In simple terms, this is a large distributed supercomputer, and users can contribute a node for this.
On February 27, Folding @ home announced its participation in the new Coronavirus research to help researchers develop treatments.
Folding @ home says lung infections occur when proteins on the surface of the virus bind to receptor proteins on lung cells. This viral protein is called spike protein. Since the protein does not stagnate, it will oscillate, fold and unfold in multiple shapes, so we need to study not only one shape of the virus spike protein, but also all the ways in which the protein oscillates and folds into other shapes in order to better understanding how they interact with the ACE2 receptor allows the development of therapeutic antibodies.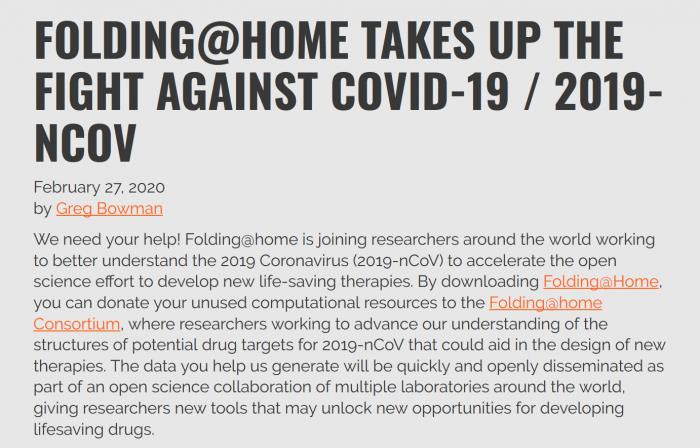 The Folding @ home announcement stated that we need to build a computing model that can achieve this goal, but it requires a lot of computing power . Volunteers can download Folding @ home software and use idle computing power to conduct research.
NVIDIA's call for players to donate GPU idle computing power to help promote research on a variety of diseases, including the new coronavirus.