During Game Developers Conference last night, NVIDIA announced DirectX 12 support for its GameWorks software developers kit (SDK) to increase the performance in the DirectX 12 supported titles.
DirectX 12 is the updated API released by Microsoft alongside the Windows 10 back in 2015 and most of the game developers have started using the API for better graphics and simulation. Since the launch of DX12 titles, there has been some performance degradation with the NVIDIA GPUs in some of the DX 12 supported titles as compared with the AMD.
Things have been improving in the recent past months, especially with the GTX 1000 series and with this progress, the game developers will now be able to utilize the full potential of the DX12 games and we will see a great improvement in the graphics. The NVIDIA GameWorks SDK is used to create cinematic experiences on the PC games, with the use of certain effects.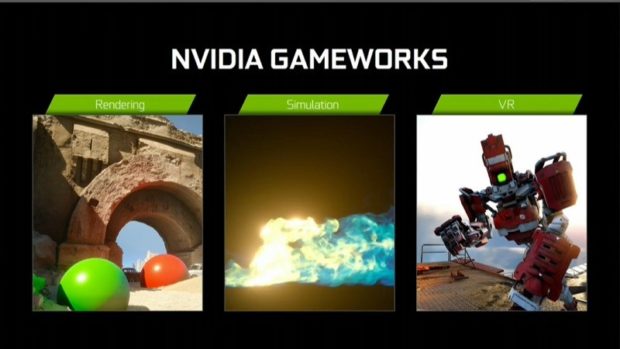 According to Tony Tamasi, the senior vice president at NVIDIA, the gamers will now enjoy the best gaming experience on the DirectX 12 titles, as they did with the DirectX 11 titles in the past.
"We have invested over 500 engineering-years of work to deliver the most comprehensive platform for developing DirectX 12 games, including the world's most advanced physics simulation engine,"
NVIDIA's VRWorks is now also supported with the DirectX 12 with improved performance and low latency. According to the company, the tool will be supported with Unity 2017.1 beta, which is due in Spring this year, and also the Unreal Engine 4.
The company is going to release NVIDIA Game Ready drivers for the optimization of DirectX 12 titles with about 16% increase in the performance. These titles include; Ashes of the Singularity, Gears of War 4, Hitman, Rise of the Tomb Raider and Tom Clancy's The Division.
See also: NVIDIA Launches GeForce GTX 1080 Ti For $ 699, 35% faster than GTX 1080
With the introduction into real-time DirectX 12, do you see some sort of new competition in the DX12 dominated titles which had a good time with the AMD's graphics cards.