When AMD announced new VEGA based graphics cards at the SIGGRAPH 2017 conference primarily aimed at gamers and computer enthusiasts, NVIDIA decided to attract the attention of professional audience. Especially for those who create media content or work in CAD applications on their laptop, the "green" chip maker has prepared an external docking station for video cards that allows using the most powerful accelerators like Titan Xp or Quadro solutions.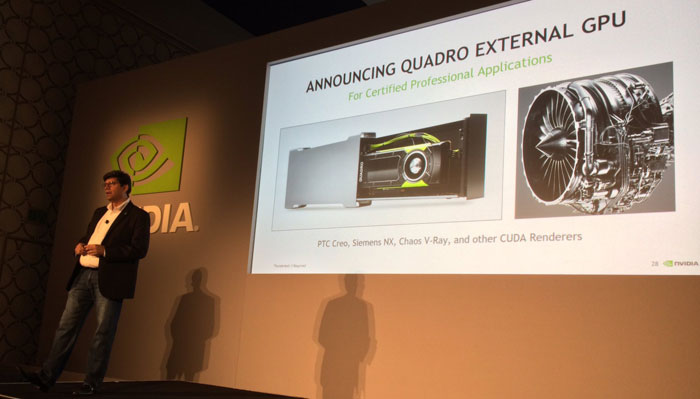 The device is laconically called eGPU (external GPU) and will be available for purchase from a number of partners of the company starting next month. You can connect the eGPU with laptop via Thunderbolt 3 interface.
Unfortunately, the detailed technical specifications of the new docking station will be announced closer to the release. It is known that eGPU will be delivered with pre-installed video card, and to provide high performance in professional applications, like Autodesk Maya and Adobe Permier Pro. On systems with an external video card Titan Xp will be released with a new driver package.
"While more computer power than ever is needed for VR, photoreal rendering and AI workflows, mobile systems are getting thinner and lighter, with limited performance and memory," says Bob Pette, vice president, Professional Visualization, Nvidia. "Our eGPUs can now solve this problem, enabling creatives to plug into our most capable GPUs so they can do their best work on the most graphically demanding applications."