NVIDIA Ampere architecture for graphics cards will replace the Turing GPUs, currently available in the market manufactured @12nm. Not much is known about Ampere, but according to rumors new series would offer 30-50% performance improvement thanks to 7nm process node. We should expect first details of new NVIDIA Ampere architecture at the GTC 2020 to be held in March.
In parallel AMD is talking about its Big Navi graphics cards. Not much is known about AMD's high-end solutions, but it will revolutionize gaming in 4K resolution. They will arrive to compete with the RTX 2080 Ti, although it may not end up being so appealing if NVIDIA surprises market with something even more powerful at the event.
New details about NVIDIA Ampere architecture
It seems like NVIDIA does not feel like re-following Super's strategy to face AMD competition. According to rumors, the green camp could go from five silicons to a total of eight to ten silicons for the RTX 3000 Series.
Another modification would be the largest increase in SM and CUDA Cores. The most powerful silicon would be the GM100 with 128SM and a total of 8192 CUDA Cores, a truly spectacular jump. As a simpler solution we would have the GA107 with 20SM and 1280 CUDA Cores, which is not bad at all.
You Might Like: Asus Strix GeForce RTX 2080Ti O11G Gaming Graphics Card Review
Apart from SMs there is also a big change is in the FP32 units, which are doubled in order to keep the amount of shaders at an optimal rate. This offers us is an increase in system performance. Something also relevant is that the Tensor Cores have doubled, which will greatly improve the performance of DLSS.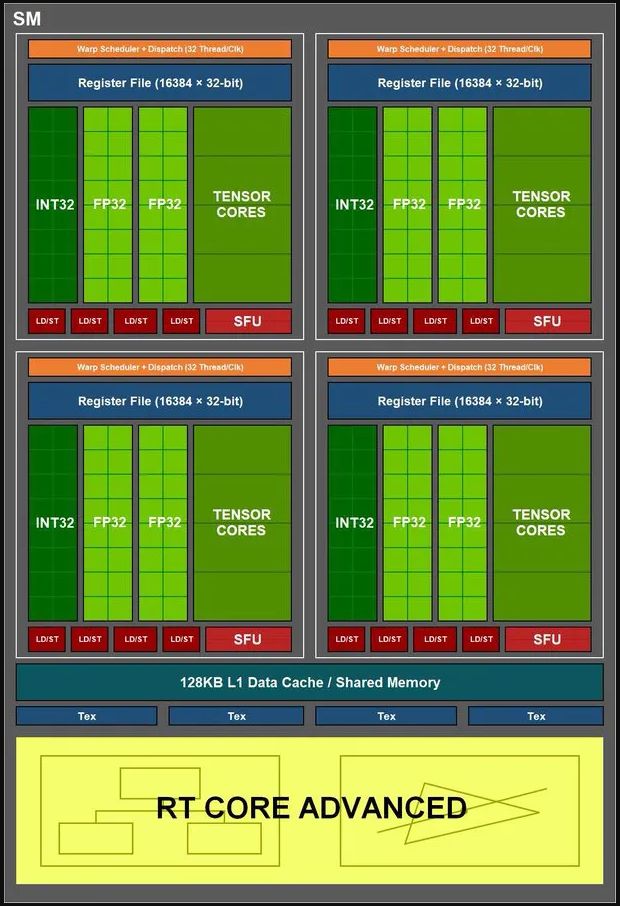 The L1 cache would also change from 96KB to 128KB, without giving more data about it. We do not know how much it will be for data and which one for shared memory, but it would improved to support more complex functions.
Naturally, Ray Tracing has an important role with an improvement in RT Cores. These new cores for ray tracing are more advanced, more efficient and faster for jobs under the BHV algorithm. The improvements have not been specified by green camp but if they succeed then NVIDIA Ampere graphics cards would be definatly much faster than current RTX 2000 series graphics cards.