Microsoft is working on its upcoming high-end, 4K capable gaming console Xbox Scorpio that will be the most powerful gaming console designed to deliver a true 4K and Hi-Fidelity VR experience according to the Microsoft.
Not Just the Number of Teraflops That Makes it Powerful – Phil Spencer on Xbox Scorpio
Microsoft revealed the technical specifications of the console during E3 2016 and since then, the 6 teraflops of the Xbox Scorpio is one of the most discussed thing by the developers, but according to Microsoft, there's something more that also makes it powerful beside the number of teraflops.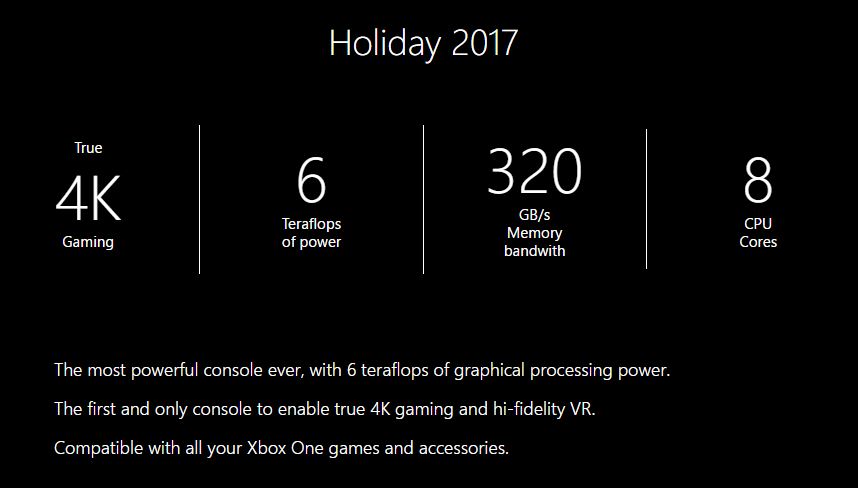 The Xbox Scorpio features an 8 Core CPU, memory bandwidth of 320 GB/s and compute power of 6 teraflops and aims to deliver a  true 4K experience at 60 fps. During his recent interview with the Stevivor, Phil Spencer discussed how the performance of the powerful console is determined by all the factors and not just the teraflops, which is just one characteristic.
"It's like a car — you wouldn't describe how fast it goes using only one characteristic. But I guess it's like a teraflop is like horsepower — you'd probably have in your head what 100 horsepower could do, or 200",

"But it's much more than that — there's other things that dictate how fast the car goes. A transmission. Its weight. It's the same with Scorpio; it's not just the number of teraflops that makes it powerful."
He also discussed that the idea of working on a high-end console, truly designed to run games at 4K resolution was planned years ago and it was like a jump to HD from Xbox 360 i.e, from 4:3 to 16:9.
So far, all the details provided by Microsoft seems to be promising and continue to build the hype among console gamers to wait for the most powerful console which is due next year. Sony also launched its 4K capable console PlayStation 4 Pro earlier this month at a price tag of $399 and it definitely affects Microsoft's pricing strategy for the new console. Stay tuned for more updates!
See also: Xbox Scorpio To Cost Higher than Xbox One S – Says Xbox Head Phil Spencer