Finally, the new console from Nintendo's camp is here, after months of speculations on the internet. As promised, the company revealed its new console through a video, named as the Nintendo Switch (formerly known as Nintendo NX).
Different reports related to the Nintendo Switch such as being a handheld console, featuring detachable controllers were indeed correct. The concept of the new console is revealed in a three minute clip by Nintendo, while some details related to the technical side are were also revealed by the Japanese giant on its official website. Check out the video right below;
The description of the console from Nintendo's site reports the console as;
Introducing Nintendo Switch! In addition to providing single and multiplayer thrills at home, the Nintendo Switch system also enables gamers to play the same title wherever, whenever and with whomever they choose. The mobility of a handheld is now added to the power of a home gaming system to enable unprecedented new video game play styles.
Joy-Con Controllers
Nintendo also shared some thoughts on the detachable controllers, known as Joy-Con controllers. Both the sides of the consoles feature one analog stick along with 4 buttons. Both sides of Joy-Con can be used by attaching with the Nintendo Switch during play time and can be replaced back to the controllers' grip accessory.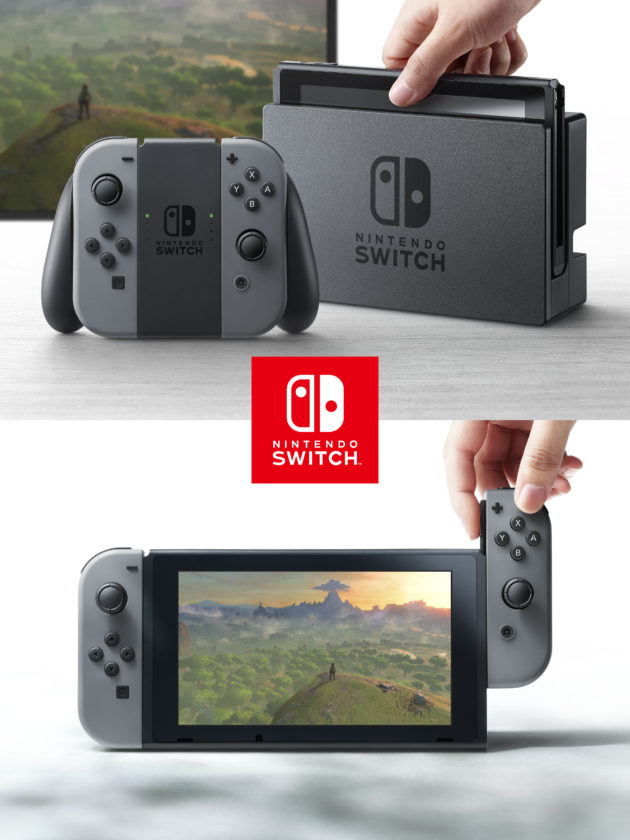 Nintendo Switch Features a Custom NVIDIA TEGRA Chip
Full specs are yet to be made official, but it has been confirmed that the console is powered by NVIDIA TEGRA chip. Since earlier this year, it was reported that the graphics giant will powering the new Nintendo console. According to NVIDIA;
Nintendo Switch is powered by the performance of the custom Tegra processor. The high-efficiency scalable processor includes an NVIDIA GPU based on the same architecture as the world's top-performing GeForce gaming graphics cards.
Interestingly, about 48 game developers have shown their support for the new Nintendo Switch hybrid console, which includes the big fishes such as EA, Ubisoft, Bethesda, Capcom and more. Below are the game developers who will be supporting the new console with some good titles.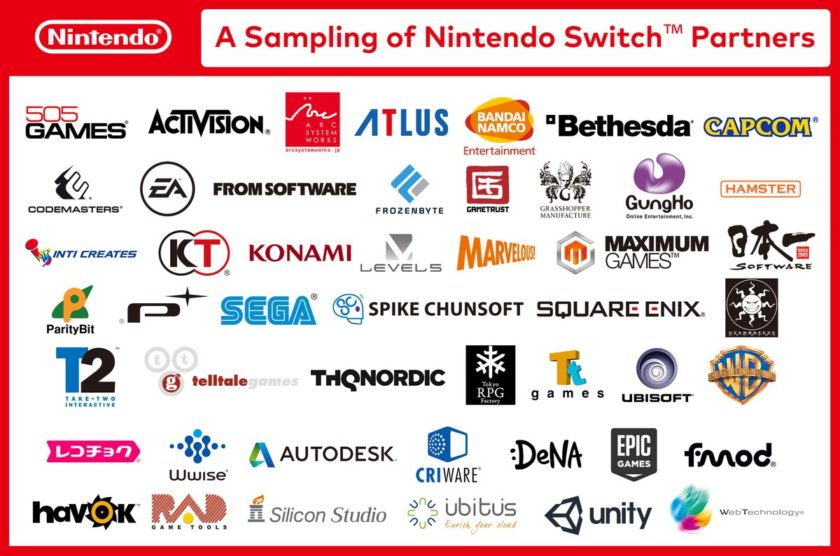 505 Games
 Activision Publishing, Inc.
ARC SYSTEM WORKS Co., Ltd.
ATLUS CO., LTD.
Audiokinetic Inc.
Autodesk, Inc.
BANDAI NAMCO Entertainment Inc.
Bethesda
CAPCOM CO., LTD.
Codemasters®
CRI Middleware Co., Ltd.
DeNA Co., Ltd.
Electronic Arts
Epic Games Inc.
Firelight Technologies
FromSoftware, Inc.
Frozenbyte
GameTrust
GRASSHOPPER MANUFACTURE INC.
Gungho Online Entertainment, Inc.
HAMSTER Corporation
Havok
INTI CREATES CO., LTD.
KOEI TECMO GAMES CO., LTD.
Konami Digital Entertainment Co., Ltd.
LEVEL-5 Inc.
Marvelous Inc.
Maximum Games, LLC
Nippon Ichi Software, Inc.
Parity Bit Inc.
PlatinumGames Inc.
RAD Game Tools, Inc.
RecoChoku Co., Ltd.
SEGA Games Co., Ltd.
Silicon Studio Corporation
Spike Chunsoft Co., Ltd.
SQUARE ENIX CO., LTD.
Starbreeze Studios
Take-Two Interactive Software, Inc.
Telltale Games
THQ Nordic
Tokyo RPG Factory Co., Ltd.
TT Games
UBISOFT
Ubitus Inc.
Unity Technologies, Inc.
Warner Bros. Interactive Entertainment
Web Technology Corp
Not only that, around six games for the Switch console have been confirmed so far. These include The Legend of Zelda Breath Of The Wild, Mario Kart, NBA 2K17, Splatoon, The Elder Scrolls V: Skyrim Remastered, a new Super Mario game. As we reported before, the handheld console will be using gamecards, just like the previous Nintendo DS.
Nintendo Switch is scheduled for release sometime in March next year. Pricing and complete set of specs are yet to be revealed. Pricing will be playing a key role in the success of the new console from Nintendo's camp. Stay tuned for more updates!
See Also: Nintendo Switch To Run Games at 1080p/60 FPS, Will Have 4K Streaming – Report